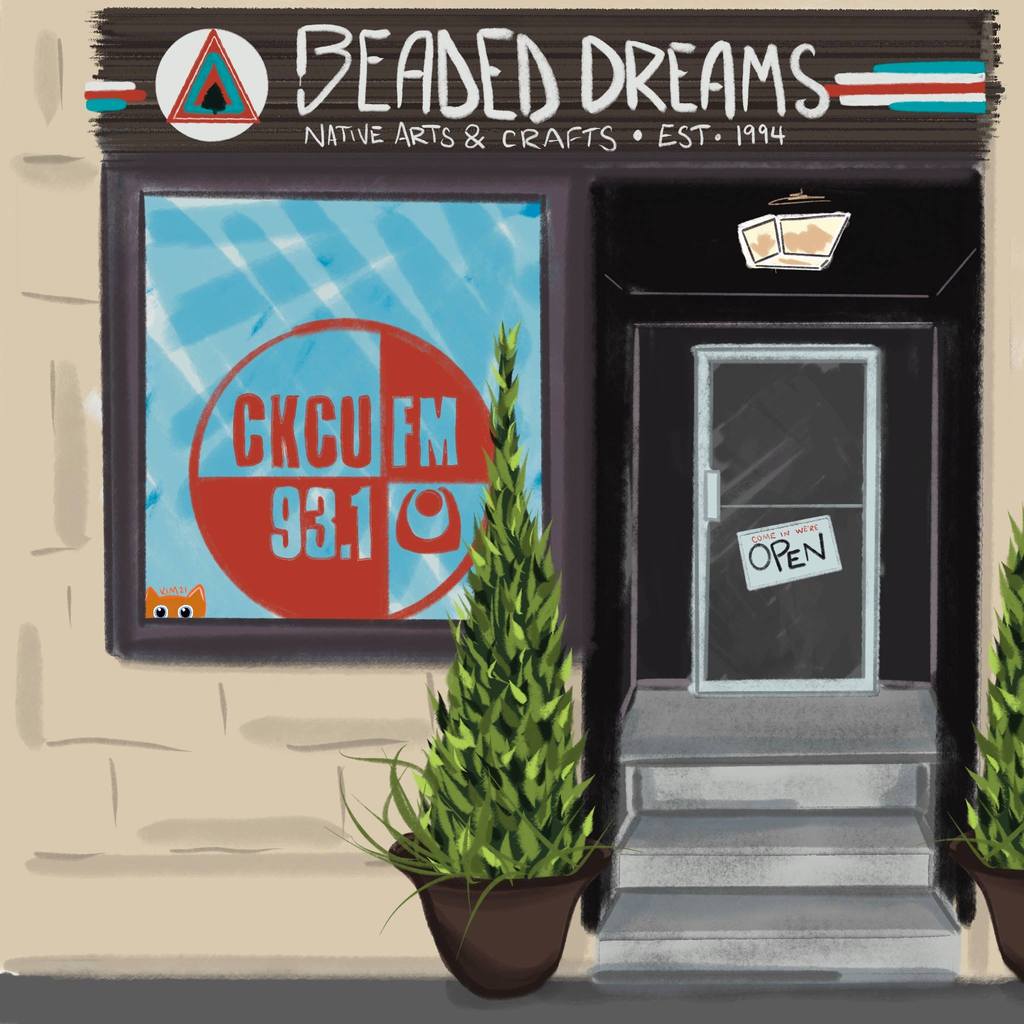 Monday Special Blend
Monday June 14th, 2021 with Jumpin' Joel Flash & Kim Valentine
It's Pirate Concerts & Fringe Festivals & All-Ottawa music on the Monday Special Blend!
A chat with Amanda from the Ottawa Fringe Festival...happening online June 17-27! Also joining is Maya Desrosiers from Lost Baggage Musical Theatre, who'll give us a preview of "Something About New York" while we yik yak why Fringe is so fun! Then a chat with music-maker Kaspien! He'll be playing concerts on the pirate-filled shores of Mooneys Bay throughout the month! AAARRRRRR you ready for it? Also tunes from Renée Landry, The Fly Downs, Swisha T, Bikasso Inventif, Mista Choops, Reverend Rob, The Poison Brothers, Kalix Breezy & Max Webster! Showpiece today is Beaded Dreams on Bank St.! Thanks to co-host with the most most and show artist Kim Valentine!
Waterline
Max Webster - Mutiny up my Sleeve

Sacrifices
Bikasso Inventif - The Renaissance

Holding On
Bikasso Inventif - The Renaissance

Ottawa's own

More Bikasso here: https://distrokid.com/hyperfollow/bikassoinventif/the-renaissance
Flatline
Renee Landry - s/t

Prince
Renee Landry - s/t

Recently named one of Ottawa's best musicians on Ottawa Life Magazines "Best of Ottawa 2020" list, Renée Landry is a powerhouse of Northern Ontario soul. Hailing from Sault Ste. Marie, with her commanding stage presence and fierce vocal delivery, the Ottawa songstress weaves confessional stories of love gone wrong with 90's pop-soul sensibilities.

More Renée here: http://www.reneelandryofficial.com/

Playing Encore Ottawa Season 2!
Friday, June 18, 2021 - 8:00 PM
More info and streaming link: https://shenkmanarts.ca/renee-landr
Crashing Down
The Fly Downs - At This Point In Time


Not in the Business of Saving
The Fly Downs - Pockets Out

In the fall of 2016, the trio which would become known as the Fly Downs started making punk rock music directly beneath the flight path of incoming planes. See Less
Catchy guitar riffs, punchy bass grooves and explosively melodic drum beats are delivered directly to your ears with no shipping charge.

More Fly Downs here: https://theflydowns.bandcamp.com/releases
==================================================================
FRINGE FESTIVAL 2021 INTERVIEW!

A chat with Amanda from the Ottawa Fringe Festival...happening online June 17-27! Also joining is Maya Desrosiers from Lost Baggage Musical Theatre, who'll give us a preview of "Something About New York" while we yik yak why Fringe is so fun!

Ottawa Fringe Festival 2021
June 17-27, 2021
All virtual: https://ottawafringe.com/

Something About New York
Created by Mathieu Charlebois & Joy Mwandemange
Produced by Lost Baggage Musical Theatre
https://ottawafringe.com/shows/something-about-new-york/
www.Lostbaggage.org
==================================================================
Kat
Reverend Rob - s/t


More Dead Than Alive
Reverend Rob Feat. The Poison Brothers - s/t


Reverend Rob was saved from a near death-metal experience and then proudly embraced his inner twang.
He fronted the cowpunk band Luckyfool for years but is now out on his own, creating music with folks who he is lucky enough to cross paths with.The tunes here are from his time with Luckyfool and his solo stuff.
The Rev writes real songs about pain, hope & good times.Only the names have changed!

More Rob here: https://reverendrob.bandcamp.com/
Beneath the Waves
Kaspien - Diver

I'll Never Be Bored
Kaspien - Diver

MUSIC AND AN INTERVIEW WITH KASPIEN!

ah yes pls listen to kaspien's music or he will begin fading from reality and haunt the dreams of octopuses and entice them to crawl out of the ocean and mount an uprising of the likes we have never seen before

More Kaspien here: https://www.facebook.com/kaspiennn/

Kaspien - Pirate Residency!
Wednesdays, 6-9PM, All Summer long
Mooney's Bay - Ottawa
Pirate Life: https://piratelife.ca/
No Days Off
Swisha T - s/t


Kawasaki
Swisha T - s/t


Swisha-T is an emerging hip-hop artist hailing from Canada who is known for his highly versatile style and rich story-driven lyricism. He has developed a cult following for his consistent releases over the past few years which touch on subjects like mental illness all the way to your usual party tunes, often aiming to uplift and inspire his listeners. He is due to drop his next album sometime in 2021.

More Swisha here: https://open.spotify.com/artist/1KNGrimbkpYFO5jKiBSCLZ?si=Q-33F9PrTKKhGgbQaMDmnQ&dl_branch=1
SHIFTER writeup here: https://shiftermagazine.com/music/swisha-t-no-days-off
Credit
Kalix Breezy - s/t


Domino Effect
Kalix Breezy - KEY's


Canadian based artist willing to travel for opportunity. Borders won't stop me All packs ready to go. Worked with DJ's like DJ V.I.P, producer as Legion Beats, Wishmasters, artist like KXNG CROOKED, KURUPT and more. Was an opening act for DAX, NAZA, VEGEDREAM and headlined on multiple occasions before covid.

Yeah I love performing. The studio and big stages is where I feel home.

More Kalix here: https://open.spotify.com/artist/22kiurKG2p9YImiXHM7cbn?si=dah65mgwTneibhTGyiw6pA&dl_branch=1
SHIFTER writeup here: https://shiftermagazine.com/music/kalix-breezy-credit
Firedancer
Mista Choops - s/t


From Womb To Tomb
Mista Choops - s/t


I love music. Mine sounds like this.....

More Mista Choops here: https://soundcloud.com/user-502218861