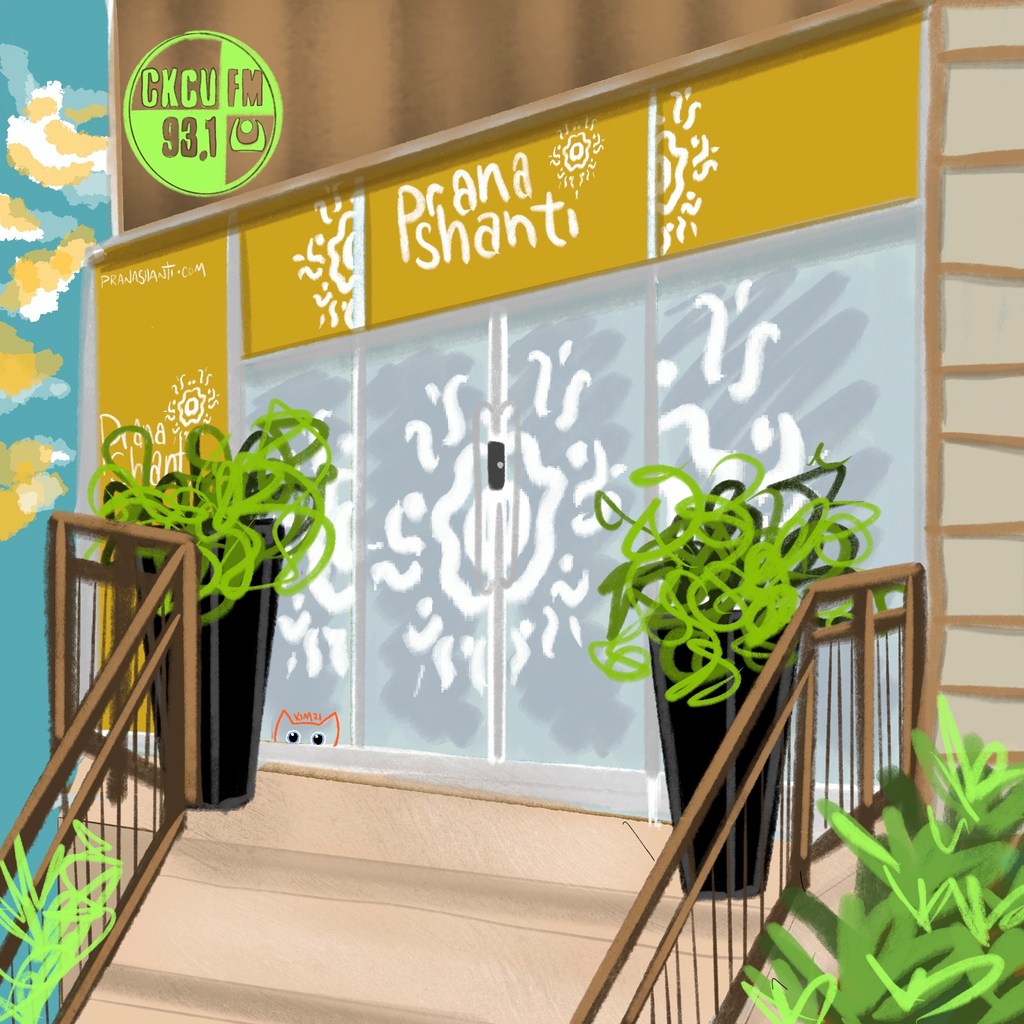 Monday Special Blend
Monday May 17th, 2021 with Jumpin' Joel Flash & Kim Valentine
It's Moon Facts & Ottawa Music on the Monday Special Blend!
Kim tells us all about FULL MOON FLOW with Pranashanti Yoga! We also learn some MOON FACTS, which are totally 100% true. Pranashanti is also this week's show art…. and was created by Kim Valentine! woweeezowee! NOTHING BUT TUNES from Angéle Desbois, Jacob Neufield, Zoo Legacy, HAJ, Braden Foulkes, Huguette Lavigne, Almyr Jules, Raphael Weinroth-Browne, FA$T, Riley Burns, The Ottawa Guitar Trio and Max Webster!
Rain Child
Max Webster - High Class In Borrowed Shoes

Ghst Club
FA$T - s/t


Trial
FA$T - s/t


NEW LOCAL MUSIC!

FA$T is an upcoming underground rapper from Ottawa. Along with his team: The Banana Collective, the young Canadian rapper produces music that is often dark, grimy and dream-like. With his deep voice and the musical influences brought by his crew ranging from classical to electronic music, FA$T puts his unique spin on trap music. "How Much Is A Life Worth", FA$T's first mixtape, is scheduled to come out in June 2021.

More FA$T here: https://open.spotify.com/artist/7uDCaVmOeqtBjIGrJBV7rF
Highway Reflections
Zoo Legacy - s/t


Call You My Baby
Zoo Legacy - s/t


NEW LOCAL MUSIC!

Comprising all elements of indie excellence, the unexpected addition of hip hop makes Zoo Legacy's sound a sweet and addictive nectar.

More Zoo here: https://zoolegacy.bandcamp.com/
Gone
Riley Burns - Stirling Ave.


Dark Places
Riley Burns - Stirling Ave.


NEW LOCAL MUSIC!

Canadian born Singer/Songwriter Riley Burns has his take on how the world works, at least in his eyes. Growing up in a musical home outside of Ottawa, he writes from a place of experience. Channeling his ideas, thoughts and emotions into songs that will catch your ear and keep you thinking about it for the rest of the day.Riley has his own unique take on telling stories. With the release of his first EP 'Stirling Ave', Riley dives into the complexities that come with growth and transition. Whether it be relationships, vices, health or a home, there is always value in a bit of self-reflection, and working towards greater things in the future

More Riley here: https://rileyburns.bandcamp.com/album/stirling-ave
Showbox writeup here: https://www.ottawashowbox.com/2021/04/15/taking-a-walk-down-stirling-ave-with-riley-burns/
New generation (Y)
HAJ - Empire State of Mind


Plain destination
HAJ - Empire State of Mind


NEW LOCAL MUSIC!

heyy my ottawa good people,, uottawa , and sandy hill residents specially, and visitors of best buy merival because i used to work there :)

i'm a rapping artist who released my mixtape recently titled "Empire state of mind"

i wrote most of the album in my room in ottawa, and recorded it in montreal..

my style of rap looks up to j cole, kendrick lamar, and J.I.D

More HAJ here: https://linktr.ee/Moe.haj
Affliction
Raphael Weinroth-Browne - s/t


Out of the Ether
Raphael Weinroth-Browne - s/t


NEW LOCAL MUSIC!

Raphael Weinroth-Browne (The Visit, Musk Ox, Kamancello) channels the energy and intensity of a full metal band with his solo cello performances. His highly virtuosic compositions evoke a sound world that is at once ancient and modern, all the while redefining expectations of how the cello should sound.

More Raphael here: https://raphaelweinroth-browne.bandcamp.com/
Could Have
Angele Desbois - s/t


Does She Know
Angele Desbois - s/t

NEW LOCAL MUSIC!

Singer/songwriter Angele Desbois has been doing music for over 12 years. A seasoned performer in various genres, pop, rock, jazz, and funk/soul she lights up the stage with high energy, interactive engaging showmanship. "Four Letter Word" was Angele's first pop/rock EP and produced with Jamie K (Toronto, ON). The EP set a great launching point for Angele's music endeavors. "Singularity" was a full length jazz-pop fusion album recorded in accomplished studios from coast to coast. Working collaboratively with producers and studios from Vancouver, Owen Sound, Montreal, and Halifax, this ambitious endeavor earned her a nomination for "Solo Album of the Year" at NOMFA's gala. With three new singles released in 2019, ("When Doves Cry", "Does She Know", and "From Here"), Angele continues to perform with her pop/rock cover band: New Vintage and as a solo jazz artist. She is recently the proud recipient of a FACTOR Artist Development Grant.

More Angele here: https://open.spotify.com/artist/6DawgWDNxDo5ijpRoRrCzx
CBC Searchlight: https://www.cbc.ca/music/searchlight/#/vote/angele_desbois
Don't Go
Almyr Jules - s/t


Take a Little Time
Almyr Jules - s/t

NEW LOCAL MUSIC!

Ottawa based Almyr Jules is an ambitious singer-songwriter making a name for himself at home and across the globe. His bright smile and kind heart are embodied through his tender voice and wholesome tunes. He's been compared to Leon Bridges, Charlie Puth and Shawn Mendes.

His songs are filled with catchy Pop melodies that blend the sincerity of Folk with the feel of R&B. His music is made for sharing stories and creating moments in an honest and relatable way.

Following the success of his first single Take A Little Time, Almyr's been writing and recording songs to be released throughout 2021.

More Almyr here: https://almyrjules.com/
Apt 613 #ottmusic weekly playlist: https://apt613.ca/ottmusic-weekly-almyr-jules-huguette-lavigne-braden-foulkes-added-to-the-apt613-playlist/
TV Theme - Futurama
Jacob Neufield - s/t

Super Mario 64 - Slide Theme
Jacob Neufield - s/t

TV Theme - Inspector Gadget
Jacob Neufield - s/t

NEW LOCAL MUSIC!

I play guitar and make no money doing it.

More Jacob here: https://www.youtube.com/channel/UCW0I9Gznq3hbTktd1d2JNiQ
Rails
Huguette Lavigne - s/t


La Toupie
Huguette Lavigne - s/t


NEW LOCAL MUSIC!

Lavigne was raised in a milieu of three Canadian cultures, Franco Ontarian, Quebecois, and English Canadian. She studied composition at McGill University and piano at l'université de Montréal. Consequently, her music has a melting pot of influences including elements of Neo-Classicism, Neo-Romanticism, Minimalism, Jazz, Folk and Classical.

"There has always been something alluring about the pieces I studied, loved and discovered over the years," recalls Lavigne. "They are valuable, inspired specimens of the universal landscape we have all inherited and that we live in today. The fabric of that music inspires me to this day."

More Huguette here: https://soundcloud.com/huguette-lavigne
Little Hell
Braden Foulkes - s/t


Can't Control Myself
Braden Foulkes - Braden Foulkes

NEW LOCAL MUSIC!

More Braden here: https://bradenfoulkes.bandcamp.com/
My Neighbour Totoro: Path of the Wind
Ottawa Guitar Trio - s/t


NEW LOCAL MUSIC!

Composed of Nathan Bredeson, Alex Bougie and François Lacelle, The Ottawa Guitar Trio has made it their mission to highlight the accessibility and reliability of classical music to modern audiences. The ensemble explores the classical guitar's unique dynamic and textural palette to bring to life a repertoire of dynamic movie soundtracks, nostalgic video game scores, timeless classical repertoire, as well as original music for guitar trio.

More OGT here: https://www.ottawaguitartrio.com/