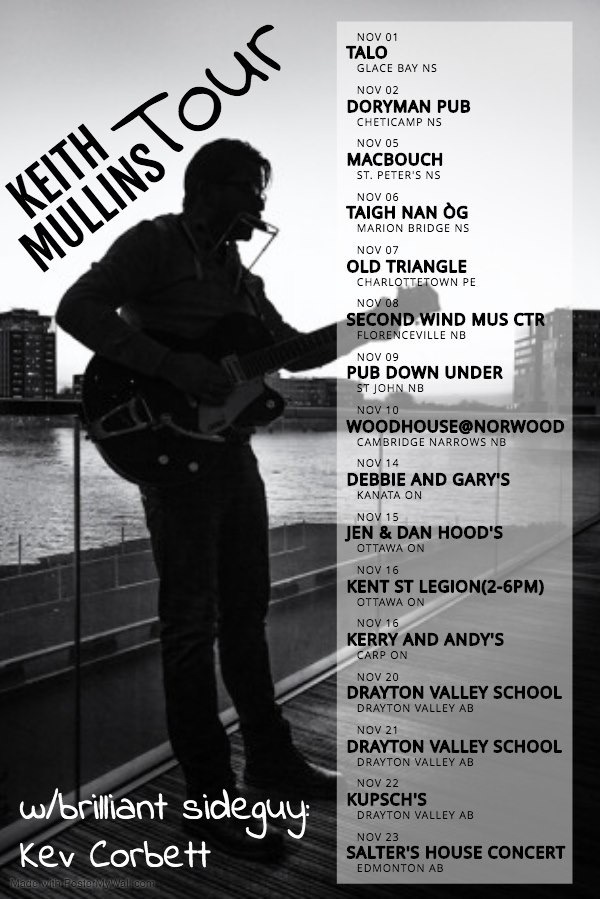 Monday Special Blend
Monday November 11th, 2019 with Trish Bolechowsky & Joel Elliott
FuNDING DRIVE show #3: Music from Tami Neilson, Raynnah, L Con, music by and a chat with Keith Mullins, a chat with Kate Reekie, music by Casa Lagarto and F8-Bit
The Brew Theme Song
Maxim Banjoman Cossette - s/t

Any Fool With A Heart
Tami Neilson - CHICKABOOM!


This is the second single off her new album which releases February 14, 2020

https://youtu.be/ehvwIxZ0_fo
Hey, Bus Driver!
Tami Neilson - CHICKABOOM!


Saturday, November 16th, Tami Neilson at The Blacksheep Inn, 8:30 pm $25
https://www.theblacksheepinn.com/ordertickets.asp?p=1218

http://www.tamineilson.com/

https://tamineilson.bandcamp.com/

This is the first single off her new album which releases February 14, 2020
Big Boss Mama
Tami Neilson - Big Boss Mama
Hamilton
Corin Raymond - Dirty Mansions


https://youtu.be/8WxeOu6v6F8
Shine
Keith Mullins - Upward

https://keithmullins.bandcamp.com/

http://keithmullins.ca/

NEWS - Music Nova Scotia Roots Traditional and Educator of the year!
Added to two ECMAs and six previous Music Nova Scotia awards, two of which were Musician of the Year

Playing in Ottawa area on the 14th, 15th, and twice on the 16th (see poster below)
If people want a certain day show, they can contact keith@keithmullins.ca or the Kent St. legion Saturday matinee is open
Thick as Thieves
Keith Mullins - Upward

Somebody Cares
Keith Mullins - s/t


https://youtu.be/-mrEUxAwGQY

Keith Mullins and Dave Gunning penned a heartfelt, pop-folk anthem tribute to first responders and healthcare workers for their tireless efforts called "Somebody Cares". The song is based on a true story from a nurse in Cape Breton.
After the 8 am news we chat with Kate Reekie, an alumnus of CKCU
She was at the station circa 1986-1992. She hosted Crosscurrents with Lance Baptiste, Vinyl Femmes with a number of others, a general music show on Saturday afternoons, co-founded the CKCU Women's Caucus, Trans FM editor, and a CKCU Board member.
Roxanne Potvin's Monday Night Club at Irene's Pub,885 Bank St. Ottawa
https://irenespub.ca/event/roxanne-potvins-monday-night-music-club/
Every second Monday at 8 pm, PWYC kickings off Nov. 11th
a laid-back musical hang! Old/new tunes, covers, friends

Corin Raymond at Bar Robo this Thursday, with his latest release Dirty Mansions!

Shirt Tearin' Boys, Pressed, 750 Gladstone Ave. Friday, Nov. 15th at 8 pm. Tony Turner is back in town for this one!

Oh Susannah at The Blacksheep Inn, Wakefield QC, Friday, November 15th, 8:30 $25 (taxes incl)
https://www.theblacksheepinn.com/ordertickets.asp?p=1234
Weighed Down
L Con - Whatever EP


https://lcon.bandcamp.com/track/weighed-down

L CON is the solo project of songwriter and sonic adventurer Lisa Conway. A "producer who is gleefully unafraid of experimentation" (UPROXX) and "one of Canada's best kept secrets" (EARMILK), Lisa has collaborated with filmmakers, dancers, and performance artists, been nominated for a SOCAN Music Songwriting Prize, and completed creative residencies from New Brunswick, Canada, to Aubagne, France.

A recent alumna of the Canadian Film Centre's Slaight Music Residency, and one of two Canadians selected to be part of the renowned Red Bull Music Academy 2018 in Berlin, her work both in live performance and in the studio has garnered critical acclaim, drawing comparisons to Beth Gibbons, Laurie Anderson, PJ Harvey, and Bjork. Lisa's most recent album Insecurities in Being (2018), received press from The Fader, Uproxx, and Tiny Mix Tapes, and was one of Exclaim!'s Top 10 Underrated Albums of 2018.

New "Whatever" EP released in October 2019 features collaborations with Casey MQ (Zaki Ibrahim, TiKa the Creator), Pursuit Grooves (who's done remixes for Planningtorock and the Knife), Geordie Gordon (US Girls), and Evan Gordon (Islands), and string arrangements by Mika Posen (Agnes Obel, Timber Timbre).
The Love We're Worth
Rayannah - Nos repaires

https://rayannah.bandcamp.com/track/the-love-were-worth

L CON Album Release Show w/sg Orchidae + Rayannah
Pressed, 750 Gladstone, November 14 @ 8:00 pm - 11:00 pm
Live Ottawa Premiere of LCon's Whatever EP

Rayannah (Winnipeg)
Rayannah's voice rises in layers, creating soundscapes from scratch. The bilingual artist bends noise into music by running voice, breath, synth and percussion through loop pedals. Underscored by intricate beat-making, her visceral lyrics in French and English rise above it all, offering a glimpse into her experiences both dark and sweet.
Lights Out
Casa Lagarto - Shed It

https://casalagarto.bandcamp.com/track/lights-out-2

Casa Lagarto is a groovy, mirage-rock outfit from Ottawa who try to create a hazy musical abyss for desert dwelling creatures and other members of the animal kingdom not invited onto the ark.

Playing Friday at Irene's!

Run Coyote // Casa Lagarto
Friday, November 15, 2019 at 8:30 PM
Irene's Pub - 885 Bank Street
https://www.facebook.com/events/698904137260247/
Sonic The Hedgehog Theme
F8-Bit - s/t

https://soundcloud.com/user-287211283/sonic-the-hedgehog-theme

VIDEO GAME COVER WEATHER!

F8-BIT (pronounced fate-bit) are a cover band dedicated to classic console game themes. The quartet consists of some of Ottawa's highest-scoring jazz players, who owe their quick fingers and epic grip strength to blistering rounds of Super Mario Kart as much as they do to music school. Expect to hear modern takes on the themes from Punchout, Super Mario World, Excite Bike, Mega Man, the Legend of Zelda, Sonic the Hedgehog and many more of your favourite classic console games. F8-BIT delivers a total K.O. every time!

Playing Every Single Sunday in November at Irene's!

F8-Bit - Video Games Live
Sunday, November 10 - 8:00pm
Sunday, November 17 - 8:00pm
Sunday, November 24 - 8:00pm
Irene's Pub - 885 Bank St.
https://www.facebook.com/events/356742198451259/