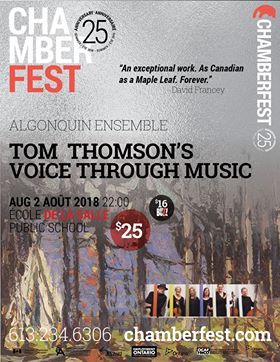 Monday Special Blend
Monday July 30th, 2018 with Trish Bolechowsky and Joel Elliot
after 8 am - Kathryn Briggs, Terry Tufts and Glenn Nuotio join us by phone with Chamberfest Fringe news of The Algonquin Ensemble. Start with the bluegrass of The Barrel Boys, new music - Claire Coupland, Madeleine Roger, Kalle Mattson, Jim Bryson, and a
The Brew Theme Song
Maxim Banjoman Cossette - s/t

Bacon in the Cornbread
The Barrel Boys - Cold Spring

https://thebarrelboys.com/music

https://www.facebook.com/events/632791537114832/

Monday, July 30th at Pressed, 750 Gladstone Ave., Ottawa
7:30 to 9:30 pm
Bluegrass Mondays featuring The Barrel Boys

Just venturing off the festival scene for a stop-over at Bluegrass Mondays at Pressed, The Barrel Boys promise to bring a fun and wonderful musical experience to our audience.

A 5-piece bluegrass powerhouse featuring rich vocal harmonies, killer picking, and a fun-loving, down-to-earth stage presence, The Barrel Boys are a unique staple of the Toronto music scene. Informed by the deep traditions of bluegrass, country, old-time, and Americana, The Boys have crafted their own unmistakeable sound into an exuberant and deeply soulful musical experience.

Last Bluegrass Monday for the summer, we'll be starting up again in September!
Someday Soon
The Barrel Boys - Cold Spring

As The Crow Flies
Oliver The Crow - Oliver The Crow


https://www.facebook.com/events/1066380350186037/

9 pm at Bar Robo on Monday, July 30th
Oliver with Crow and Aiken & Beggs
Bound For Love
Claire Coupland - On The Other Side


https://clairecoupland.bandcamp.com/track/bound-for-love

released July 27, 2018 by Toronto-based Claire Coupland
Soldier Song [LIVE]
Madeleine Roger - Cottonwood : A Debut


https://youtu.be/s95BZiqGsAY
https://www.kickstarter.com/projects/313827305/madeleine-roger-cottonwood-a-debut-album-pre-sale
Kristine St-Pierre: Sunday August 5 at Live on Elgin; sharing the stage with North Carolina duo Violet Bell
$10 in advance | $12 at the door
Show at 9pm
FB event + info: https://www.facebook.com/events/384034345454931/
Joined by Catriona Sturton (and possible second special guest!)

Kristine St-Pierre - Sunday August 12 at Stray Dog Brewing Company in Orleans
This is an afternoon "She's Listening" fundraiser in support of Ovarian Cancer Cancer (OCC) featuring four performers (Cee Lawrence, Laura Gagnon, Karen Harrison and Kristine St-Pierre) + a special presentation by OCC. They will be selling the new compilation album to raise funds for ovarian cancer research.
1-5pm; free
FB event: https://www.facebook.com/events/211688512857438/
Kids on the Run
Kalle Mattson - Youth.


https://kallemattson.bandcamp.com/album/youth

You can pre-order this album which will be released September 7, 2018, both CD and vinyl
folkisdead.com

"'Youth.' is a coming of age album. It's about when your dreams becomes your regrets, when your friends become strangers, & when your first love becomes your first loss. I really hope you like it.❤️
- KM."

Produced by Colin Munroe
Mixed by Noah Georgeson
Mastered by Philip Shaw Bova
Recorded in Los Angeles, Vancouver, Toronto, Ottawa & Sault Ste. Marie
Cut Bait
Jim Bryson - Tired of Waiting


https://youtu.be/M85FDqGZjdY

https://exclaim.ca/music/article/jim_bryson_reveals_tired_of_waiting_ep_shares_new_song
"Singer-songwriter Jim Bryson has announced plans for a new EP titled Tired of Waiting. It's due out September 14 via Coax Records/Headless Owl Records.
The six-song offering was written on a $100 guitar and recorded at Bryson's own Fixed Hinge Studio with Jonas Bonnetta. It also features musical contributions from Arcade Fire's Jeremy Gara, Scattered Cloud's Philippe Charbonneau and Jamie Kronik.
Bryson has teased the upcoming EP with a new track called "Cut Bait," which he describes as a "scrappy little three minutes of joy."
He elaborated on CBC's q, explaining that the song is "about how we wander and wonder and the possibility of the good moments we find.""

http://www.jimbryson.org/
I Saw Bosveld Play at The Record Centre
Outside I'm a Giant - Point Comfort

https://outsideimagiant.bandcamp.com/track/i-saw-bosveld-play-at-the-record-centre

Outside I'm a Giant, wrap up a successful eastern tour with a 4 pm show at The Record Centre, Tuesday, July 31st.

https://outsideimagiant.com/
Train 90
The Algonquin Ensemble - Sonic Palette


Interview with Kathryn Briggs and Terry Tufts at 8:15 am

www.thealgonquinensemble.com play ChamberFest fringe on Thursday, August 2nd at 10 pm, Tickets are $25 online
École secondaire publique De La Salle, 501 Old St Patrick Street, Ottawa, ON

http://www.chamberfest.com/concerts/2018-0802-03/

Crisp air and crisper leaves in vibrant colours. A rich, stormy sky. Wide lakes in a thousand shades of blue. Known for his association with the Group of Seven, Tom Thomson could evoke the dynamic beauty of an autumn walk like no other. Singer-songwriter Terry Tufts, pianist Kathryn Briggs, violinist Laura Nerenberg, violist Lisa Moody, cellist Margaret Tobolowska, and bass player John Geggie present Sonic Palette.

*Part of the Chamberfringe series, nightly events starting at 10 pm until August 9 featuring a wider range of music and genres.


ARTISTS
Algonquin Ensemble
Laura Nerenberg, violin
Lisa Moody, viola
Margaret Tobolowska, cello
Terry Tufts, guitar
John Geggie, double bass
Kathryn Briggs, piano
Lament for Tom Thomson
The Algonquin Ensemble - Sonic Palette


Tumble Home
The Algonquin Ensemble - Sonic Palette


Lamp Light
The Algonquin Ensemble - Sonic Palette