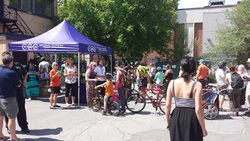 Monday Special Blend
Monday June 9th, 2014 with Trish Murray with co-host Ka Charlton
Mary Gauthier Concert, Vanier Velofest Report, Interview with NFLD Singer-songwriter Ian Foster, Durham County Poets
Careless Love
The New Orleans Swamp Donkeys - Swamp Donkeys

When a Woman Goes Cold
Mary Gauthier - Trouble & Love

Mary Gauthier played at the Blacksheep Inn in Wakefield on Friday, June 6th, supporting her latest album, Trouble & Love, which is her 10th album. You might know her for her well known piece "Mercy Now".
A Man Our of Time
Ian Foster - The Great Wave


Ian Foster, from Newfoundland, plays a house concert in Ottawa Sat. June 14th, 7pm. Kaffe 1870 in Wakefield Sun. Juse 15th, 7pm, Sharbot Lake Country Inn, 8pm, Mon. June 16th. Playing songs from his 6th album. http://ianfoster.ca/
The Great Wave
Ian Foster - The Great Wave


Glow On
Durham County Poets - Chickaboodah Stew


The Durham County Poets, from Ormstown QC (SW of Montreal), played in Kemptville at The Branch on Sat. June 7th and this is their latest album.
Chickaboodah Stew
Durham County Poets - Chickaboodah Stew