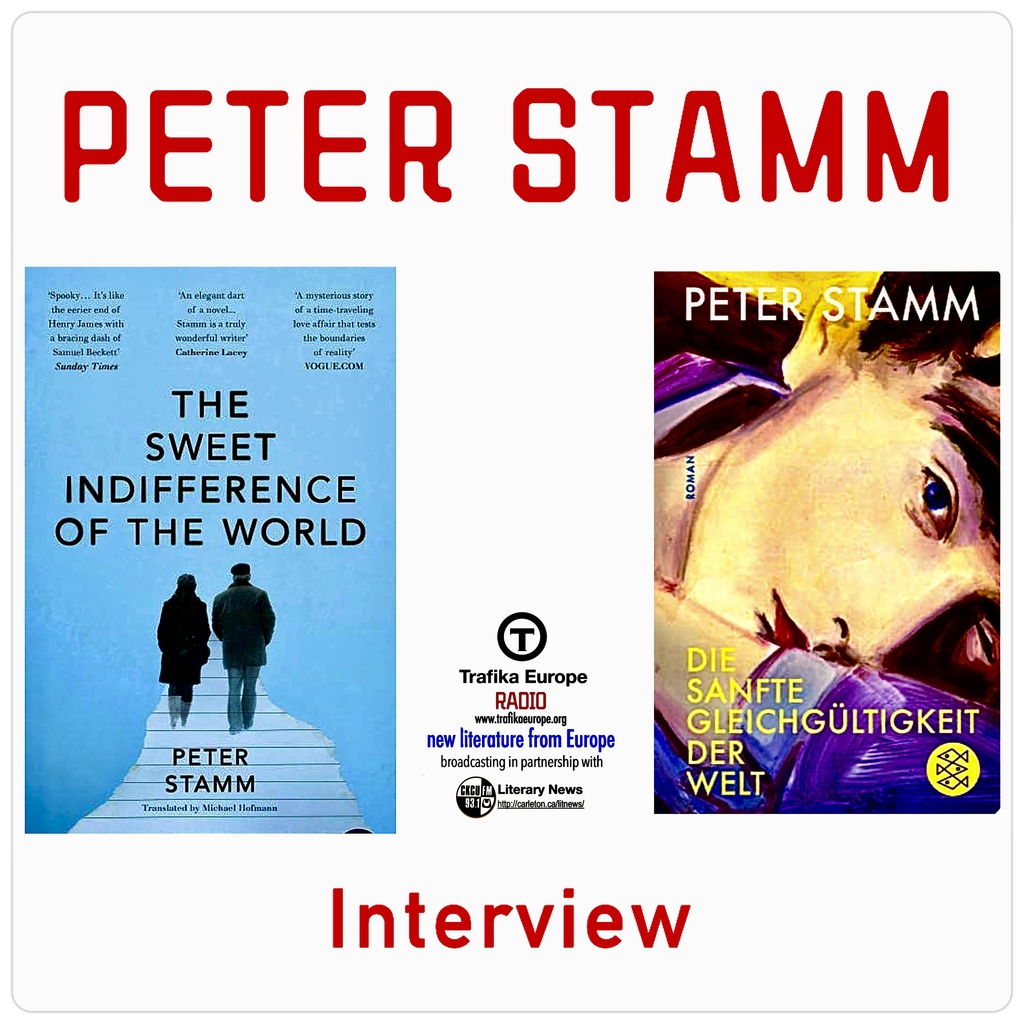 CKCU Literary News
Wednesday September 8th, 2021 with Hans G. Ruprecht
The internally acclaimed, award-winning Swiss novelist, playwright and author of radio dramas Peter STAMM in conversation with TRAFIKA Europe Radio host Andrew Singer about the art of writing fiction today.
Peter Stamm is the author of the novels Seven Years, On a Day Like This, and Unformed Landscape, and the short-story collections We're Flying and In Strange Gardens and Other Stories. His prize-winning books have been translated into more than thirty languages. For his entire body of work and his accomplishments in fiction, he was short-listed for the Man Booker International Prize in 2013, and in 2014 he won the prestigious Friedrich Hölderlin Prize. He lives in Switzerland. The most recent book by Peter Stamm, 'The Sweet Indifference of the World' A Novel, translated by Michael Hofmann from the German original called 'Die sanfte Gleichgültigkeit der Welt' (S. Fischer Verlage, 2018) was named by Vogue Magazine in 2020 "A BEST BOOK Of THE SEASON". For the German original Peter Stamm received the very prestigious SCHWEIZER BUCHPREIS (Swiss Book Prize) 2018. Credit:
https://otherpress.com/author/peter-stamm-82012/
Trafika Europe Radio
https://www.trafikaeurope.org/trafika-europe-radio/
showcases new literature from the 47 Council of Europe countries, with its online literary journal, online European bookshop, YouTube channel with animated and other art literary videos. Trafika Europe Radio – Europe's literary radio station, is free online! Visit the livestream page anytime to enjoy "literary music" from across Europe and browse their podcast archives – and you can also sign up there to stay informed on future shows. To support Trafika Europe Radio, please visit their Patreon page.
https://www.patreon.com/trafikaeurope
The audio of the broadcast has been edited from the original recording as produced and aired earlier by Trafika Europe Radio. For what we received from our colleagues at Trafika Europe also in terms of technical support and editorial assistance made us truly thankful.
There are no tracks in this playlist.