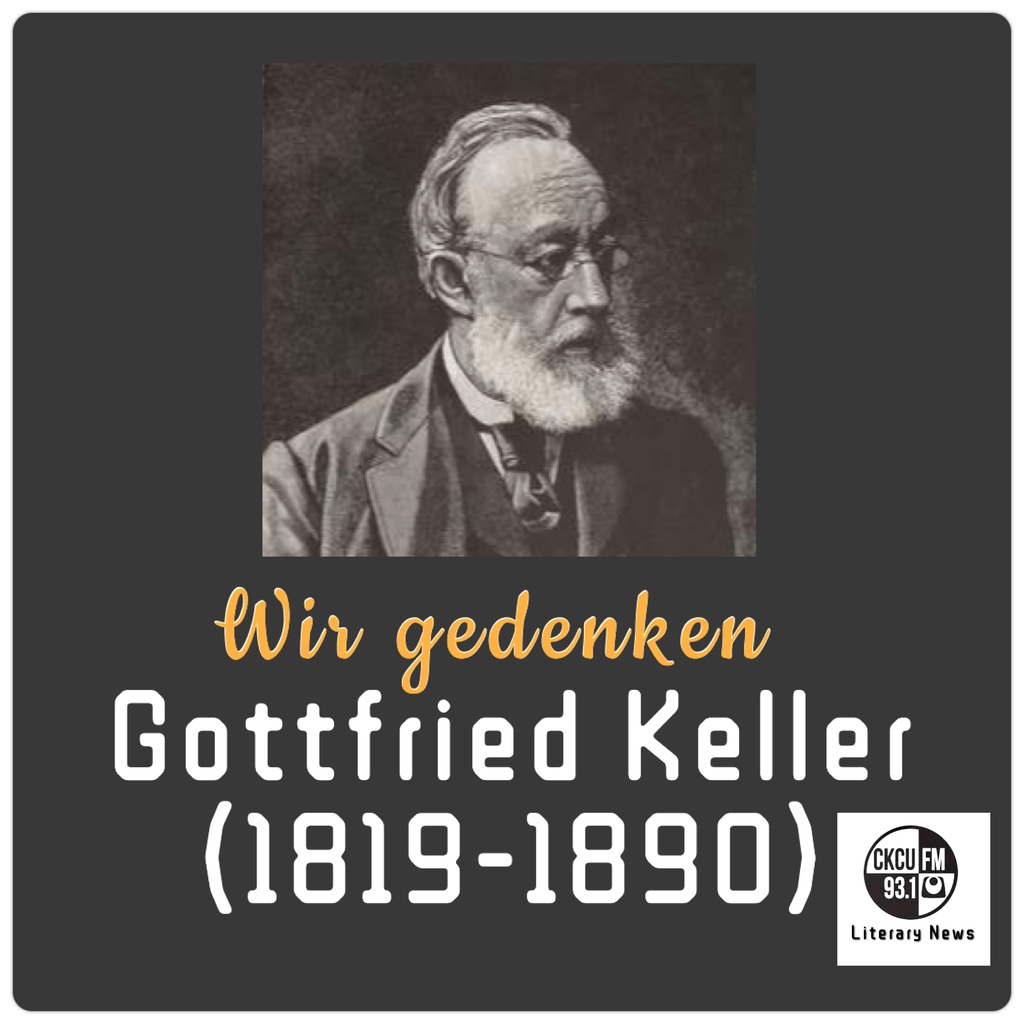 CKCU Literary News
Wednesday January 13th, 2021 with Hans G. Ruprecht & Dr. Klemens Klemmer.
Celebrating the life and literary work of Gottfried KELLER (1819-1890), the famous German-Swiss poet, painter and author of great prose fiction in the style of 'poetic realism' . 🔸Gottfried KELLER (1819-1890) zum Gedenken.
' Gottfried Keller, (born July 19, 1819, Zürich—died July 16, 1890, Zürich), the greatest German-Swiss narrative writer of late 19th-century Poetischer Realismus ("Poetic Realism"). His father, a lathe artisan, died in Keller's early childhood, but his strong-willed, devoted mother struggled to provide him with an education. After being expelled from secondary school for a prank, he took up landscape painting. Two years' study in Munich (1840–42) brought little success, so he returned to Zürich, where he published his first poems in 1846. From 1848 to 1850 the Zürich government sponsored his studies at Heidelberg, where he was deeply influenced by the philosopher Ludwig Feuerbach. From 1850 to 1855 he lived in Berlin. Intending to write for the theatre, he wrote instead the long autobiographical novel Der grüne Heinrich (1854–55; Green Henry). It was completely revised 25 years later (1879–80), and in this version, which is standard, the personal story of a young man's development becomes a classic Bildungsroman (educational novel) in the tradition of Goethe's Wilhelm Meister. Green Henry (so called because his frugal mother made all his clothes from a single bolt of green cloth) sets out to become an artist. After some success and many disappointments, he returns to his native city and wins some respect and contentment in a modest post as a civil servant. Keller returned to Zürich in 1855 and became clerk to the canton (1861–76). These 15 years allowed him almost no time for writing. He resumed his literary career late in life. ' Source:
https://www.britannica.com/biography/Gottfried-Keller
More about his novel ›Der Grüne Heinrich‹ (The Green Henry) in Benjamin W. Wells,
https://en.m.wikisource.org/wiki/The_Encyclopedia_Americana_(1920)/Der_Gr%C3%BCne_Heinrich
There are no tracks in this playlist.