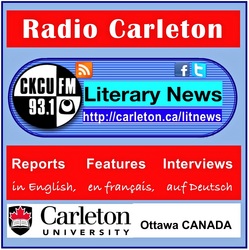 CKCU Literary News
Wednesday July 29th, 2015 with Hans G. Ruprecht & Helmut Zobl
Hartmut HEYCK.
Hartmut HEYCK im Gespräch mit Helmut ZOBL, Komoderator der Sendung 'Das literarische Echo' von CKCU-FM94.1 / Literary News. Hartmut HEYCK hat zwei Novellen seines Urgroßvaters Wilhelm JENSEN ins Englische übersetzt, die unter diesem TItel zu beziehen sind: 'Superior Powers: The Red Umbrella / In the Gothic House'. By Wilhelm JENSEN, translated into English by Hartmut Heyck (date of publication: JAN 23, 2015) ISBN: 1503179230 Paperback.Taschenbuch, [EAN: 9781503179233], CreateSpace Independent Publishing Platform, CreateSpace Independent Publishing Platform, Book, [PU: CreateSpace Independent Publishing Platform]. Wilhelm JENSEN (1837-1911), war ein bekannter Romanschriftsteller und Lyriker. Seine Novelle 'Gradiva' regte Sigmund FREUD dazu an, das für die Literaturkritik des 20.Jahrhunderts einflussreiche Buch 'Der Wahn und die Träume in W. Jensen's Gradiva" (1907) zu schreiben. Wir empfehlen auch ein Interview, das Hartmut HEYCK mit uns auf Englisch hatte und das noch immer unter diesem Link zu hören ist>
http://cod.ckcufm.com/programs/414/22257.html
There are no tracks in this playlist.