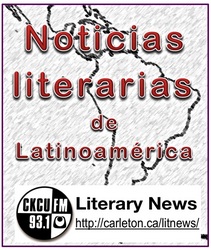 CKCU Literary News
Wednesday April 22nd, 2015 with Hans G. Ruprecht & Alberto Quero
Latin American literature in the News.
CKCU Literary News correspondent Dr. Alberto QUERO based in Maracaibo (Venezuela) is reporting about Sergio RAMIREZ a highly regarded Nicaraguan writer, who is the winner of this year's Carlos Fuentes International Prize for Literary Creation in Spanish. Alberto Quero is also offering very interesting perspectives on science fiction in Latin America. He's suggesting that Latin America is perhaps entering a period similar to that of "el boom" (which brought during the 1960s innovative novels by C. Fuentes, G. García Márquez, J. Cortázar, and M. Vargas Llosa among others), but this time, he suggests, the 'boom' is primarily in science fiction writing. Towards the end of the show Dr. Quero is paying a moving tribute to the great Uruguayan poet, novelist, journalist and editor Eduardo GALEANO who died, April 13, 2015, aged 74 in Montevideo.
There are no tracks in this playlist.