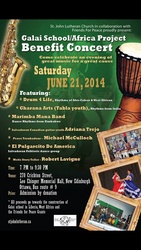 CKCU Literary News
Tuesday June 24th, 2014 with Hans G. Ruprecht
Celebrating Canadian cultural diversity for a great cause: the Galai School / African Project.
The Benefit Concert of June 21, 2014, for the Galai School /African Project, with JESSEE MATTHEWS, project initiator, in conversation about this faith based celebration of Canadian cultural diversity, that is featuring, among many others, ROBERT LAVIGNE, a metis story teller widely known as 'Jo Maple'. In collaboration with St. John Lutheran Church (270 Crichton Street, New Edinburgh in Ottawa) and Friends of Peace, Ottawa.
There are no tracks in this playlist.