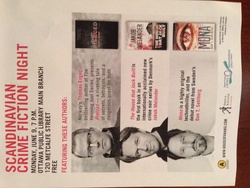 CKCU Literary News
Tuesday June 17th, 2014 with Hans G. Ruprecht
Scandinavian crime fiction writers in conversation.
All about "Snow noir" — a conversation with authors THOMAS ENGER, from Norway, JAKOB MELANDER, from Denmark, and DAN T. SEHLBERG, from Sweden, discussing the nature and the internationally so widespread fascination of Scandinavian crime fiction, while they were in Ottawa presenting their new books.
There are no tracks in this playlist.