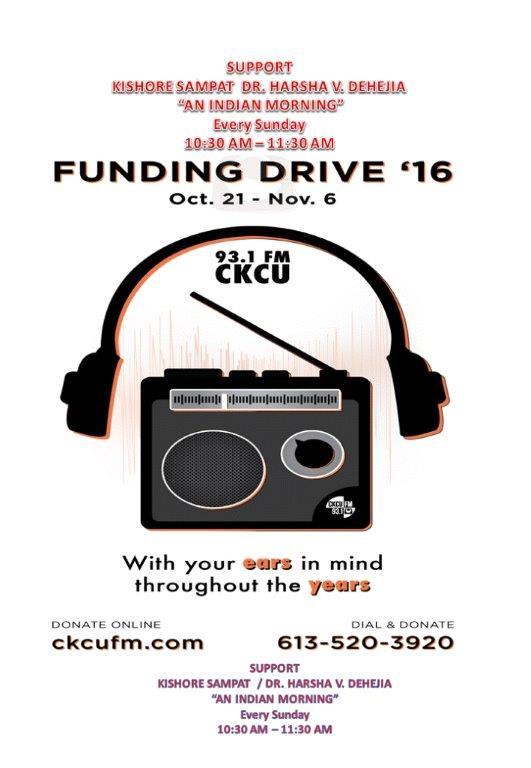 An Indian Morning
Sunday October 23rd, 2016 with Dr. Harsha V. Dehejia and Kishore "Kish" Sampat
Join An Indian Morning in celebrating not only the music of India but equally its various arts and artisans, poets and potters, kings and patriots. The first half of the program features classical and religious music as well as regional and popular music.
Funding Drive - I IF YOU HAVE ALREADY PLEDGED, PLEASE DISREGARD. IF YOU COULD FORWARD THIS REQUEST TO YOUR FRIENDS FOR MUCH NEEDED SUPPORT, IT WOULD BE GREATLY APPRECIATED! This year our (CKCU's) goal is to raise $135,000. We have given and continue to give you great information and entertainment this year, please give back to CKCU during the Funding Drive. The funding drive for 'An Indian Morning', will be from 10:00 AM till 11:30 AM on Sunday, October 23rd, October 30th and November 6th. We request you, once again, to continue to support 'An Indian Morning'. You can extend your support by pledging $25, $50, $100 and more during the funding drive. A tax receipt will be issued for any donation of $20 & more. You can make your pledges in the following manners: 1) Call during the radio program 'An Indian Morning' between 10:00 AM and 11:30 AM on Sunday, Oct 23rd, October 30th and Nov 6th. The phone number is 613-520-3920 or long distance 1-877-520-3920 (North America only). 2) Pre-pledge now or anytime by sending following to us at aim931@rogers.com or calling us at 613-592-9825: Name (Last Name/First Name) Address (with postal code) Phone Number Amount of pledge ($$) Method of Payment: Credit Card (VISA, MASTER CARD), CHEQUE Cheque is payable to "CKCU-FM" and under memo on the cheque, please indicate 'pledge to An Indian Morning'. 'An Indian Morning', anywhere, anytime! Thanking you in anticipation of your continued support, Dr. Harsha Dehejia - Producer and Host 'An Indian Morning' Kishore Sampat – Co-Host / Producer / Volunteer & Technical Director 'An Indian Morning' ksampat@rogers.com E-mail: aim931@rogers.com / ksampat@rogers.com 613-592-9825 613-864-7036
There are no tracks in this playlist.