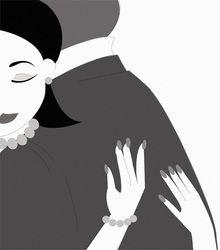 Vintage Love
Saturday March 28th, 2015 with O'shea Adagio
Legends And Lovers
Some of your favorite artists on the show tonight.. thus the title, Legends and Lovers. Marcia, Dean Fraser, Beres, the woman we have fallen in love with, E., Mikey Spice, Morgan Heritage and starting off the show with a fantastic acoustic version of my favorite song, Waiting In Vain.... which we will hear the original later in the show. Special greetings to listeners throughout the US of A and to Barbados... great to hear from you. I start thinking of the islands and the thoughts of sweet music on the ocean breeze, the aroma of delicious foods...and the laid back vibe.... yes!! Big up to all the islands and thank you for tuning in. Cant forget everyone here as well... everyone in the GOA and listeners throughout this great nation. Trying always, to create a place where you can stop in on Saturday nights and enjoy moments, memories and music. My name is O'shea Adagio and I am proud to be your host on VL on these Saturday nights. Thank you so much for giving Vintage Love a chance. Your pick for SOTW: Lukie D. - Thinking Out Loud Wishing all of you who celebrate... a safe, happy and memorable Easter 2015. Sincerely yours, O'shea Adagio & the VL Team vintageloveckcu info&vintagelove.net "Playing With Those Memories Again" Vintage Love International CKCU 93.1FM
CKCUFM.COM
Waiting In Vain (@ 08:07)
Bub Roberts - -
What We Need Is Love (@ 14:41)
Luciano ft. Spanner Banner - -
Since last week was a detour show... no SOTW. So deferred to tonight. The Song Of The Week from the show, "One Hundred Years", as chosen by you, the listeners on the Interactive Menu. This is Lefty Banton covering Joe from "The Wood" Soundtrack (love that movie by the way) with "I Want To Know.
I Want To Know (@ 20:36)
Lefty Banton - -
One of the living legendary groups of our time. With the most conscious of lyrics to uplift the spirit and educate the massess and the most moving, honest and soulful lover songs that will touch anyone reggae lovers or not. We step back in time to the My Baby riddim for Morgan Heritages classic, "Come Home".
Come Home (@ 24:55)
Morgan Heritage - -
So often, we Reggae lovers, who appreciate many genres of music, here a cover version that heightens the love of a particular tune... and this, at least for me, is the case here. Love the original version but Lukie nails the cover... and I am not alone, as the calls came in to rewind this one. Lukie for you, with a cover of Ed Sheerans' "Thinking Out Loud".
Thinking Out Loud (@ 27:43)
Lukie D. - -
Talk about legends... this is a staple in lovers music. Marcia Griffiths, who for decades has blessed us with her music. Featuring one of the top male vocalists in Reggae music.. Da'Ville. A tremendous song and duet by these two great singers.
All My Life (@ 35:20)
Marcia Griffiths Feat. Da'Ville - -
Now And Forever (@ 38:36)
Sandra Cross - -
For The Love Of You (@ 42:07)
Anthony Cruz - -
Lady (Interlude) (@ 46:15)
Thriller U - -
Another great male vocalist who has mastered the art of covers. This is Mikey Spice covering the song "The Power Of Love", going out to Keisha tonight. Thanks Special K. for tuning in and thanks for your rewind request.
The Power Of Love (@ 47:02)
Mikey Spice - -
Just One Look (@ 54:50)
Bliss - -
If I Were A Carpenter (@ 59:12)
Christopher Martin - -
A request to hear the voice of Frankie "Dancehall" Paul on Vintage Love tonight... so on the same rhythm, here is Frankie for you. Thanks for your request.
Kissing In The Moonlight (@ 63:03)
Frankie Paul - -
We played Luciano earlier in the show and it sparked a few requests for some more Luciano in the show tonight. So to Phoenix et al., this is Luciano with a classic, "Sweep Over My Soul". Thanks for tuning in all the way from Cardinal land - Arizona.
Sweep Over My Soul (@ 66:15)
Luciano - -
Someone To Hold (@ 70:30)
Singing Melody - -
Waiting In Vain (@ 74:05)
Bob Marley & The Wailers - -
Ain't Understanding Mellow (@ 79:43)
Jerry Butler and Brenda Lee Eager - -
Impossible (@ 84:19)
Dennis Brown - -
Don't Ever Change (@ 87:36)
Carlene Davis - -
A request from the Interactive Menu all the way from Barbados going out to the requesters sister who is going to school in Ottawa. This is Marla Brown (Dennis Browns daughter) singing "Better Days". From here, to there and back again goes this request.
Better Days (@ 92:13)
Marla Brown - -
Fall In Love (@ 96:07)
Belinda Brady - -

Trigger (@ 99:35)
Etana - -
The 411; keeping you connected with the goingz on in and about Ottawa. If you would like to advertise a coming event, please send your infomration to: the411@vintagelove.net
Top Ten (@ 105:00)
Dean Fraser - -
Cool Runnings (@ 112:05)
Duane Stephenson - -
Exco Levi and Ammoye were here in concert on Thurday night. A concert that I went to that was fantastic. Thanks to all who came out and nuff respect to Rockers and Papa Richie and the whole CHUO massive. It was a great show. Here is some more Exco for you.. going out to everyone who came out to the concert on Thursday night.
Life In The Factory (@ 116:17)
Exco Levi - -

Reggae Music Again (@ 118:14)
Busy Signal - -
I'll Never Walk Away (@ 121:17)
D-Major - -
Pride & Joy (@ 122:27)
Beres Hammond - -