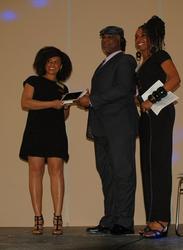 Vintage Love
Saturday March 29th, 2014 with O'shea Adagio
Speechless (The Quieter Storm)
As promised last week... and something that I have thought about doing for quite some time. A show dedicated to the band, the musicians and/or the rhythm section. Featuring some of the great instrumentalists of today and yesterday. Such as Chris Ingram, Ernest Ranglin, The Supersonics, Dean Fraser, Sly & Robbie, Dwight Pinkney, Fausto Papetti, Byron Lee, Ossie Scott and many more. Turning the lights down low on this Saturday night and just letting the easy breazy vibes flow through. This is music!! I hope you enjoy the show tonight. Thank you as always for spending a couple hours with me here on CKCU. :-) O'shea Adagio Vintage Love International CKCU 93.1 FM Facebook; ckcuvintagelove Email: info@vintagelove.net
An all instrumental show tonight so I thought I would reverse the usual instrumental at the top of the show and play something accapella. So this is the smooth voice of Pam Hall covering this Dolly Parton coined tune. We remember this tune also, from The Bodyguard soundtrack which became one of the best selling singles of all time... a version sung by the late Whitney Houston back in 1992.. wow so long ago already. Anyway, Pam Hall to start out the show tonight.
I Will Always Love You (Accapella) (@ 06:40)
Pam Hall - -
I Surrender All (@ 13:54)
Benjy Myaz - -
Beyond The Sea (@ 20:55)
Byron Lee And The Dragonaires - -
The sweet saxophone sounds of Chris Ingram covering Otis Redding. This slow seductive version is perfect to set the mood for a little romance. This song was written by Otis and Jerry Butler and was released back in 1965. It reached number 2 in the R&B charts.
I've Been Loving You Too Long (@ 24:01)
Chris Ingram - -
Danny Boy (@ 27:35)
Ossie Scott - -
Djamballa (@ 31:55)
Fausto Papetti - -
Wig Wam (@ 35:40)
Tomorrow's Children - -
Never To Be Mine (O Solo Mio) (@ 41:05)
Roland Alphonso & The Supersonics - -
For those of you who love Jazz, this is a cover of George Benson. This song written by Bobby Womack and here for you in a Caribbean style... continuing with instrumentals here on Vintage Love.
Breezin' (@ 44:32)
Boris Gardiner - -
One of the greatest saxophonist and producers of our time (in my opinion). This is Dean Fraser covering one of your favorite artists in Reggae music, Mr. Beresford Hammond. The ladies love this song, released in 1994 on the Elektra Label and originally titled No Disturb Sign, this is Dean Frasers version called No Disturb.
No Disturb (@ 48:33)
Dean Fraser - -
The legendary Jamaican keyboardist who was also a member of The Skatalites. Donat Roy Mittoo passed away from the terrible disease that we know all too much about now (but unfortunately not enough to cure)... cancer. Mr. Mittoo passed away late in 1990. You may recognize this rhythm from the very famous No, No, No (You Don't Love Me) by Dawn Penn.
Loving You (@ 55:53)
Jackie Mittoo And The Soul Vendors - -
Last Waltz (@ 62:30)
Lynn Taitt And The Jets - -
Riding With Mr Lee (@ 65:25)
Earl "Chinna" Smith - -
Big People Music is this!! A very popular old tune by Pluto Shervington covered here with an instrumental version
Ramgoat Liver (@ 67:43)
Willie Lindo And The Reggae Brothers - -
A double spin of some Bob Marley & The Wailers. First is Dean Fraser followed by the incredicle musical duo of Sly & Robbie with their version of Jah Live.
Roots, Rock, Reggae (@ 70:43)
Dean Fraser - -
Jah Live (@ 74:50)
Sly & Robbie - -
From the amazing album Urban Hang Suite, this is Maxwell with The Suite Theme. A dangerously romantic, seductive tune as we continue with instrumentals through the 2nd hour of the Vintage Love show.
The Suite Theme (@ 81:04)
Maxwell - -
Why Can't It Wait Till Morning (@ 87:00)
Fourplay Ft. Phil Collins - -
A Gospel instrumental for all of you who love Gospel music.... of course remaining with instrumentals.
A Mighty Fortress (@ 90:15)
Dean Fraser - -
Waiting In Vain (@ 94:00)
Dwight Pinkney - -
To Sir With Love (@ 98:10)
Roland Alphonso - -
D Train (@ 101:35)
Tony Greene - -
One of yours and one of my favorite rhythms. You might recognize this instrumental as the rhythm to Bitty McLeans Walk Away From Love and/or Kelly Makeda's Easy (Like Sunday Morning). Big tunes!! This is Just Cool a tribute to the late great Duke Reid.
Just Cool (@ 104:53)
Mark 'Saxa' Overton - -
From one of the best albums ever produced (in my humble opinion) this is Inez, from the album On Bond Street featuring The Supersonics.
Inez (@ 108: 19)
Bitty McLean & The Supersonics - -
A tune that has been recorded many many times by verious artists in different genres. Recorded by Tom Jones, Stevie Wonder, Neil Diamond, Julio Iglesias, Louis Armstrong and many more. Written by Fred Neil in 1966... Reggae fans might remember John Holts version a classic remake covered here by the guitar stylings of Ernest Ranglin.
Everybody's Talkin' (@ 112:09)
Ernest Ranglin - -
I am sure you all know this most famous song from the many recordings of the late great Gregory Isaacs. This is Night Nurse most recently covered by Romain Virgo and this is the accompanying version by Dean Fraser from the tribute album, We Remember... and we certainly do. Nuff respect to Gregory Isaacs for all these fantastic songs he left us. The Cool Ruler covered here on VL.
Night Nurse (@ 114:41)
Dean Fraser - -
Ending off this treat of instrumentals is an uptempo cover of the Jackson Five. A tune I think you will all be able to sing along with as Jazz Jamaica covers this 1969 song with a young Michael on lead vocals. This is I Want You Back ending off Vintage Love tonight.
I Want You Back (@ 119:05)
Jazz Jamaica - -
Thank you for tuning and checking out this show on ON DEMAND. Tune in again for another episode of Vintage Love exclusively here on 93.1FM or around the world at CKCUFM.COM
Also, Vintage Love is now available on Facebook. You can look for us and friend the VL show at: ckcuvintagelove Again, thank you for tuning in.... good evening, good night, good morning or good day to you whichever is appropriate as you listen to the show where ever you are. Thank you for choosing Vintage Love for a few hours of music and entertainment.