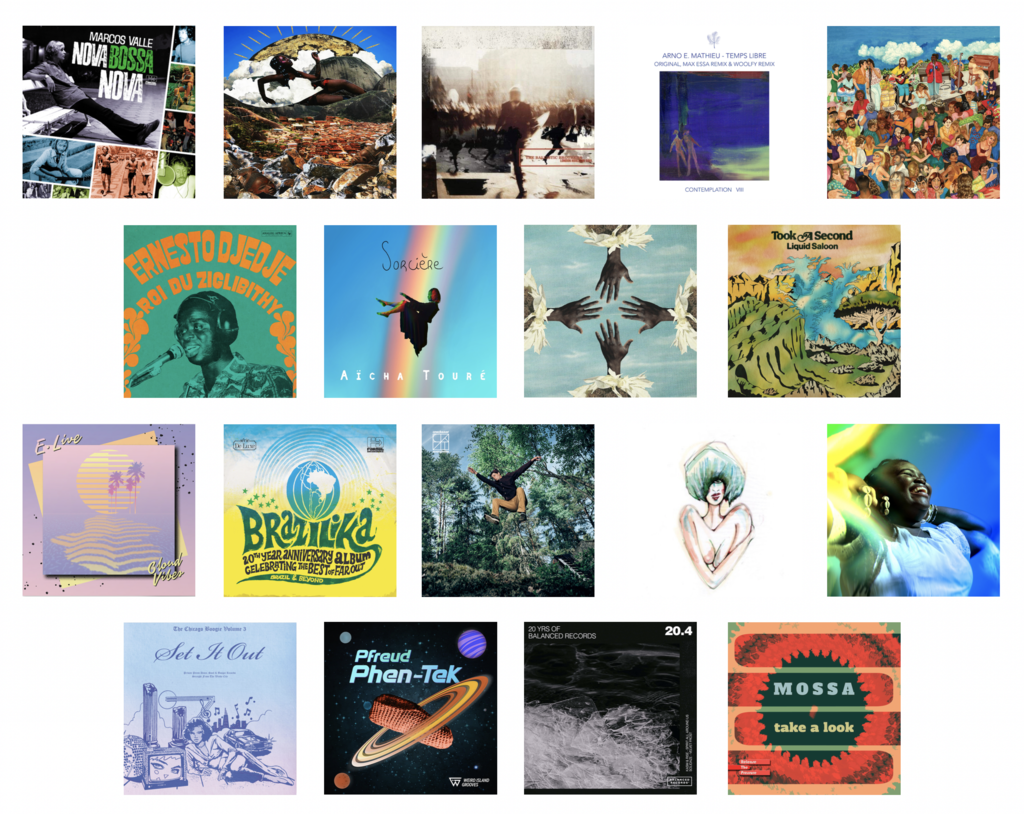 Friday Drive
Friday September 2nd, 2022 with Trevor Walker
[FinallyDiggIntoMyDigiDrive]
Happy Friday Drivers! This week's show will consist of mostly new acquisitions I've been meaning to get to for a little while, some have been accumulating a little over the summer and it's been on the brain to get them up and on the airways. If everything goes according to plan we'll be hearing an eclectic mix of all kinds of grooves with some sampling from "Far Out / Mr. Bongo" who've been on fire, new things from the Meridian Brothers new album, some tasters from E. Live's modern boogie instant classic "Cloud Vibes", some nice modern afrobeat grooves from Kokoriko's latest, "Could We Be More", selections from Liquid Saloon's Album "Took A Second" and more! Thank you for taking the time and hope you enjoy the show! Extra Curriculars: (upcoming events that could be of interest) Friday: Fall into Vintage at Place d'Orleans Sep 2 - 4 | 9h30-16h Our Huge Back 2 School & Cooler Weather Fashion & Home Decor Event! Clothing - Accessories - Streetwear - Home Decor - Collectables - Handmade - and More! Free All Ages Event:
https://fb.me/e/2aIDlWbde
OUR AMAZING VENDORS! @wildthings.vintage @vintagevibev2 @rinude @thriftingwithbrady @downtownunderground613 @deadladythingsvintage @thriftingwithbrady @vintagebyesma @livneys @dandylioness.vintage @thrift_sola @illusive_artworks @lady.arkenstone.vintage @goodbadgirlvintage @smalltownthrifts *Vendor list is full* Sign-up to be on our vendor call list:
http://eepurl.com/dinauD
ROOT@RIS3 Movement and Music Festival @76 Chemin de la Montagne,Lac-Sainte-Marie,J0X 1Z0,CA Sep 9, 15h - Sep 11, 12h Event:
https://fb.me/e/3xYKtHNjf
Tickets: $50-$120 via Eventbrite Raise your vibration through movement and music this Sept 9-11th at Mont Ste. Marie. Gather in the mountains to celebrate the end of summer at this weekend long festival that features a variety of yoga and movement classes, live music and DJ sets, live art, free camping and delicious food. Bring your crew or come alone and make new connections at the third Root 2 Rise festival taking place at the beautiful Mont Sainte Marie resort. Only one hour from Ottawa join us for the day or come for the entire weekend. There are a myriad of options for staying overnight; from luxurious AirBNB to pitching a tent. DInners and Sunday brunch are INCLUDED in the ticket price and there will be meals, snacks and beverages avaiable for purchase throughout the weekend. Reserve your accomodations and book your tickets early. This event WILL SELL OUT! Saturday: City At Night BLOCK PARTY (September 2-4) White Rabbit + AXE Worldfest + Sairyo Street Pop-Up Sept 3(Saturday)! Mari Rossi (Brazil) Trevor Walker @Bank & Slater OUTDOORS! | 19h-23h (7-11pm) White Rabbit After Party! House of Wayne + Rick Laplante @City At Night | 23h-2h (11pm-2am) 222 Slater Street Event:
https://fb.me/e/27pjPctYX
Tickets:
https://cityatnightSept322.eventbrite.ca
Ottawa's best dance music DJs every Saturday from 8pm to 2am at White Rabbit inside City At Night, curated by Framework Music. We invite you to join us for our spin on happy hour: #HoppyHour! Every Saturday from 8pm to 10pm we offer half price admission, half price beer, half price bar rail, featured cocktails, and featured DJs! FAQ:
www.cityatnight.ca/FAQ
VENUE:
www.cityatnight.ca
M☉D NITE : 1960s Rock & Soul Dance Party! @Club SAW 67 Nicholas | 23h-1h45 Event:
https://fb.me/e/2IFiT9uMi
Tickets:
www.ticketweb.ca/event/mod-nite-1960s-rock-club-saw-tickets/12322605
Early Bird $5:
https://bit.ly/3RE9WhE
MOTOWN•SOUL•R&B•PSYCH•60s CLASSICS DJ Emmett Spinning vinyl classics by: ✿ Aretha Franklin . Sam Cooke . Stevie Wonder . Etta James . Frankie Valli . Marvin Gaye . Otis Redding . Diana Ross & The Supremes . The Four Tops . The Marvelettes . The Ronettes . Little Richard . The Beatles . The Who . Ray Charles . Jackson 5 . The Rolling Stones . James Brown . David Bowie . Martha & The Vandellas and many many more ✿ PRIZES & GIVEAWAYS ! DRINK SPECIALS ! TWIST COMPETITON ! • FIRST SATURDAY OF EVERY MONTH @ Club Saw • FREE AFROFESTIVAL OTTAWA 2022 FREE FESTIVAL @Mooneys Bay Beach Sep 10 & 11 | 13h-22h *each day Event: Saturday
https://fb.me/e/1JNsg7rCX
Sunday
https://fb.me/e/2bKuZc4Ci
Free Tickets:
https://www.eventbrite.ca/.../afrofestival-ottawa-2022
... AfroFestival Ottawa is a free, yearly Music and Arts festival that showcases the best of African culture and entertainment in the nation's Capital. This festival gives all Canadians a chance to experience the beauty and wonder of African culture and expression. It promotes a sense of integration and representation for African Canadians, and celebrates a culture that is often misunderstood or undervalued. This festival highlights local artists who struggle to find opportunities to showcase themselves in the Ottawa music scene, and provides artisans of African fashion, goods and crafts with a chance to display their wares. There is also a place for authentic African cuisine food vendors and restaurants to promote their businesses, sample and sell their food. With live performances from both local and international artists, children's activities and fashion shows, this is a festival the whole family can enjoy. Last year was our 2nd year and was in person at Mooney's Bay Park, Over 10,000 people attended the Festival with Positive feed back, this year we plan to make it better and bigger. This year, we are happy to announce that we will be hosting in person festival at our well known beach in OTTAWA on September 10th and 11th 2022. Come have fun while discovering local talents and diverse African culture at our free festival. Celia @Arts Court 2 Daly Ave Sep 10 | 20h Event:
https://fb.me/e/3AfxMNP4k
Tickets: $27.54
www.eventbrite.ca/e/celia-tickets-394631341967
"Celia" is an original story written and directed by Lilliam Vega and presented by El Ingenio Teatro in Canada for the first time. It narrates the experiences of an actress who lives in Havana and remembers evocative fragments of her life intertwining them with the memories of Celia Cruz, the mythical Cuban singer exiled in New York. With original music composed by Hector Aguero Lauten and impressive performances by Ivanesa Cabrera and Jorge Luis Gonzales, Celia is a musical play that bets on love, nostalgia and joy, essential elements in the life of every Cuban. Elizabete Balčus with special guest Yolande Laroche @Club SAW 67 Nicholas St Sep 10 | 20h Event:
https://fb.me/e/26mZcWUUg
Tickets: $15-$20
www.eventbrite.ca/e/elizabete-balcus-with-special-guest-yolande-laroche-tickets-397086044047
Elizabete Balčus (Latvia) neo-psychedelic dream pop
https://elizabetebalcus.bandcamp.com/
with special guest Yolande Laroche (Hull) Licensed / all ages fully accessible to those with restricted mobility and all genders Vinyl Pop Up! @Queen St. Fare 170 Queen Street Sept 17 | 12h-16h Event:
https://fb.me/e/2LyWuG635
New & used vinyl and tapes, VHS, rare band shirts, vintage clothes & kitschy items....bring your own reusable bag! Snacks, coffee & beverages available at @BarRobo Free All Ages Sunday: Pull Up x2 | Street Party + After Party Sep 4 @City At Night 222 Slater (corner of Bank & Slater) | 19h-late Event:
https://fb.me/e/1YhlBvPGZ
Tickets $10 - $21
www.eventbrite.ca/e/pull-up-x2-street-party-after-party-tickets-404178116627
For Pull Up 002 we're doing it up big with a street party followed by an after party taking place at City at Night (222 Slater St.) in Ottawa, ON. Street Party = 7PM - 11PM After Party = 11PM - 3AM Lineup details and schedule to come.. -- Pull Up is... UK Garage, House, Breaks, Rave Anthems, Jungle, & More. If you need more "Friday Drive" check the archive at
ckcufm.com
going back to April 2015!!! Still not enough??? Catch me on twitch
twitch.tv/lifeboogie
Tuesday, Thursday, Saturday & sometimes more when possible. Usual start time usually 20h, sometimes I even stream while taping "Friday Drive".
Abandonu
Marcos Valle - Nova Bossa Nova RE - Far Out Recordings
High
Muva Of Earth - Single - Brownswood Recordings

Soho Cab Ride
The Ballistic Brothers - London Hooligan Soul - Soundboy Entertainment
Temps Libre (Max Essa Remix)
Arno E. Mathieu - Contemplation VIII - Compost Records

Poema Del Salsero Resentido
The Meridian Brothers - The Meridian Brothers & El Grupo Renacimiento - Ansonia Records

Hemana Necesito
The Meridian Brothers - The Meridian Brothers & El Grupo Renacimiento - Ansonia Records

Nini
Ernesto Djédjé - Roi Du Ziglibithy RE - Analog Africa

Sorcière
Aïcha Touré - Single - Tangential Music

Tojo
Kokoroko - Could We Be More - Brownswood Recordings

Bear Walk
Liquid Saloon - Took A Second - Raw Tapes

Underwater Dune
Liquid Saloon feat. Rejoicer - Took A Second - Raw Tapes

Wise Up Rise Up
E. Live - Cloud Vibes - Star Creature Universal Vibrations

Ups And Downs
Kirk Degiorgio - Brazilika - Far Out Recordings
Good Enough
Crackazat - Evergreen - Freerange Records

end of first broadcast hour
Nelson's Back
Syclops - I've Got My Eye On You - Bubble Tease Communications
Poignant Pelican
Liquid Saloon feat. Roi Avivi - Took A Second - Raw Tapes

La Policía
The Meridian Brothers - The Meridian Brothers & El Grupo Renacimiento - Ansonia Records

Bliwana
Ernesto Djédjé - Roi Du Ziglibithy RE - Analog Africa

Dancer e Voar
Daymé Arocena - Single - Brownswood Recordings

Chi-C-A-G-O (It's My Chicago)
Light Touch Band - The Chicago Boogie Volume 3: Set It Out - Star Creature Universal Vibrations

Planète Pan-Touf
Pfreud - Phen-Tek - Weird Island Grooves


Spirit All Around Us
Kasm & Rise - 20 Yrs Of Balanced Records - Balanced Records


Cadillac Breeze
E. Live - Cloud Vibes - Star Creature Universal Vibrations

Traffic Jam
E. Live - Cloud Vibes - Star Creature Universal Vibrations

Two Headed Amber
Liquid Saloon - Took A Second - Raw Tapes

War Dance
Kokoroko - Could We Be More - Brownswood Recordings

Take A Look
Mossa - Take A Look EP - Pronto Musique