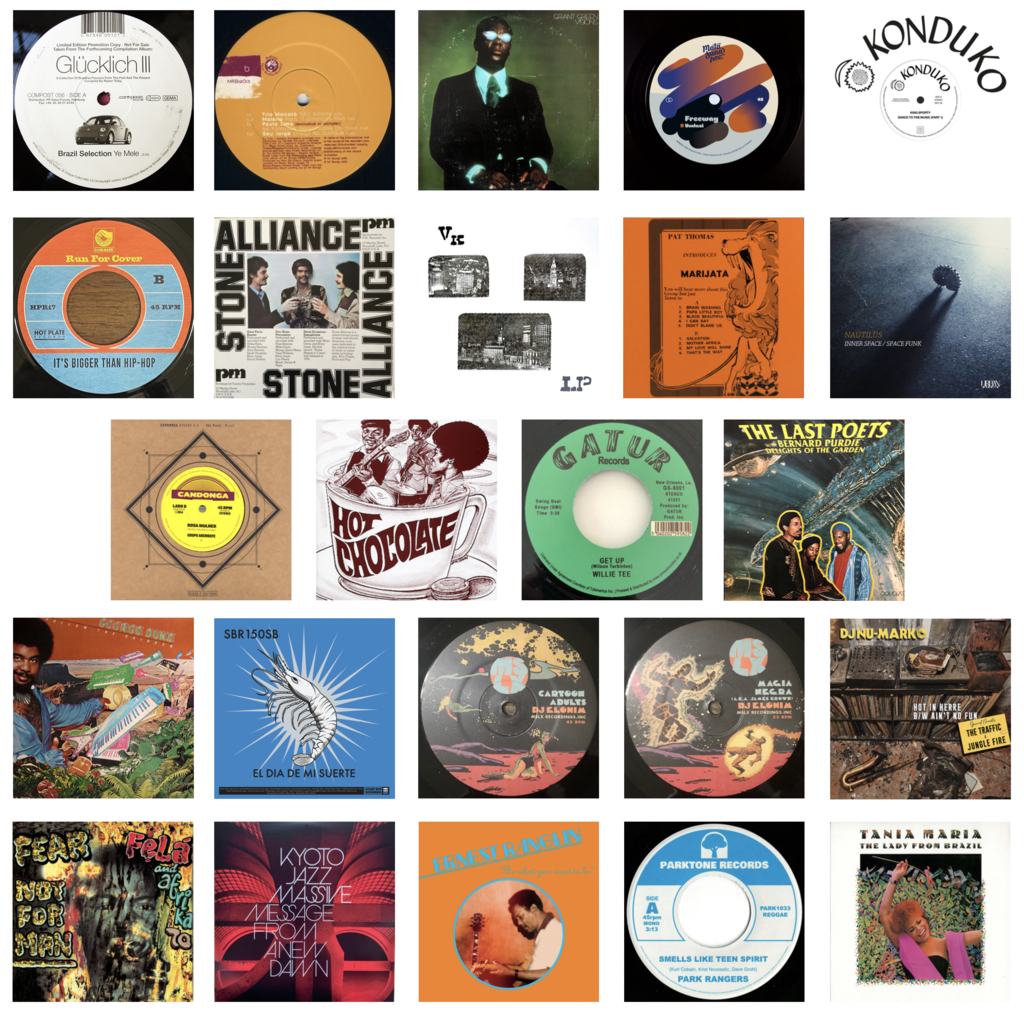 Friday Drive
Friday September 9th, 2022 with Trevor Walker
[ Let'sRide ]
Happy Friday "Drivers" Thank you for being here and especially if you're taking the time to listen and read this! Back again with the usual mixed bag of grooves needed to be linked together in the weekly "Friday Drive" mixtape. From Brazil to Blue Note to South Africa to Nigeria, Jamaican funk, Japanese NuJazz, Cumbia covering Hip Hop and so much more! Hope you enjoy the ride! EXTRAS.... (Events that might be of interest) Friday: ROOT@RIS3 Movement and Music Festival @76 Chemin de la Montagne,Lac-Sainte-Marie,J0X 1Z0,CA Sep 9, 15h - Sep 11, 12h Event:
https://fb.me/e/3xYKtHNjf
Tickets: $50-$120 via Eventbrite Raise your vibration through movement and music this Sept 9-11th at Mont Ste. Marie. Gather in the mountains to celebrate the end of summer at this weekend long festival that features a variety of yoga and movement classes, live music and DJ sets, live art, free camping and delicious food. Bring your crew or come alone and make new connections at the third Root 2 Rise festival taking place at the beautiful Mont Sainte Marie resort. Only one hour from Ottawa join us for the day or come for the entire weekend. There are a myriad of options for staying overnight; from luxurious AirBNB to pitching a tent. DInners and Sunday brunch are INCLUDED in the ticket price and there will be meals, snacks and beverages avaiable for purchase throughout the weekend. Reserve your accomodations and book your tickets early. This event WILL SELL OUT! Saturday: Vista Organ Trio @GigSpace Performance Studio 953 Gladestone Ave | 09-10 | 19h30 Event:
https://fb.me/e/1G5CUM7XU
Tickets:
www.gigspace.ca/events/vista-organ-trio
(In-person & Live-stream) The Vista Organ Trio is a new group featuring Mark Ferguson (Hammond organ), Alex Moxon (guitar) and Scott Latham (drums). The trio will be playing a number of groovy originals as well as music by Woody Shaw, Freddie Hubbard, Stevie Wonder and Burt Bacharach. Doors & GigSpace Bar open at 7:00 PM. Concert begins at 7:30 PM. Concert length approximately two 45-minute sets with intermission. In-person Ticket: $25 (this ticket also includes the livestream password). Live-stream Ticket: $19 (check your spam/junk folder if you didn't receive the livestream password). GigSpace will have seating for 40. Due to the intimate size and close seating in GigSpace masks are strongly recommended. NICK MACLEAN QUARTET'S TRIBUTE TO HERBIE HANCOCK feat. BROWNMAN ALI (Ottawa) @Montgomery Scotch Lounge | 09-10 | 21h30-23h30 EDT Event:
https://fb.me/e/3y7b0jedz
Tickets: $15 advance, $20 door
https://www.eventbrite.ca/.../nick-maclean-quartets
... 750 Gladestone Ave. Herbert Jeffrey "Herbie" Hancock has long been considered one of the greatest visionaries in the history of jazz as both pianist and composer. As part of Miles Davis's Second Great Quintet, Hancock helped to redefine the role of the rhythm section in modern jazz art, was one of the primary architects of the "post-bop" sound, and was one of the first jazz musicians to embrace music synthesizers and funk music. Led by the highly in demand pianist and composer NICK MACLEAN - called "A rising star in the Canadian jazz community" (Globe & Mail), winner of 8 Gold Global Music Awards and a Toronto Independent Music Award - the Nick Maclean Quartet pays tribute to this legendary artist. The group features "Canada's preeminent jazz trumpet player" (NYC Village Voice) and Randy Brecker protege, BROWNMAN ALI, winner of multiple National Jazz Awards, the Montreal Grand Prix du Jazz, and countless other awards and accolades. Maclean and Ali, stand shoulder to shoulder with two of Toronto's top 20 something jazz musicians - BEN DUFF on bass and PETROS ANAGNOSTAKOS on drums - and the group will explore Hancock material over 2 sets: the first set featuring music from Hancock's tenure with Miles and his time on Blue Note Records, while the second set delves into Herbie's funkified sounds from his group Head Hunters. ---- BONUS: As a sneak peek -- here's the tune list of what the ensemble is planning on playing this night : - Driftin (Takin' Off - 1962) - The Maze (Takin' Off - 1962) - And What If I don't (My Point Of View - 1963) - Eye Of the Hurricane (Maiden Voyage - 1965) - Maiden Voyage (Maiden Voyage - 1965) - Lil One (Maiden Voyage - 1965) - Dolphin Dance (Maiden Voyage - 1965) - Oliloqui Valley (Empyrean Isles - 1964) - One Finger Snap (Empyrean Isles - 1964) - Cantaloupe Island (Empyrean Isles - 1964) - The Sorcerer (Speak Like a Child - 1968) - Tell Me A Bedtime Story (Fat Albert Rotunda - 1969) - Watermelon Man (Takin' Off - 1962, Head Hunters - '73) - Chameleon (Head Hunters - 1973) - Butterfly (Thrust - 1974) ---- :: Nick Maclean - piano :: Brownman Ali - trumpet :: Ben Duff - bass :: Petros Anagnostakos - drums (in for Jacob Wutzke) ---- WATCH Nick Maclean Quartet perform the Herbie Hancock classic 'One Finger Snap'
https://youtu.be/edSOmNfDo5o
---- For more info:
www.NicholasMaclean.com
www.Brownman.com
www.Browntasauras.com
White Rabbit: TONE A All Night Long! 09-17 | 20h-2h Rick Laplante Extended Birthday Set! (22h-2h) Hoppy hour by Chris Endo 09-24 Hoppy Hour 20h-22h @City At Night 222 Slater Street Ottawa's best dance music DJs every Saturday from 8pm to 2am at White Rabbit inside City At Night, curated by Framework Music. We invite you to join us for our spin on happy hour: #HoppyHour! Every Saturday from 8pm to 10pm we offer half price admission, half price beer, half price bar rail, featured cocktails, and featured DJs! FAQ:
www.cityatnight.ca/FAQ
VENUE:
www.cityatnight.ca
FREE AFROFESTIVAL OTTAWA 2022 FREE FESTIVAL @Mooneys Bay Beach Sep 10 & 11 | 13h-22h *each day Event: Saturday
https://fb.me/e/1JNsg7rCX
Sunday
https://fb.me/e/2bKuZc4Ci
Free Tickets:
https://www.eventbrite.ca/.../afrofestival-ottawa-2022
... AfroFestival Ottawa is a free, yearly Music and Arts festival that showcases the best of African culture and entertainment in the nation's Capital. This festival gives all Canadians a chance to experience the beauty and wonder of African culture and expression. It promotes a sense of integration and representation for African Canadians, and celebrates a culture that is often misunderstood or undervalued. This festival highlights local artists who struggle to find opportunities to showcase themselves in the Ottawa music scene, and provides artisans of African fashion, goods and crafts with a chance to display their wares. There is also a place for authentic African cuisine food vendors and restaurants to promote their businesses, sample and sell their food. With live performances from both local and international artists, children's activities and fashion shows, this is a festival the whole family can enjoy. Last year was our 2nd year and was in person at Mooney's Bay Park, Over 10,000 people attended the Festival with Positive feed back, this year we plan to make it better and bigger. This year, we are happy to announce that we will be hosting in person festival at our well known beach in OTTAWA on September 10th and 11th 2022. Come have fun while discovering local talents and diverse African culture at our free festival. En plein air | D-Track & invités! @DAIMON | 09-10 | 20h Event:
https://fb.me/e/29rNUxUrd
Le 10 septembre dès 20h, D-Track & invités donnent le coup d'envoi à une série d'événements radiophoniques en plein air. C'est un rendez-vous dans la cour de La Filature! @20h : Antwnn @21h : D-Track @22h : Jas Nasty Un service de rafraichissement sera disponible sur place. Celia @Arts Court 2 Daly Ave Sep 10 | 20h Event:
https://fb.me/e/3AfxMNP4k
Tickets: $27.54
www.eventbrite.ca/e/celia-tickets-394631341967
"Celia" is an original story written and directed by Lilliam Vega and presented by El Ingenio Teatro in Canada for the first time. It narrates the experiences of an actress who lives in Havana and remembers evocative fragments of her life intertwining them with the memories of Celia Cruz, the mythical Cuban singer exiled in New York. With original music composed by Hector Aguero Lauten and impressive performances by Ivanesa Cabrera and Jorge Luis Gonzales, Celia is a musical play that bets on love, nostalgia and joy, essential elements in the life of every Cuban. Elizabete Balčus with special guest Yolande Laroche @Club SAW 67 Nicholas St Sep 10 | 20h Event:
https://fb.me/e/26mZcWUUg
Tickets: $15-$20
www.eventbrite.ca/e/elizabete-balcus-with-special-guest-yolande-laroche-tickets-397086044047
Elizabete Balčus (Latvia) neo-psychedelic dream pop
https://elizabetebalcus.bandcamp.com/
with special guest Yolande Laroche (Hull) Licensed / all ages fully accessible to those with restricted mobility and all genders Vinyl Pop Up! @Queen St. Fare 170 Queen Street Sept 17 | 12h-16h Event:
https://fb.me/e/2LyWuG635
New & used vinyl and tapes, VHS, rare band shirts, vintage clothes & kitschy items....bring your own reusable bag! Snacks, coffee & beverages available at @BarRobo Free All Ages FLOWERS @LIFE 110 York st | 09-17 | 21h-3h EDT Event:
https://fb.me/e/2MzUleeWz
A monthly 90s HIP HOP and R&B DANCE PARTY, celebrating your favourite golden era artists & DJs. The way we used to do it! Saturday September 17th (Every 3rd Saturday of the month) $10 before Midnight Beats by @iamdjmace @kidkut and a mystery guest DJ or two. Pique ✦ Fall Edition @Arts Court | 09-24 | 17h-2h EDT 2 Daly Avenue, Ottawa Event:
https://fb.me/e/2s54m35nO
Tickets: $20-$40
www.eventbrite.ca/e/pique-fall-edition-2022-tickets-400221903487
Pique is back with a new twist; this time Debaser, Ottawa's leading independent and underground presenter, is joining forces with the Ottawa International Animation Festival to bring innovative, artist-driven programming to the Arts Court and the OAG on Sept 24th, 2022 in conjunction with OIAF's annual NightOwl party. Pique is a festival like no other, and its 2022 fall edition will feature live music performances, visual art installations and DJ sets, on multiple stages and levels, indoors and outdoors. Entry is PAY-WHAT-YOU-CAN from 5pm to 2am. Visit
thisispique.com
for more info. Visit:
www.animationfestival.ca
to find out more about this year's animation festival. Performances: 𝔸𝕥𝕒 𝕂𝕒𝕜
https://heavy-trip.com/artist/ata-kak
𝔾𝕒𝕪𝕒𝕟𝕔𝕖 (𝕘𝕦𝕖𝕤𝕥 𝕔𝕦𝕣𝕒𝕥𝕠𝕣)
https://gayance.bandcamp.com/
𝕋𝕀𝕄𝔼𝕂𝕆𝔻𝔼 𝕋𝕦𝕣𝕜𝕨𝕒𝕫
http://turkwaz.ca/
ℤ𝔸ℕ𝔻𝕆𝕃𝕀 𝕀𝕀 & 𝕋ℍ𝔼 𝕎𝔸𝕊𝔸𝔽𝕀ℝ𝕀 ✬
https://zandoli.bandcamp.com/album/iii
𝕁𝕦𝕛𝕦 𝕃𝕖 𝕄𝕠𝕜𝕠 ✬
https://on.soundcloud.com/BSWN
✬ = 𝕔𝕦𝕣𝕒𝕥𝕖𝕕 𝕓𝕪 𝔾𝕒𝕪𝕒𝕟𝕔𝕖 ART: 𝔻𝕠𝕥𝕥𝕚𝕖 𝕁𝕦𝕝𝕪 𝔾𝕠𝕣𝕕𝕠𝕟 @dottie.imax Sheer Transit / Clear Plastic A site-specific installation of painted works, printed matter and material art on view during OIAF from September 22nd - September 25th The general idea is to emulate a moment of being en route, when you witness another person pause to take a cellphone photo of the sky. Less so that clouds could be documented, stored in a digitized drive, or reproduce a similar emotive state when reviewed through the screen. I just like to see it, the diversion from an unpronounced or routine trajectory, where being on-time or fixated in a state of transit is set aside. An instance when someone you have not been introduced to communicates they are having a moment without needing to spell it out. There is not so much to say, as the gesture dictates that we are in the right place, at the right time. The activity is to be immersed in a cloud formation or a particular spectrum of light. As if one were an angel - either about to vanish into thin air, or appearing as though enmeshed in the image. Ambience. Maximalism forever being the terrestrial suggestion. It's for you, a lucky cloud in the sky. 𝘈𝘕𝘋 𝘔𝘖𝘙𝘌 𝘛𝘉𝘈!! Return of the Bangarang: Ska & Reggae Vinyl DJ Party @House of TARG | 10-01 | 21h-close 1077 Bank St. $10 | 19+ Event:
https://fb.me/e/1FQJzQT4W
It's a Rocksteady Soul Homecoming! DJ LORD SNAPPY DJ MAGNIFICENT DJ LONGSHOT DJ TREVOR WALKER DJ BJORN LATE are back at House of TARG with their beloved Dance party BANGARANG! REGGAE, ROCKSTEADY AND SKA from Jamaica's exciting 1966-1975 recorded period backed up by classic 60s SOUL music and all played live on 45s. BANAGARANG is a killer dance party that is sure to make you move. If you love the classic sounds of JAMAICA from STUDIO ONE, TROJAN or PAMA this is the night for you. RARE & AMAZING CLASSIC SKA & REGGAE WAX . The most chill soundtrack to your high-score pursuits. Monday: Alex Moxon Last Show for a While @Minotaure | 09-12 | 21h30 Event:
https://fb.me/e/1wlHYJtsx
"I'll be moving to Edmonton this month. Looking forward to seeing and playing with yall. Bring your instruments. More details TBA" Alex Moxon If you're in need of more "Friday Drive" vibes, check the archive at
ckcufm.com
going back to April 2015!!! Still not enough??? Catch me on twitch
twitch.tv/lifeboogie
Tuesday, Thursday, Saturday & sometimes more when possible. Usual start time usually 20h, sometimes I even stream while taping "Friday Drive". Tuesday: Bonobo Fragments Live Tour: Ottawa, ON @Algonquin Commons Theatre 1385 Woodroffe Ave | 09-20 | 19h EDT Event:
https://fb.me/e/2t5HtrgKv
Tickets:
bonobo.lnk.to/AlgonquinCommonsTheatre
Bonobo with special guest Yu Su.
Yê-Melê
Brazil Seléction - Glücklich III Sampler EP - Compost Records
Não Adianta
Trio Mocotó - Brazilian Beats 3 Sampler EP - Mr. Bongo
Cantaloupe Woman
Grant Green - Visions Album - Blue Note
Umlazi
Freeway - Single RE - Matasuna Rec.

Dance To The Music (Part 1)
King Sporty - Single RE - Konduko

It's Bigger Than Hip Hop
DJ Nu-Mark - Pass The Courvoisier Single - Run For Cover
Samba De Negro
Stone Alliance - Stone Alliance Album - PM Records
bottom of hour one 17h30
Let Your Spirit Be Free
Ron Everett - The Glitter Of The City Album RE - Jazzman Records
That's The Way
Marijata - Pat Thomas Introduces Marijata Album RE - Mr. Bongo
Inner Space
Nautilus - Inner Space / Space Funk Single - Urban Disco

Rosa Mulher
Grupo Arembepe - Single RE - Candonga
So Damn Funky
Hot Chocolate - Album RE - Numero Group
Get Up
Willie Tee - Single RE - Gatur Records

Blessed Are Those Who Struggles
The Last Poets with Bernard Purdie - Delights Of The Garden Album - Doublas
end of first broadcast hour
Corine
George Duke - Follow The Rainbow Album - Epic
El Dia De Mi Suerte
Smoke And Mirrors Soundsystem - Single - Steady Beat

Cartoon Adults
DJ Elohim - Magia Negra Single - MSLX Recordings


Magia Negra (A.K.A. James Brown)
DJ Elohim - Magia Negra Single - MSLX Recordings


Ain't No Fun
DJ Nu-Mark - Hot In Herre Single - Run For Cover
Fear Not For Man
Fela And Africa '70 - Fear Not For Man RE - Kalakuta Records
Visions Of Tomorrow
Kyoto Jazz Massive - Message From A New Dawn Album - Especial / HMV

Soft Touch
Ernest Ranglin - Be What You Wand To Be Album RE - Emotional Rescue

Smells Like Teen Spirit
Inokasira Rangers - Single - Parktone Records

Bronx
Tania Maria - The Lady From Brazil Album - Manhattan
Space Funk
Nautilus - Inner Space / Space Funk Single - Urban Discos