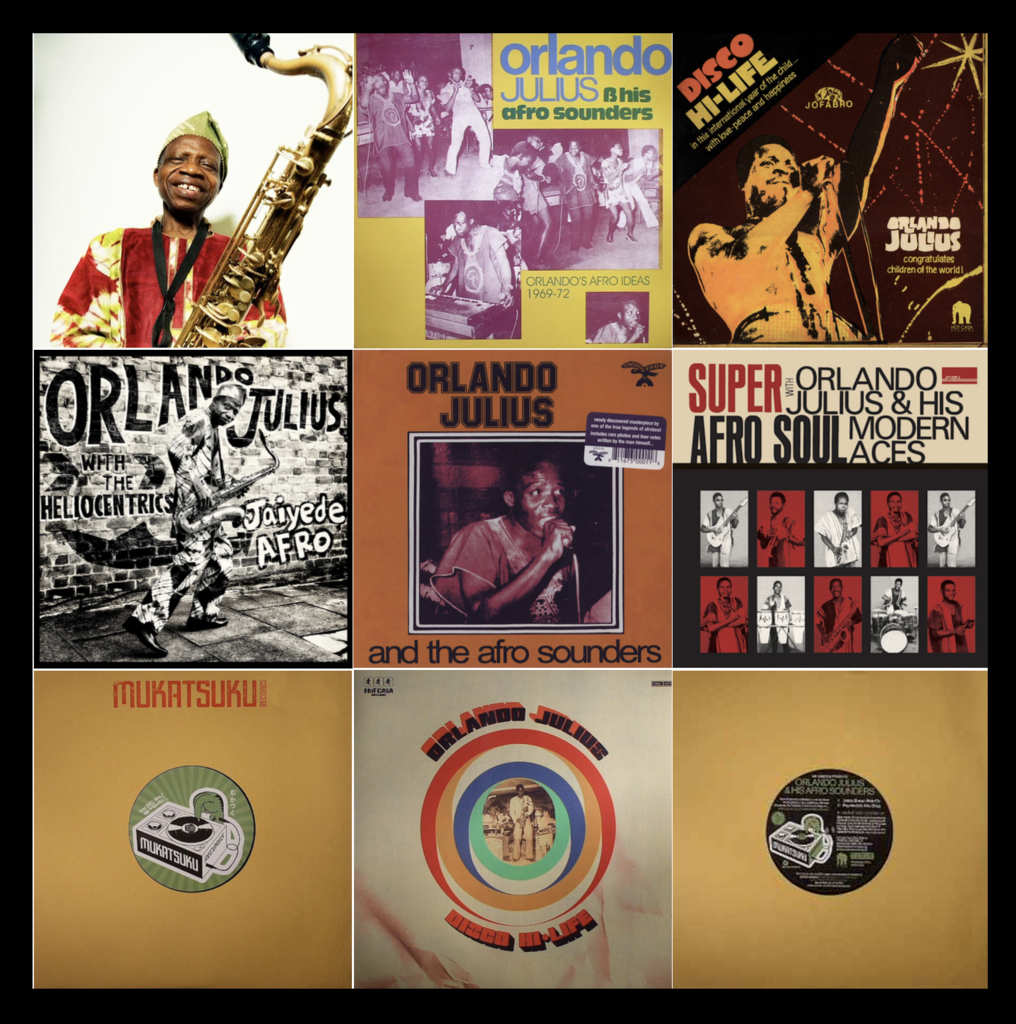 Friday Drive
Friday April 22nd, 2022 with Trevor Walker
[Orlando Julius Tribute Mixtape]
Happy Friday Drivers! Welcome to this week's Drive. This week I've rounded up the few Orlando Julius albums I have to do a little Tribute medley of some of his work to hopefully fill the next two hours. Orlando Julius left us April 15 of this year after 79 spins around the sun. Orlando Julius (born Orlando Julius Aremu Olusanya Ekemode, 1943) was a Nigerian musician, singer-songwriter and multi-instrumentalist. He is credited as one of the first musicians to fuse US R&B into traditional highlife music, creating his own influential Afrobeat sound during the mid-'60s. From his time playing in the USA during the 1970s onwards, he is credited with bringing African music to a broader audience and famously co-composed the song 'Going Back To My Roots' with Lamont Dozier. Orlando Julius bio (Source Last Fm):
https://www.last.fm/music/Orlando+Julius/+wiki
Extra curriculars: Saturday: April 23 Framework 11 YEAR Anniversary @City At Night | 222 Slater 20h-2h EST Tone A | Brink | Rick Laplante Event:
https://fb.me/e/2lft6QrXe
Tickets:
cityatnightapr2322.eventbrite.ca
Join us and Ottawa's best dance music DJs in celebrating 11 years of Framework Music, Saturday Apr.23 from 8pm to 2am. For this special edition, we are partnering with SAIRYŌ as they present a live stream of the entire night on multiple platforms. Hear the music and feel the vibes in person at White Rabbit inside City At Night, OR tune in online and see what you're missing via Twitch (TheWhiteRabbitShow), or Facebook (White Rabbit Ottawa Group). - A limited quantity of tickets are available online (valid for admission before 12am) - Table reservations/packages are recommended for groups and available online - Walk-ins are available on a first-come, first-served basis. FAQ:
www.cityatnight.ca/FAQ
VENUE:
www.cityatnight.ca
The Peptides @Rainbow Bistro Doors at 19h event:
https://fb.me/e/3ewMPX6Ly
tickets:
therainbow.ca/events
Early tickets: $25 (plus tax and service fees, 28.25) Door: $30 The PepTides is a nine-member band with a distinctive larger-than-life pop sound. The five vocalists and four instrumentalists draw on eclectic influences, with elements of funk, soul, gospel, folk, Latin and new wave. In 2017, the band was featured on the cover of Ottawa Life Magazine as "Ottawa's Best Band." Ottawa Prog Vibes pres. Expeditions .03 DJ Doga Erbek with support from Nikoli from Music.Art.Ppl B2B with Alain M. @LIVE on Elgin | 220 Elgin St upstairs 21h - 2h EST Tickets: Early bird (online) $12.50 (until April 10) Mid bird (online) $15 (April 11-17) Late bird (online) $17.50 (April 18-gig day) Door (if available) $20 (if available)
www.liveonelgin.com/products/expeditions-02
April 30 Vinyl Pop-UP @Queen St. Fare 170 Queen Street 12h - 16h EDT Event:
https://fb.me/e/1O99vgTdX
New and Used Records, along with some cassettes, CDs and band T-shirts! Presented by Bandits Heart Records. Free entry, multiple vendors. Bar Robo open for coffees and famous sandwiches. Q Bar will be slinging craft beers and cocktails. Soul Rhythms @The Origin Arts & Community Centre 20h EDT event:
https://fb.me/e/1QzcARhQZ
tickets:
gctc.ca/shows/soul-rhythms
The Origin Arts & Community Center alongside The Great Canadian Theater Company is proud to bring you the fourth installment of Origin Kitchen Concerts. Saturday April 30th, an evening filled with poetry, song and music and food. Featuring Nth Degree a Slam Poetry champion, nationally recognized as an elite spoken word poet in Canada. Jessie Simmons, a multitalented Haitian singer that has been a mainstay in the urban R&B, Zouk, Kompa music scene. Sheril Shaw, a premiere R&B/Gospel artist based in Ottawa that has a stage presence and energetic show that is second to none. Sunday: April 24 Sashay presents SPILL:The T(D▲NCE) @SAW Gallery | 13h-20h EDT 67 Nicholas St Event:
https://fb.me/e/1DxIgtAAl
Featuring: ▲Coach (Mtl) ▲Rick Laplante (White Rabbit / City at Night) ▲DJ Chia (VT / NYC) + ▲Thunder B'tch (The Kollektive) ▲Ashley Gauthier (Sashay / Throb / Bday boiiiii) ▲DJ Zabber + special performances by ▲Kiki Coe ▲Sunshine Glitterchild Tickets: $15 - Special very limited early bird (SOLD OUT) $20 - Reduced Online Admission $25 - Door Cover Sunday April 24 from 1pm to 8pm @ Galerie SAW Gallery Wednesday: April 27 Jazz Nite w/ Suzie Q Trio @Queen St. Fare | 19h-22h EDT Free event:
https://fb.me/e/4CokpLFmH
tickets:
www.eventbrite.ca/e/jazz-nite-with-suzie-q-trio-tickets-306367522507
Suzie Q is accompanied by her partner in music, and in life, Sean Duhaime. Sean is a guitarist, a composer, an arranger and bandleader. He is a session guitarist for many musicians in the Ottawa community. His original compositions, including his latest EP "Opportunity" can be found on BandCamp. When she is not working or volunteering, Susan can be found singing pop and jazz at various venues in the Ottawa community under the stage name Suzie Q. If you feel you're not getting enough from the Friday Drive you can always check out the archive links going back at least three years. And if that's still not enough you can always join me most Tuesdays, Thursdays & Saturdays whenever possible.
twitch.tv/lifeboogie
20h | Tuesday/Thursday/Saturday
Love Peace & Happiness
Orlando Julius - Disco Hi-Life RE Album - Hot Casa Records
Esamei Safe
Orlando Julius & His Afro Sounders - Orlando's Afro Ideas 1969-72 Album - Soundway Records
Wakalole
Orlando Julius & His Modern Aces - Super Afro Soul RE Album - Afro Strut
Buje Buje
Orlando Julius With The Heliocentrics - Jaiyede Afro Album - Strut
Kelekete Koro
Orlando Julius & His Afro Sounders - Orlando's Afro Ideas 1969-72 Album - Soundway Records
Afro Instrumental
Orlando Julius And The Afro Sounders - Orlando Julius And The Afro Sounders Album - Voodoo Funk
James Brown Ride On
Orlando Julius & His Afro Sounders - Single - Mukatsuku
My Girl
Orlando Julius & His Modern Aces - Super Afro Soul RE Album - Afro Strut
Be Counted
Orlando Julius With The Heliocentrics - Jaiyede Afro Album - Strut
Psychedelic Afro Shop
Orlando Julius & His Afro Sounders - Single - Mukatsuku
end of firs broadcast hour
Psychedelic Afro Shop
Orlando Julius & His Afro Sounders - Single - Mukatsuku
Oni Suru
Orlando Julius & His Modern Aces - Super Afro Soul RE Album - Afro Strut
Love Thy Neighbour
Orlando Julius With The Heliocentrics - Jaiyede Afro Album - Strut
Etoye So
Orlando Julius & His Modern Aces - Super Afro Soul RE Album - Afro Strut
E Se Rere
Orlando Julius & His Modern Aces - Super Afro Soul RE Album - Afro Strut
Bojubare
Orlando Julius & His Modern Aces - Super Afro Soul RE Album - Afro Strut
Home Sweet Home
Orlando Julius & His Afro Sounders - Orlando's Afro Ideas 1969-72 Album - Soundway Records
Children Of The World
Orlando Julius - Disco Hi-Life RE Album - Hot Casa Records
Disco Hi-Life
Orlando Julius - Single - Hot Casa Records
Aseni
Orlando Julius With The Heliocentrics - Jaiyede Afro Album - Strut
Alo Mi Alo
Orlando Julius & His Afro Sounders - Orlando's Afro Ideas 1969-72 Album - Soundway Records