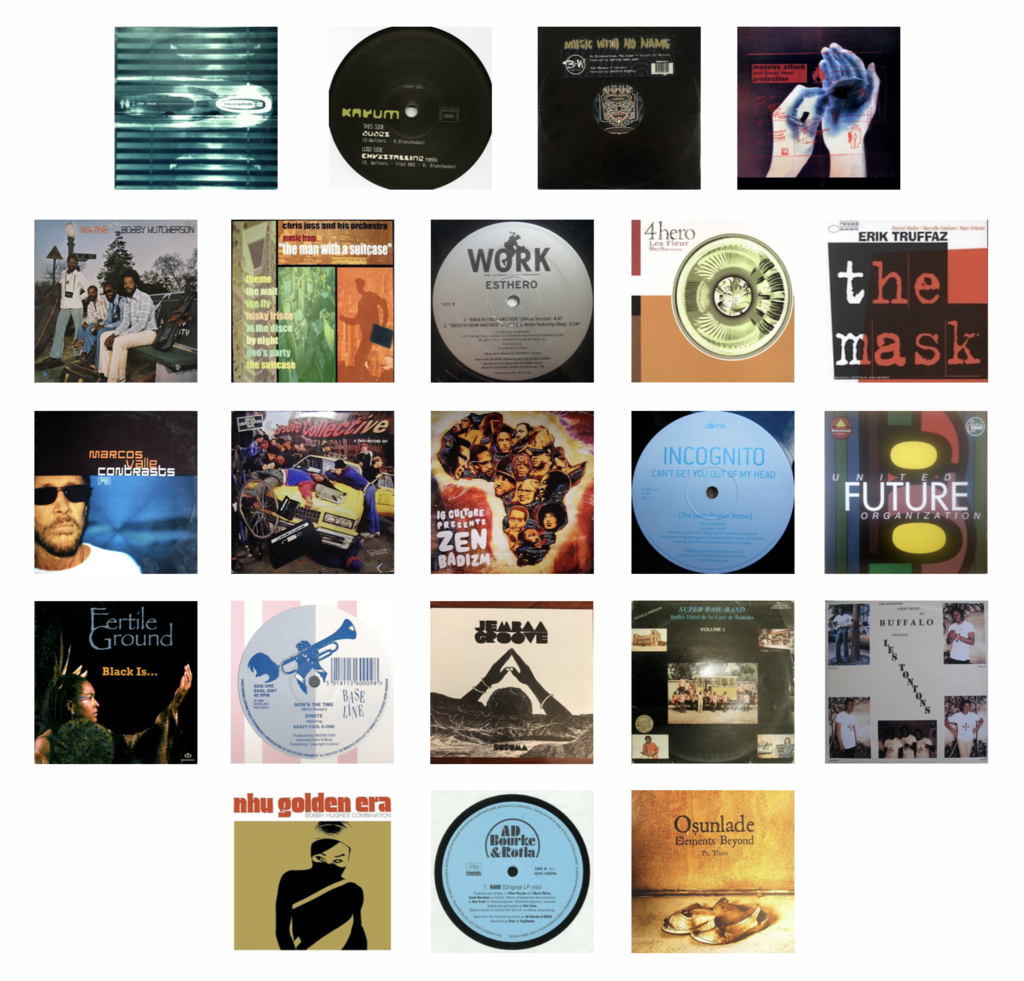 Friday Drive
Friday April 15th, 2022 with Trevor Walker
[ SpringIn2Step ]
Happy Friday & Easter weekend Drivers! Welcome to this week's Drive! I don't mention it enough but since pandemic restrictions have been in place all of CKCU's programs have been pre-recorded remotely and I've been experimenting with streaming the taping in order to keep the "live" feel of presenting so please excuse anything that might sound a bit off. Much respect to all the presenters who've been able to transition so well! That being said I've pull what I believe to be a nice variety of grooves to fill the next two hours. Hope you enjoy today's selections and thanks for being here and happy listening! Extra Curriculars: Friday: Snotty Nose Rez Kids w/ Lex Leosis & Boogey The Beat - Ottawa @SAW Gallery | 20h EST Tickets:
bit.ly/3y2SObU
(or at Vertigo Records) Event:
https://fb.me/e/28RfsB5XW
licensed 19+ - 8pm doors co-presented by House of PainT with the support of Ontario Creates and FACTOR Saturday: Birdman Sound Pop Up Shop 270 Catherine St. Usually 10h-16h EDT 100% Vinyl lifeboogie @The Record Centre 1099 Wellington St W 13h-17h EDT live streaming:
twitch.tv/lifeboogie
White Rabbit feat. Etienne Ozborne, Tone A @City At Night | 222 Slater 20h-2h EST Event:
https://fb.me/e/1pTVb95qu
Tickets:
cityatnightapr1622.eventbrite.ca
Ottawa's best dance music DJs every Saturday from 8pm to 2am at White Rabbit inside City At Night, curated by Framework Music. - A limited quantity of tickets are available online (valid for admission before 12am) - Table reservations/packages are recommended for groups and available online - Walk-ins are available on a first-come, first-served basis. FAQ:
www.cityatnight.ca/FAQ
VENUE:
www.cityatnight.ca
Fred Everything (All night) @Le Salon Daomé 4465 boulevard saint-laurent, Montreal 22h - 3h EDT Event:
https://fb.me/e/1OSstqoK6
Lazy Days Fred Everything (All night)
https://soundcloud.com/fredeverything
VJ Van
https://www.instagram.com/chevyvan01
▬▬ ADMISSION ▬▬ ▬▬▬▬▬ 12$ ▬▬▬▬▬ April 23 Ottawa Prog Vibes pres. Expeditions .03 DJ Doga Erbek with support from Nikoli from Music.Art.Ppl B2B with Alain M. @LIVE on Elgin | 220 Elgin St upstairs 21h - 2h EST Tickets: Early bird (online) $12.50 (until April 10) Mid bird (online) $15 (April 11-17) Late bird (online) $17.50 (April 18-gig day) Door (if available) $20 (if available)
www.liveonelgin.com/products/expeditions-02
April 30 Vinyl Pop-UP @Queen St. Fare 170 Queen Street 12h - 16h EDT Event:
https://fb.me/e/1O99vgTdX
New and Used Records, along with some cassettes, CDs and band T-shirts! Presented by Bandits Heart Records. Free entry, multiple vendors. Bar Robo open for coffees and famous sandwiches. Q Bar will be slinging craft beers and cocktails. Sunday: Music.Art.Ppl PRSNTS Hicky & Kalo @City At Night 222 Slater Tickets $20 - $28:
www.eventbrite.ca/e/musicartppl-prsnts-hicky-kalo-sudbeat-when-we-dip-xyz-replug-tickets-305920635857
Event:
https://fb.me/e/2eB6eZH1k
Music.Art.Ppl PRSNTS Hicky & Kalo!! Music.Art.Ppl events have been recognized in Canada's capital as community gathering that encompass a friendly inclusive environment that features local live painters, immersive deco and visual projections; paired with a diverse offering of underground electronic music. This event is in collaboration with our good friends at Floral Nights who are based in Montreal. They will be contributing their eclectic decor!! Supporting DJ sets by MAP resident DJs JFUN & Pithra along with special guest Ken Roy Our headliners Hicky & Kalo have been taking the Progressive House scene by storm releasing on some of the biggest labels, while also releasing tracks in collaborations with Hernan Cattaneo, Soul Button, Rodriguez Jr, Cid Inc, Nick Warren, Seth Schwarz, Darin Epsilon and many more, on their label Plaisirs Sonores Records. Hicky & Kalo are a DJ and Producer duo born and raised in Montreal, Canada. They have gone on to craft a stellar reputation for their inimitable edge, commitment to the scene and penchant for deep melodic grooves. The young pair, resident of the famous (((Stereo Montreal))) club and founders of budding imprint records label Plaisirs Sonores Records, are now firmly placed among Montreal's vanguard, in dictating the current sound of the city's underground. Live painter and VJ to be announced. Looking forward to dancing with you all!! *Please Note: We pride ourselves on creating inclusive events for everyone to enjoy. If you are bothering our guests with negative or abusive behavior you will be asked to leave without a refund. This event is 19+ Wednesday: lifeboogie Vision LIVE! 04-20-2022 @Chrontact Cannabis 1-2280 Carling Ave. | 15h-20h EDT Yours truly will be celebrating 4/20 with an in store DJ set live and direct from Chrontact Cannabis! Hopefully live streaming on my
twitch.tv/lifeboogie
Pass through or hop on! If you feel you're not getting enough from the Friday Drive you can always check out the archive links going back at least three years. And if that's still not enough you can always join me most Tuesdays, Thursdays & Saturdays whenever possible.
twitch.tv/lifeboogie
20h | Tuesday/Thursday/Saturday
Loveless
4Hero feat. Ursula Rucker - Single - Talkin' Loud
Dudes
Karum - Single - Fantômas Records
Ubombo (Smith & Mighty Remix)
Madala - Single - Music With No Name
Protection
Massive Attack - Single - Wild Bunch
Waiting
Bobby Hutcherson - Waiting Album - Blue Note
The Man With A Suitcase
Chris Joss - Music from The Man With A Suitcase Album - Pulp Flavor
Breath From Another (Part 7 & 11 Remix)
Esthero - Single - Work

9 by 9 (M.I.S.T. Full Vocal Mix)
4Hero - 9 by 9 Remixes - Talkin' Loud
Bending New Corners
Erik Truffaz - The Mask Album - Blue Note
Agua De Coco
Marcos Valle - Contrasts Album - Far Out Recordings
end of first broadcast hour
Ms. Grier
Groove Collective - EP - Giant Step Records/ Reprise
Any Questions
I.G. Culture - I.G. Culture presents Zen Badism Album - Freedom School
Can't Get You Out Of My Head (The Latin Project Remix)
Incognito - Single - Dome Records
On Est Ensemble Sans Se Parler - L.O.V.E.
United Future Organization - Album - Talkin' Loud
Yellow Daisies
Fertile Ground - Black Is... Album - Counterpoint
Now Is The Time
D/Note feat. Krazy Cool D-Zine - Single - Baseline Records
Suban
Jembaa Groove - Suban Album - Agogo Records

Talassa
Super Rail Band - Buffet Hotel de la Gare de Bamako Vol.2 Album - RCAM
A Toi La Faute
Les Tontons - Buffalo pres. Les Tontons Album - Afric Music
Nhu Beginin
Bobby Hughes Combination - Nhu Golden Era Album - Stereo Deluxe
RAW
AD Bourke & Rotla - Single - Far Out Recordings
April
Osunlade - Elements Beyond Part. Three EP - Strictly Rhythm