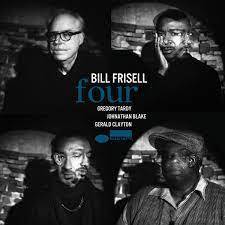 The Guest List
Thursday March 9th, 2023 with Joe Reilly
Interviews with Canadian conductor Jordan De Souza and American guitarist Bill Frisell
NOTE: The On Demand version of the Guest List today features around 30 additional minutes of music and conversation with Bill Frisell. Enjoy! Two great conversations on the show this week. We open with Jordan De Souza, a Canadian conductor living in Berlin these days who is back in Canada to conduct the National Arts Centre Orchestra on Wednesday, March 8 and Thursday, March 9. Jordan tells us about his background growing up in Toronto, attending McGill University in Montreal and eventually settling in Berlin, Germany. We talk about his love of opera and what goes into the production of an opera, and about Tchaikovsky's Sixth Symphony, known as the Pathetique. Jordan also tells us about some of the other work on the program for the National Arts Centre Orchestra this week - it's a diverse program for sure! For ticket information use this link:
https://nac-cna.ca/en/event/30531
For more information about Jordan and his work, check out his website.
https://jordandesouza.com
Then we check in with guitarist Bill Frisell. Bill is one of my favourite artists on the planet - and a wonderful person to talk to about his art. We talk about his latest recording work on the albums Americana and Four - and how much he enjoys working with a variety of musicians to create great music. We also hear how surprised Bill is that his musical life has evolved along this amazing path where he gets to make lots of recordings and perform live with a lot of great people. He will be performing in Ottawa on Friday, March 10th with Tony Scherr and Kenny Wollesen - and Bill tells us about how special it is to perform with these two musicians. This is an Ottawa Jazz Festival presentation and you can get tickets using this link:
https://ottawajazzfestival.com/tickets/
For more information about Bill Frisell, check out his website.
https://www.billfrisell.com
Get out and see some live music this week and support independent music any way that you can. Thanks for listening.
Nocturne by Lili Boulanger
James Galway - Nocturne
Excerpts from Tchaikovsky's 6th Symphony - Pathetique
Orchestre symphonique du Montreal (Charles Dutoit) - The Tchaikovsky Experience
Wichita Lineman
Grégoire Maret, Romain Collin & Bill Frisell - Americana
The next three songs appear as part of the On Demand version of the Guest List, along with about 20 additional minutes of my conversation with Bill Frisell. This had to edited from the broadcast version of the show because of the 60 minute format of the program. Enjoy!
The Pioneers
Bill Frisell - Four

Good Dog, Happy Man
Bill Frisell - Four

We Shall Overcome
Bill Frisell - Valentine