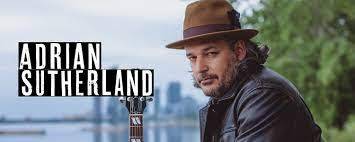 The Guest List
Thursday March 2nd, 2023 with Joe Reilly
Interviews with Adrian Sutherland and Leo P of Too Many Zooz
We open the show in conversation with Indigenous singer-songwriter Adrian Sutherland. We talk about his solo album When The Magic Hits and how he recorded it remotely with Colin Linden during the pandemic lockdowns. We also talk about issues facing Indigenous people in Canada, Jully Black's powerful take on the Canadian national anthem and how Adrian is a vibrant and important part of the remote community of Attawapiskat on James Bay. Adrian will be performing at the Shenkman Arts Centre on Saturday, March 4th.
https://adriansutherlandmusic.com/press-kit
https://adriansutherlandmusic.com/home
https://shenkmanarts.ca/en/adrian-sutherland
Then we connect with baritone saxophonist Leo P, to talk about his powerful trio Too Many Zooz. The group hails from New York and performs a mix of jazz, Afro-Cuban rhythms, funk, EDM and house music which they call brass house. We talk about how their sound also has some elements in common withNew Orleans brass marching bands. Leo explains how the band got started busking in the subways of New York and how the group's sound has evolved. You can see Too Many Zooz in what should be a scorching concert at the Bronson Centre on Friday, March 3.
https://www.ticketweb.ca/event/too-many-zooz-featurette-bronson-centre-theatre-tickets/12760595?pl=spectrasonic
http://toomanyzooz.com
The band is playing in Montreal on March 1, Kingston on March 4 and Peterborough on March 5. For more information on all of their Canadian dates check out this link:
http://toomanyzooz.com
Get out and see some live music this week and support independent music any way that you can.
Big City Dream
Adrian Sutherland - When The Magic Hits

Politician Man
Adrian Sutherland - Politician Man (single)

In this On Demand version of the Guest List, you hear some extra interview segments with Adrian, including a piece where I tell him that the song Far From the Middle by Blackie and the Rodeo Kings was inspired by Adrian, when he was touring with that band. We play snippet from that song as part of the On Demand version of the show.
Nowhere To Run
Adrian Sutherland - When The Magic Hits

Right Here
Adrian Sutherland - When The Magic Hits

Command No Go
Too Many Zooz - Pecking Order
Pecking Order
Too Many Zooz - Pecking Order