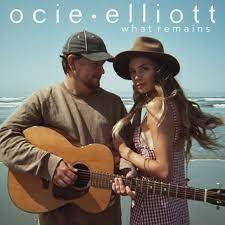 The Guest List
Thursday February 16th, 2023 with Joe Reilly
Interviews with Ocie Elliott (at Algonquin Commons Theatre, Feb. 24th) and Luca Fogale (at Club SAW, Feb. 17th)
We open the show today in conversation with Ocie Elliott. The group is Jon Middleton and Sierra Lundy, and they are partners in life and in making great music. We talk about their latest recording, What Remains, and how some of the songs on the recording were impacted by the death of Sierra's father, as he died during the recording process. We also talk about making music as a couple and how they are keeping it to just the two of them on stage for their concert at Algonquin Commons Theatre on Friday, February 24th.
https://www.ticketmaster.ca/event/31005D75BA643670?CAMEFROM=CFC_SSONIC_TW
https://www.ocieelliott.com
Then we check in with Luca Fogale. Luca was taking a rest from driving at the time of the interview, as he was crossing Saskatchewan on his way to a concert in Winnipeg. We talk about the themes explored on the singles he has released in advance of his new album, Run Where The Light Calls which will be released fully on March 24th. We talk about the very personal lyrics on these songs and how he is bringing them to life with a three-piece band these days. You can see him performing at Club SAW on Friday, February 17th.
https://www.ticketweb.ca/event/luca-fogale-rachel-bobbit-club-saw-tickets/12734335?pl=spectrasonic
https://www.lucafogale.com
Get out and see some live music this week and support independent music in any way that you can.
Baby You Know
Ocie Elliott - What Remains

What Remains
Ocie Elliott - What Remains

Forest Floor
Ocie Elliott - In That Room

Life I Know
Ocie Elliott - What Remains

Evergreen
Luca Fogale - Run Where The Light Calls


Unfolding
Luca Fogale - Nothing Is Lost

Worthy Of Love
Luca Fogale - Run Where The Light Calls