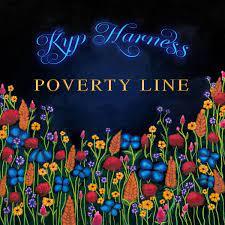 The Guest List
Thursday December 22nd, 2022 with Joe Reilly
An interview with Kyp Harness about his latest album Poverty Line
Kyp Harness is one of my favourite singer-songwriters and an artist who does not get the attention he deserves on the Canadian music scene. In September he released (by my count) his 17th album over a 31-year career and it is one of the best albums of 2022. The title track truly captures that sense of living below the poverty line using dystopian language to paint a dark look at life struggling to make ends meet. It is one of the best songs of 2022 - my second favourite song of the year. I talk to Kyp about the power of this song and how he juxtaposes songs about poverty and outsiders with songs about hope and love on a new album that features many guest artists bringing these songs to life. We talk about the contributions of Mary Margaret O'Hara on several songs and what Dale Morningstar brings to the mix as well. But mostly we explore Kyp's philosophy of life and art as presented in this great collection of new songs. If you like gritty, intelligent bluesy-folky rock tunes that are intensely personal and frequently address socio-political issues and almost always look at life from the perspective of underdogs and overlooked folks then Kyp Harness is an artist for you to check out! You can listen to more of Kyp's music and purchase some of it on his Bandcamp site:
https://kypharness.bandcamp.com/music
Kyp has also written two novels and you can find information about Kyp's novels and non-fiction books on his website:
https://kypharness.net/
Support independent artists like Kyp Harness any way that you can. They need us to buy their creations so they can make more of it for us to enjoy. Take care and stay well.
Poverty Line
Kyp Harness - Poverty Line


Blue Skies
Kyp Harness - Poverty Line


I'm So Happy
Kyp Harness - Poverty Line


Enuff 2Nite
Kyp Harness - Poverty Line


Less Sweet Than Bitter
Kyp Harness - Poverty Line


Story of Marcia and Steve
Kyp Harness - Poverty Line


Only Love
Kyp Harness - Poverty Line


Chosen Few
Kyp Harness - Poverty Line