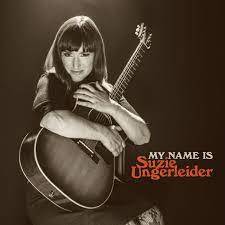 The Guest List
Thursday November 3rd, 2022 with Joe Reilly
Interviews with Suzie Ungerleider, Dave Bignell of the Motel Bluebirds and the Besnard Lakes
Don't forget it's our annual public funding drive, and if you can afford to support Ottawa's oldest (and finest) campus-community radio station, please do so at our website,
www.ckcufm.com
We open the show in conversation with Suzie Ungerleider as she is appearing in our area three times this weekend. Tonight (November 3) she's appearing at Red Bird Live on Bank Street. On Friday night she's appearing in Shawville (a beautiful drive up the Ottawa River on the Quebec side) and Saturday night she's playing in Perth. Get concert details on Suzie's website using this link.
https://suzieungerleider.com/shows
We talk to Suzie about how the song Summerbaby has strong ties to both Perth and Ottawa (where Suzie's baby was born prematurely back in 2005) and how she is approaching these upcoming solo concerts. Next we check in with local musician Dave Bignell and he tells us about his upcoming concert on Saturday night (November 5th) at Irene's with his group the Motel Bluebirds. Dave tells us how he loves having different musical groups to perform with so he can share a wide range of musical ideas. And he tells us what to expect (kind of!?!) at the Motel Bluebirds gig on Saturday night. We also get to play an unreleased song by the band on the show today. Get info on the concert at the Irene's website.
https://irenes-pub-restaurant.myshopify.com/blogs/live-music/live-music
Finally we talk with Jace Lasek and Olga Goreas of the Besnard Lakes about their fresh e.p. entitled The Besnard Lakes Are the Prayers For the Death of Fame and their upcoming concert at Club SAW on Monday, November 7th. We talk about the band's penchant for amazing, dramatic album titles (that mostly begin with "The Besnard Lakes are...") and how their sound combines elements of the Beach Boys, prog rockers like Pink Floyd, Genesis and Rush and classic artists like the Beatles and Spiritualized. For more information on the band checkout this link:
https://www.thebesnardlakes.com
For tickets to the concert use this link:
https://www.ticketweb.ca/event/the-besnard-lakes-chautauqua-club-saw-tickets/12432625?pl=spectrasonic
Thanks for listening, Get out and see some live music this week if you can... and don't forget to support CKCU-FM during our annual public funding drive.
https://cod.ckcufm.com/pledge/
Summerbaby
Suzie Ungerleider - My Name Is Suzie Ungerleider

Baby Blues
Suzie Ungerleider - My Name Is Suzie Ungerleider

Golden
Dave Bignell and the Motel Bluebirds - Golden (single)


A Jacket For A Rainy Lady
The Besnard Lakes - The Bernard Lakes Are The Prayers For The Death Of Fame