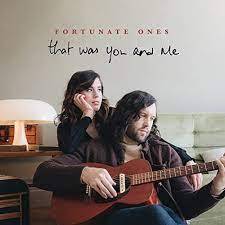 The Guest List
Thursday October 27th, 2022 with Joe Reilly
Interviews with Fortunate Ones and David Myles - both artists appearing in town next week (Nov. 2 and 3)
On the show today we talk to Catherine Allan and Andrew James O'Brien of Fortunate Ones and to David Myles. This extended version of the Guest List includes 15 additional minutes of interviews and music - as we had to edit some things out for the 60 minute broadcast version of the show. Fortunate Ones are appearing at the National Arts Centre on Wednesday, November 2nd as part of the Anchor's Up Tour with The Once and Old Man Luedecke. We cover a lot of ground in this interview such as how the tour came together and how it will be staged, and how Andrew worked at a hotel during the pandemic. They talk about their songwriting process and how much they look forward to this major tour they are about to embark on. Andrew also tells us how he performed in a high school musical with one of our guests from a couple of weeks ago, fellow Newfoundlander and second clarinet in the National Arts Centre Orchestra Sean Rice (I mistakenly say Brian Rice at the start of the show with apologies to Sean for that one.) Andrew tells us how his high school music teacher was an inspiration to him and definitely the reason he started a career making music. For information about Fortunate Ones use this link:
https://www.fortunateones.ca
And for information about the concert at the NAC use this link:
https://nac-cna.ca/en/event/31137
Then we talk to another east coaster - David Myles who hails from New Brunswick. David shares with us some insights into the making of his newest (and 15th!!!) album and provides some important tips about renting vehicles in Canada and checking to see if they come with a spare tire (seriously!) We also talk to him about how he learned to play trumpet in school, and how the instrument is still very special to him (and we hear how great it sounds on the new album It's Only A Little Loneliness. You can see David performing with his group at St. Alban's Church on Thursday, November 3rd. For more information about David Myles use this link:
https://davidmyles.com
And for information about his concert in Ottawa and tickets, use this link:
https://www.eventbrite.ca/e/david-myles-trio-tour-across-canada-tickets-334148656627
https://bit.ly/3W56lM0
Get out and see some live music this week if you can.. thanks for listening.
Day To Day
Fortunate Ones - That Was You And Me

Clarity
Fortunate Ones - That Was You And Me

85
Fortunate Ones - That Was You And Me

Heavy Heart
Fortunate Ones - That Was You And Me

Certain
David Myles - It's Only A Little Loneliness


It's Only A Little Loneliness
David Myles - It's Only A Little Loneliness


Making Believe
David Myles - It's Only A Little Loneliness


Walk With Me
David Myles - It's Only A Little Loneliness