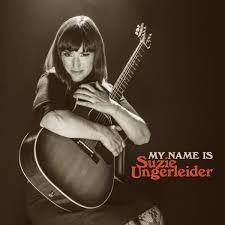 The Guest List
Thursday August 26th, 2021 with Joe Reilly
An interview with Suzie Ungerleider all about her new album I Am Suzie Ungerleider and why she is Oh Susanna no more!
Today we talk to one of my all-time favourite guests to have on the Guest List... and that is singer-songwriter Suzie Ungerleider. Suzie is always so much fun to talk to about making music - she's generous, gracious, warm and very, very funny. Today we revisit her decision to drop the stage name Oh Susanna. We also talk about the quality of her voice on this new recording (produced again by Ottawa's own Jim Bryson) and some of the very personal themes she's exploring on some songs and how other songs are just fictional narratives. Highlight songs include the touching Summerbaby, all about Suzie giving birth to her daughter here in Ottawa, and the stunning Disappear - an amazing song about child abuse from the perspective of the child. It's always insightful and fun to check in with Suzie. For more information about Suzie and her new album try these links:
https://suzieungerleider.com
https://suzieungerleider.bandcamp.com/releases
Remember to support independent artists any way that you can. Buying their music is a great way to support them and ensure they can keep making great music - and remember those streaming companies like Spotify and Apple don't pay them nearly enough for using their music.
Pumpkins
Suzie Ungerleider - My Name Is Suzie Ungerleider - Stella


Summerbaby
Suzie Ungerleider - My Name Is Suzie Ungerleider - Stella


Baby Blues
Suzie Ungerleider - My Name Is Suzie Ungerleider - Stella


North Star Sneakers
Suzie Ungerleider - My Name Is Suzie Ungerleider - Stella


Disappear
Suzie Ungerleider - My Name Is Suzie Ungerleider - Stella


Ships
Suzie Ungerleider - My Name Is Suzie Ungerleider - Stella