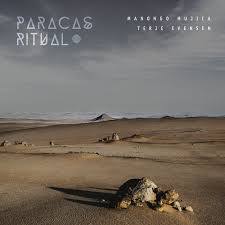 The Guest List
Thursday December 31st, 2020 with Joe Reilly
Paracas Ritual - Tonight we feature an astonishing recording created by Manongo Mujica (a Peruvian composer, percussionist & visual artist) and Terje Evensen (a Norwegian percussionist & electronic artist.) We talk to both artists and play album excerpts
NOTE: This edition of the Guest List features excerpts from the recording Paracas Ritual. We could not fit all the music and the interview into a 1-hour format. If you would like to hear the interview and the music in its entirety, please use this link to go the November 30th edition of the Wavelength here on CKCU-FM.
https://cod.ckcufm.com/programs/161/49959.html
Today the Guest List is dedicated to a fascinating recording called Paracas Ritual. The recording was made by Peruvian percussionist, composer and visual artist Manongo Mujica and Norwegian percussionist and electronic music artist Terje Evensen. The artists attempt to capture the essence of the Paracas region in Peru with incredible arrangements that include field recordings of the sounds and the silence of the desert/coastal region, music they recorded in the desert and work they did in the studio. Terje and Manongo join us on a ZOOM call from just outside Oslo in Norway and from Lima in Peru. It is a fantastic conversation about creating heartfelt and moving art that attempts to capture the essence of nature. For more information visit the website dedicated to this recording:
http://paracasritual.com/
https://buhrecords.bandcamp.com/album/paracas-ritual
For more information about Terje Evensen go to these sites:
http://www.terjeevensen.com/
https://terjeevensen.bandcamp.com/releases
For more information about Manongo Mujica go these websites:
www.manongomujica.com
https://manongomujica.bandcamp.com
https://vimeo.com/476475876/1fbdc99637
https://youtu.be/NwKxp5s8ZN8
http://www.perujazz.com/
Special thanks to Manongo Mujica and Terje Evensen for taking the time to talk to me about their amazing music. It was a pleasure!
Origins
Manongo Mujica & Terje Evensen - Paracas Ritual - buh Records (on Bandcamp)

Nightmare At The Desert
Manongo Mujica & Terje Evensen - Paracas Ritual - buh Records (on Bandcamp)

Saga
Manongo Mujica & Terje Evensen - Paracas Ritual - buh Records (on Bandcamp)

Drums Calling Winds
Manongo Mujica & Terje Evensen - Paracas Ritual - buh Records (on Bandcamp)