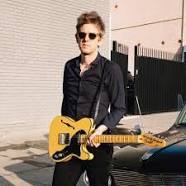 The Guest List
Thursday August 1st, 2019 with Joe Reilly
Interviews with Britt Daniel of Spoon and Parker Millsap who is playing the 27 Club
On today's show I get the chance to talk to Britt Daniel of Spoon - an artist whom I've admired and enjoyed for many years. Unfortunately Spoon is not coming to Ottawa (the band will be in Toronto on August 11 with Beck and Cage the Elephant) but the band has just released a "greatest hits" package that serves as a fantastic introduction to the group if you don't know the music they've been creating for the past 26 years. It's a fun and free rolling conversation as Brett talks about why the band decided to release a compilation album at this time and the challenges he felt picking the songs and sequencing them for "Everything Hits At Once." We also talk about street tar (no band I know of makes any references to street tar... and Spoon has two songs that reference street tar!), the inspiration for the song Underdog, the influence of Joy Division and a fun recording by Van Halen.
http://www.spoontheband.com/spoon/
http://exclaim.ca/music/article/beck_spoon_and_cage_the_elephant_map_out_summer_tour
Next we talk to Parker Millsap, who is playing with his incredible band at the 27 Club tonight (August 1.) We talk about the inspiration for his song "Some People" and how he's not afraid to criticize the driving patterns of Texans in the song. We also chat about the wide variety of American music that Parker incorporates into his sound on the album "Other Arrangements" and his smoking hot band that will bring the music to life at the 27 Club. We also talk about inserting a fiddle solo into a blues number where traditionally one would expect a blistering guitar solo. Finally Parker requests a Tom Waits song to be played after his number "Singing To Me."
https://www.parkermillsap.com/
https://www.spectrasonic.com/event/1850165-parker-millsap-ottawa/
We wrap up the show with Warsaw's song "Novelty" as Britt Daniel told us that he was listening to that song a lot when he wrote "Got Nuffin" for Spoon. See if you can hear the similarities. (Also check out "She's Lost Control" by Joy Division. They also mix well together.) Get out and see some live music this week and be sure to BUY the music of artists you love - whether its vinyl, CDs or downloads. Artists need to make money to keep making more great music.
Do You
Spoon - Everything Hits At Once - Best of Spoon - Matador

Got Nuffin
Spoon - Everything Hits At Once - Best of Spoon - Matador

Some People
Parker Millsap - Other Arrangements - Okrahoma Records
Singing To Me
Parker Millsap - Other Arrangements - Okrahoma Records
16 Shells From A Thirty-Ought Six
Tom Waits - Swordfishtrombones - Island
Novelty
Warsaw (Joy Division) - Single - Factory