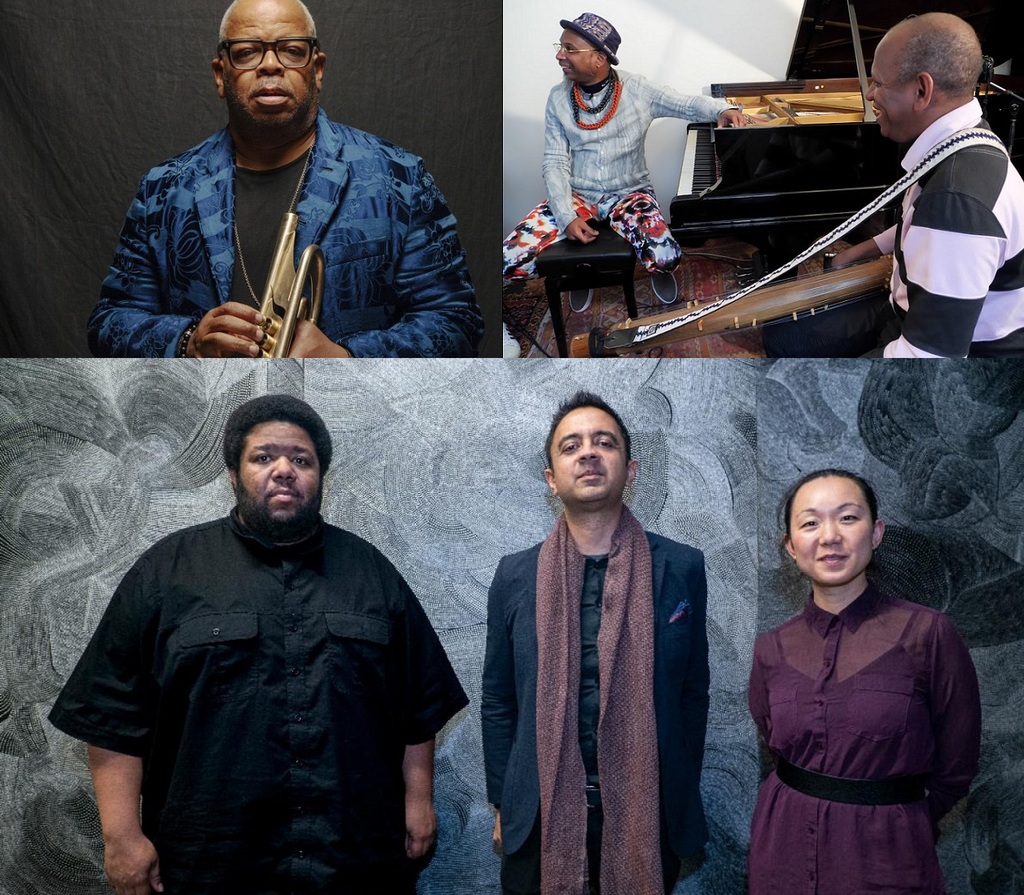 David Dalle
Thursday October 14th, 2021 with David Dalle
New and recent jazz releases from Vijay Iyer, Linda May Han Oh, Tyshawn Sorey; Terence Blanchard; Omar Sosa. Philip Glass' "Akhnaten" Act II.
Today we will start with some new and recent jazz releases from extraordinary and diverse musicians. The first is the new release from American trumpeter and composer Terence Blanchard. September has been a tremendous month for Blanchard, with his 2019 opera "Fire Shut Up in My Bones" opening the Metropolitan Opera's 2021-22 season. This marks the first time the Met has staged an opera by a Black composer. Being the season opener after the Met has been closed by the pandemic since spring 2020 is a big deal. However, it only goes a small way to fixing the Met's shameful exclusion of Black composers (the first of many operas by Black composers was submitted to the Met for consideration a century ago). I am very excited to say that you don't have to travel in person to New York to see the opera, as it is coming to local cinemas as part of the Met's Live in HD on October 23rd:
https://www.metopera.org/season/in-cinemas/2021-22-season/fire-shut-up-in-my-bones-live-in-hd/
September also saw the release of Terence Blanchard's latest album "Absence" with his E-Collective which features Charles Altura on guitar, Fabian Almazan on piano and synths, David Ginyard on bass, and Oscar Seaton on drums. It also features the jazz-focused Turtle Island String Quartet. The album is dedicated to Wayne Shorter and features a number of Shorter's compositions as well as Blanchard's. The second recent jazz release is "Uneasy" by pianist Vijay Iyer, bassist Linda May Han Oh, and drummer Tyshawn Sorey. Most of the compositions are Iyer's and written over 20 years. Many of them are inspired by the idea of "UnEasy", music he created in 2011 for a dance project. Iyer says "it was our name for an emerging anxiety within American life. A decade later, as systems teeter and crumble, the word 'uneasy' feels like a brutal understatement, too mild for cataclysmic times." The third recent jazz release is from brilliant Cuban pianist and musical explorer Omar Sosa "An East African Journey". The title is literal, the 13 tracks on the album were recorded in 2009 as he toured seven countries in East Africa. He recorded tracks with musicians in each country (Sudan, Ethiopia, Kenya, Burundi, Zambia, Madgascar, Mauritius). Omar Sosa was also followed by a film crew who created a documentary "Out of Africa" from this tour (available to stream at a very low cost here:
https://vimeo.com/ondemand/outofafrica/432808971
) He has released the album with these recordings this year on his own Ota recordings.
I Dare You
Terence Blanchard featuring the E Collective and the Turtle Island Quartet - Absence - Blue Note

Children of Flint
Vijay Iyer, Linda May Han Oh, Tyshawn Sorey - Uneasy - ECM

Combat Breathing
Vijay Iyer, Linda May Han Oh, Tyshawn Sorey - Uneasy - ECM

Uneasy
Vijay Iyer, Linda May Han Oh, Tyshawn Sorey - Uneasy - ECM

Hawniyaz is formed by Kayhan Kalhor on kamancheh, Azerbaijani Salman Gambarov on piano, Kurdish Cemil Qocgiri on tenbur, and the impassioned voice of Kurdish Aynur Dogan.
Ehmedo - Ez Reben Im
Hawniyaz - Hawniyaz - Harmonia Mundi
From Ethiopia
Tizeta
Seleshe Damessae & Omar Sosa - An East African Journey - Ota Records
From Madagascar
Dadilahy
Rajery & Omar Sosa - An East African Journey - Ota Records
From Zambia
Shibinda
Abel Ntalasha & Omar Sosa - An East African Journey - Ota Records
From Burundi
Kwa Nyogokuru Revisited
Steven Sogo & Omar Sosa - An East African Journey - Ota Records
We continue with Act II from Philip Glass' 1983 opera "Akhnaten" in a new live recording from the Metropolitan Opera. As with most Glass operas, there is no strict narrative, but rather scenes which evoke the life of Akhnaten. Act II is the majority of his reign, year 5 to 15, where the iconoclastic Pharaoh overturned Egyptian religion and instituted a somewhat monotheistic religion based on worship of Aten, who previously had only been one obscure aspect of the sun god Ra. He also founded his new capital city Akhetaten.

You can listen to Act I on last week's program: https://cod.ckcufm.com/programs/105/53745.html
Act II Scene 1: The Temple
Philip Glass/Anthony Roth Costanzo, J'Nai Bridges, Disella Larusdottir, Zachary James, The Metropolitan Opera Orchestra and Chorus, Karen Kamensek - Akhnaten - Orange Mountain Music

Act II Scene 2: Akhaten and Nefertiti
Philip Glass/Anthony Roth Costanzo, J'Nai Bridges, Disella Larusdottir, Zachary James, The Metropolitan Opera Orchestra and Chorus, Karen Kamensek - Akhnaten - Orange Mountain Music

Act II Scene 3: The City
Philip Glass/Anthony Roth Costanzo, J'Nai Bridges, Disella Larusdottir, Zachary James, The Metropolitan Opera Orchestra and Chorus, Karen Kamensek - Akhnaten - Orange Mountain Music

Act II Scene 3: Dance
Philip Glass/Anthony Roth Costanzo, J'Nai Bridges, Disella Larusdottir, Zachary James, The Metropolitan Opera Orchestra and Chorus, Karen Kamensek - Akhnaten - Orange Mountain Music

Act II Scene 3: Hymn
Philip Glass/Anthony Roth Costanzo, J'Nai Bridges, Disella Larusdottir, Zachary James, The Metropolitan Opera Orchestra and Chorus, Karen Kamensek - Akhnaten - Orange Mountain Music

Fall
Terence Blanchard featuring the E Collective and the Turtle Island Quartet - Absence - Blue Note