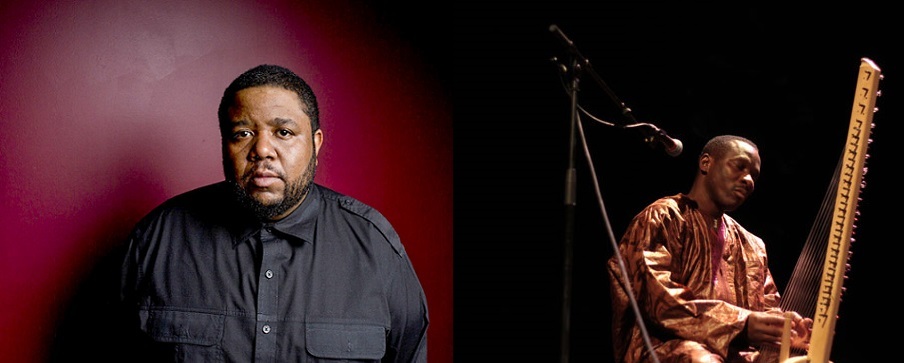 David Dalle
Thursday February 25th, 2021 with David Dalle
Black History Month: music from American composer and multi-instrumentalist Tyshawn Sorey and a retrospective of Guinean kora master Djelimoussa Diawara.
Today we are going to hear from two great and different musical masters, American composer and multi-instrumentalist Tyshawn Sorey, and Guinean kora player Djelimoussa Diawara. 40 year old Tyshawn Sorey grew up in Newark, New Jersey, learning the piano and the trombone before he was finally given the drum kit that he most desired. Though he started studying music at William Paterson University as a trombonist, he later switched to drums and majored in jazz. However, he felt the jazz program was too traditionalist and he found a home in the new-music program. He was finding inspiration from both Euro-American avant garde composers such as Mortan Feldman and Karlheinz Stockhausen, and experimental jazz musicians such as Anthony Braxton and Roscoe Mitchell. He saw a connection between the two traditions: "the more Sorey listened, the more he came to see each of these streams as a tributary of the same river of experimentation, artificially segregated by genre and race." (NYTimes). By the end of his time at William Patterson, he was already making a name for himself as a sideman in the New York jazz scene, and later started touring internationally with other musicians. He impressed many musicians not with just his drumming. When he first met pianist Vijay Iyer to plan some music together, Iyer was completely surprised to hear him play some of Iyer's music on the piano. By 2010, Sorey started focusing on leading his own groups. However, he went back to study composition in depth, attaining a Masters in composition from Wesleyan and PhD from Columbia, graduating in 2017. Since then he has been composing music furiously (especially during the pandemic) as well as continuing to perform and record. Much of Sorey's mature music is longform music, both composed and improvised, building huge structures of glorious sound! As the trauma of anti-Black racism exploded (again) into public consciousness last summer in the United States, he has focused mainly on vocal works about race in America, which I hope to feature on a later show. Today, we will hear the third part of his 2020 album "Unfiltered", which features long pieces for his sextet comprising Nathan Reising, alto sax, Morgan Guerin, tenor sax, Lex Korten, piano, Sasha Berliner, vibraphone, Nick Dunston, bass, and Sorey on drums.
You can hear Part I of "Unfiltered" on my January 7th show on-demand:
https://cod.ckcufm.com/programs/105/50392.html

The album is available on bandcamp:
https://tyshawn-sorey.bandcamp.com/album/unfiltered
Part III
Tyshawn Sorey - Unfiltered - PI Recordings
The second Black artist we will focus on today is the great kora player and singer Djelimoussa Diawara (also credited in earlier recordings as Jali Musa Jawara). He is a Mandinka griot (djeli) from Guinea. In 1961, he was born into a musical family stretching back many generations like most Mande griots; his father played the balafon and his mother sang. His older half-brother is the late Mory Kanté. At 18, Diawara followed his half-brother to Abidjan where he played in the Rail Band with him, but after Mory Kanté left to pursue a career in France, Diawara stayed in Abidjan to pursue his own solo career. His first album was the legendary "Yasimika" in 1983, which features Diawara on kora and voice, along with an incredible ensemble with two guitars, balafon, and the indispensable chorus provided by three female singers, Janka Jobateh, Fanta Kouyate, Jeni Doumbia (the female voice, both as chorus and solo, is an extremely important part of the Mande sound). His second album "Soubindoor" five years later is similar with kora, vocals, balafon, and two female chorus singers.

By 1990, Diawara had moved to Paris (the European home of African music) and recorded several more albums including "Flamenkora" from 1998 which is a pure solo album with Diawara on kora and voice, performing songs with Moorish and Flamenco influences. Mory Kanté took his kora to Paris in the 80's to record very danceable pop music with synthesizers and electric guitars alongside his kora. In 2002, Diawara followed a different approach to new music, forming the Kora Jazz Trio with French-Senegalese pianist Abdoulaye Diabaté and percussionist Moussa Cissoko. They released their first self-titled album in 2003, followed by "Part II" in 2005, "Part III" in 2008, and "Part IV" in 2018. In his previous albums, Diawara wrote and arranged all the music. With the Kora Jazz Trio, he shared these duties with Abdoulaye Diabaté. We will hear a selection of pieces spanning his career, starting and ending with two versions of one of the most hauntingly beautiful songs I know "Haidara"; starting with the version Diawara recorded with the Kora Jazz Trio (entitled "N'Dimi" here) and will end with the magical original from his 1983 debut (oh those female voices!)
N'Dimi
Kora Jazz Trio - Kora Jazz Trio - Celluloid
Yasimika
Djelimoussa Diawara - Yasimika - Rykodisc
Most of the pieces by the Kora Jazz Trio are originals, but here they gave a Charlie Parker tune the kora treatment.
Now Is The Time
Kora Jazz Trio - Kora Jazz Trio - Celluloid
Senef
Kora Jazz Trio - Kora Jazz Trio - Celluloid
We hear the title track from Mory Kanté's final album, his 2012 "La Guinéenne". Mory Kanté was one of the pandemic's victims, dying last spring in Conakry. You can listen to my retrospective of his impressive career on-demand:
https://cod.ckcufm.com/programs/105/47929.html
La Guineenne
Mory Kante - La Guineenne - Discograph
Mamaya
Djelimoussa Diawara - Soubindoor - World Circuit
Sabou
Djelimoussa Diawara - Flamenkora - Melodie
N'Na
Kora Jazz Trio - Part II - Celluloid
Sindi
Kora Jazz Trio - Part II - Celluloid
Haidara
Djelimoussa Diawara - Yasimika - Rykodisc