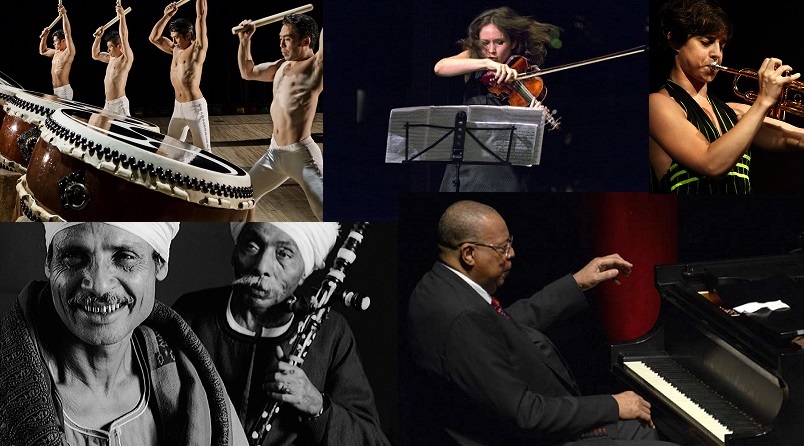 David Dalle
Thursday November 7th, 2019 with David Dalle
Celebrating 25 years on-air! Help the music continue to ring out in its beauty, its anger, its joy, its sadness, in all its extraordinary forms on CKCU on Thursday afternoons! 2003-2011.
This fall marks 25 years I have been on air at CKCU always on Thursdays. It has been an extraordinary privilege to be able to share a world of music with you and I have been thrilled that so many listeners are happy to follow along as I often take very eclectic and convoluted musical paths between so many different traditions. The music world has changed so much in the past 25 years, but I feel the need for independent and free voices like we have on CKCU has if anything, grown in importance. With streaming and other digital options, there seems to be greater choice than ever before, but that choice is deceptive, guided by algorithms, music offerings are becoming ever more narrowly defined. You simply *will not* find any other program or AI algorithm which takes you on the extremely diverse musical journeys I take on my show, often with a logical thread tying it all together. CKCU needs your support now more than ever before, please dial and donate at 613-520-3920 or click the donate now button on our website! While you make your generous donation to keep us on air, I will look back at 25 years of music on my program.
Last week we ended with 2002, so we begin this week from 2003 with the first of two albums the incredible Persian singer Parisa recorded with the Dastan Ensemble for the German label Network. She has performed with Dastan in Ottawa several times thanks to the tremendous efforts of CKCU's Mehdi Fallahi of Namaashoum.
Tasnif-E Mehrgiah
Parisa & Dastan Ensemble - Shoorideh - Network
From 2004, another great singer we had the privilege of seeing in Ottawa, Ulhas Kashalkar.
Rag Alhaiya Bilawal
Ulhas Kashalkar - Gwalior Valor - Sumani
From 2005, one of Salif Keita's strongest albums and with this absolutely killer song "Laban". A bittersweet love song to his wife, very complex emotions. The song is in two parts, the first half is a solid song, but there is a sudden shift in temp and mood halfway which elevates the song to true greatness.
Laban
Salif Keita - M'Bemba - Universal
From 2006, another Malian album, but one I could not neglect to mention, Toumani Diabate's fantastic album "Boulevard de l'independance". Unlike his "New Ancient Strings" which was a kora duet with Ballake Sissoko, this one is completely different as it is with a big band with 25+ musicians and some incredible guest singers including the incomparable Kasse Mady Diabate and for this track, the Senegalese Moussa Niang sings in Wolof accompanied by a number of the powerful Senegalese Sabar drums.
Tapha Niang
Toumani Diabate's Symmetric Orchestra - Boulevard de l'Independence - World Circuit/Nonesuch
From 2007, vol. 4 in an exceptional 10 volume series put out by Smithsonian Folkways. The Smithsonian Institute has tremendous resources so when they apply them to a series like this, the results are amazing. Vol. 4 features a large number of women singers from several Central Asian nations.
Kotush
Ervena Orgaeva - Music of Central Asia vol. 4 Bardic Divas - Smithsonian Folkways
Shunidam
Ozoda Ashurova - Music of Central Asia vol. 4 Bardic Divas - Smithsonian Folkways
From 2008, my favourite Mande singer from Mali, Kassé Mady Diabaté, an exceptional album, a song of staggering beauty and sadness. You can listen to a retrospective of his career from last year on-demand:
https://cod.ckcufm.com/programs/105/37809.html
Sinanon Saran
Kasse Mady Diabate - Manden Djeli Kan - Wrasse Records
Froom 2009, a composer whose music features on my show almost every week with my theme, Arvo Part. This ECM release dedicated to recent pieces (in 2009) is one of my favourite of his, and shows he is capable of big sound with this orchestral piece.
La Sindone
Arvo Part/Estonian National Symphony Orchestra, Tonu Kaljuste - In Principio - ECM
From 2010, an album from the father of Ethio-jazz, the inestimable treasure Mulatu Astatke and "Mulatu Steps Ahead"
Motherland
Mulatu Astatke - Mulatu Steps Ahead - Strut
From 2011, one of the many albums released that year to celebrate the 200th anniversary of the birth of Franz Liszt, which we celebrated on this show with tons of his music. I also had the privilege of traveling to Hungary that October and being in Budapest attending a performance of his magnum opus "Christus" oratorio in St. Sephen's Basilica on his 200th birthday as well as several other recitals and concerts of his music. Franz Liszt has always been my musical hero, not because he was an incredible composer of so many unique works and by all contemporary accounts one of the greatest pianists who ever lived, but because I have never seen another great composer be as incredibly open-minded musically and generous as he was. He spent his whole life championing other composers and music and I am positive if he had the access to music that we have today, he would have loved music from all over the world. We hear something from a live recording a the opening gala of the Liszt year in Budapest in January 2011.
Hungarian Fantasy for piano and orchestra
Franz Liszt/Gabor Farkas - Les Preludes, Hungarian Fantasy - Warner Classics