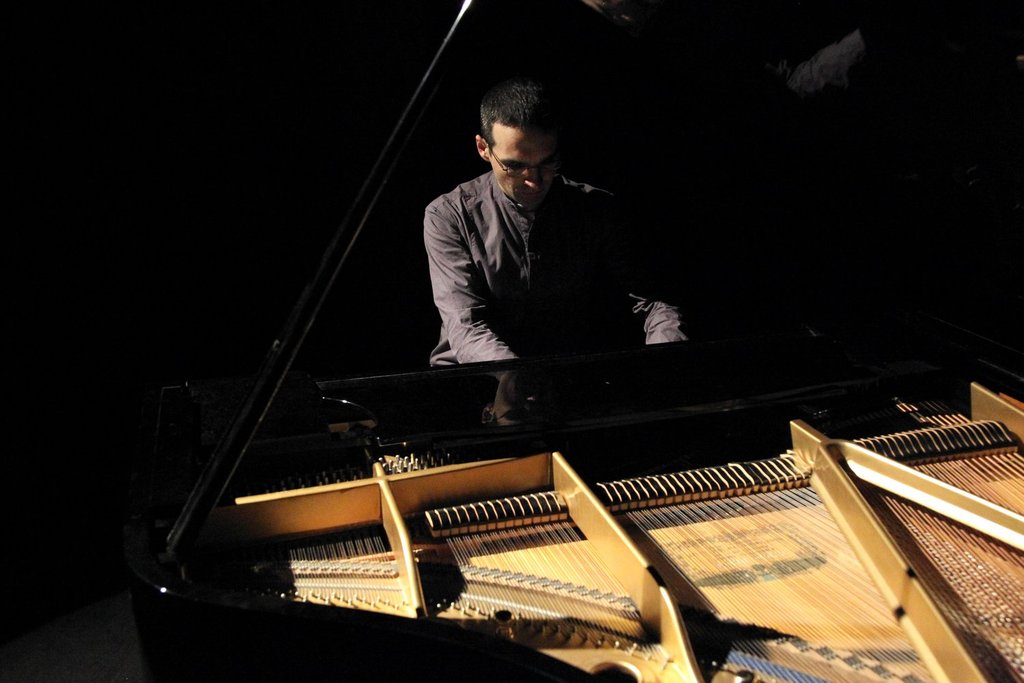 David Dalle
Thursday November 14th, 2019 with David Dalle
Ottawa composer/pianist Frank Horvat will be joining me to discuss his brand new album! Also continuing the celebration of 25 years on-air with music from 2012-2019.
This fall marks 25 years I have been on air at CKCU always on Thursdays. It has been an extraordinary privilege to be able to share a world of music with you and I have been thrilled that so many listeners are happy to follow along as I often take very eclectic and convoluted musical paths between so many different traditions. CKCU needs your support now more than ever before, please dial and donate at 613-520-3920 or click the donate now button on our website! Today, guest, composer and pianist Frank Horvat joins me to discuss his brand new album "What Goes Around" containing 6 pieces for very different instrumentation but all influenced by minimalism.
Speaking with Frank Horvat.
A Little Loopy
Frank Horvat/Sharlene Wallace - What Goes Around - Canadian Music Centre


What The Walls Feel As They Stare At Rob Ford Sitting in his Office
Frank Horvat/Peter Stoll - What Goes Around - Canadian Music Centre


Wood & Metal Bars
Frank Horvat/Beverley Johnston - What Goes Around - Canadian Music Centre


And now continuing with a look back at 25 years of music on my show, from 2012, "Diagnostic" by the incredible French-Lebanese trumpeter Ibrahim Maalouf who plays the quarter-tone trumpet which his father, also a great trumpeter, invented.
They Don't Care About Us
Ibrahim Maalouf - Diagnostic - Mi'ster productions
From 2013, another great Canadian composer-pianist, Constantine Caravassilis, and his Book of Rhapsodies and Fantasias for solo piano, performed by Canadian pianist Christina Petrowska-Quilico.
Soul Ascending
Constantine Caravassili/Christina Petrowska-Quilico - Visions - Centerdiscs

From 2014, Keith Jarrett and Charlie Haden's final album together, appropriately titled "Last Dance"
Round Midnight
Keith Jarrett & Charlie Haden - Last Dance - ECM
From 2015, the Italian composer-pianist(!) Ludovico Einaudi and his extraordinary "Taranta Project", based on the Tarantella dance from Southern Italy, this work is actually global in outlook with musicians from all over the world contributing. Amazing!
Taranta
Ludovio Einaudi - Taranta Project - Ponderosa
From 2016, what I believe is one of the greatest masterpieces of Canadian contemporary music, "Going Home Star" by Christos Hatzis, a ballet commissioned by the Royal Winnipeg Ballet, it features the collaboration of the incomparable Tanya Tagaq. Astonishing!
Going Home Star Act I scene 2: Coercion
Christos Hatzis/Tanya Tagaq, Steve Wood and the Northern Cree Singers, Winnipeg Symphony Orchestra, Tadeusz Biernacki - Going Home Star: Truth and Reconciliation - Canadian Music Center

From 2017, a wonderful album from the legendary Senegalese band Orchestra Baobab. It was a tribute to the great singer Ndiouga Dieng who had passed away in 2016.
Sey
Orchestra Baobab - Ndiouga Dieng - World CIrcuit
From 2018, the wonderful Ethiojazz of Hailu Mergia and his album "Lala Belu". A truly heartwarming story, he had been a successful band leader in Addis when him and his band wanted to try their luck in the US. They moved their in the early 90's and gave it a go, but hopes fizzled out and Hailu Mergia ended up living in Washington DC working as a cab driver. He would just play for himself on the accordion he kept in the cab's trunk during breaks. Two decades later, the great people at Awesome Tapes from Africa reissued one of his earlier albums, and sought him out with the idea of recording a new album. He recorded this album of his compositions with a trio comprised of himself on piano, keyboards, accordion and melodica, and Tony Buck on drums and Mike Majkowski on doublebass. The album was a huge success and resurrected his musical career higher than it was ever before. He has been touring the world non-stop since then in high demand, and I am sure there will be more albums!
Addis Nat
Hailu Mergia - Lalu Bela - Awesome Tapes From Africa