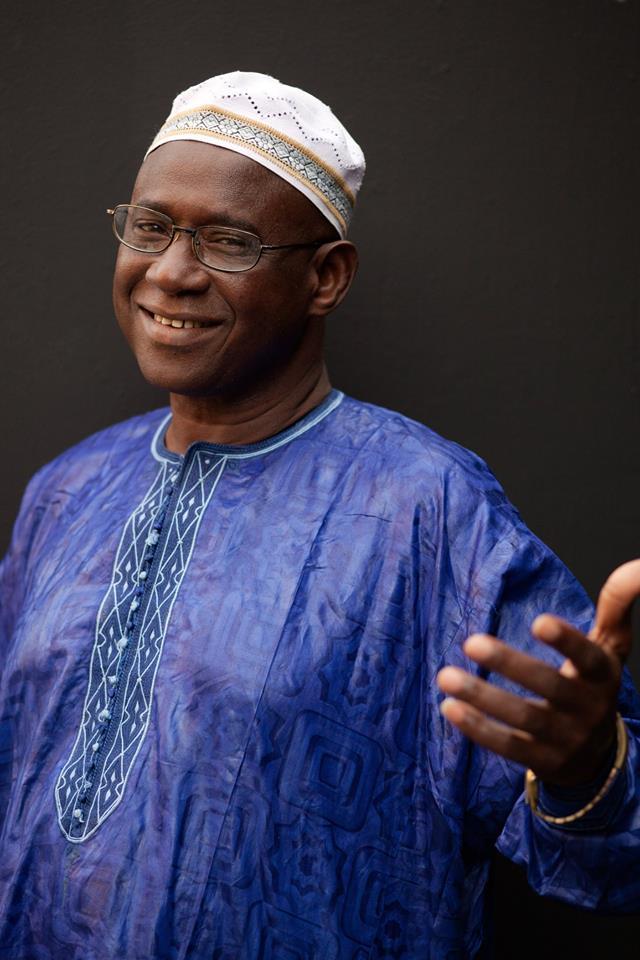 David Dalle
Thursday May 31st, 2018 with David Dalle
Farewell to the greatest of the great Mandé singers, Kassé Mady Diabaté. Kayhan Kalhor III
"when a griot dies, a whole library burns to the ground" - Amadou Hampate Ba Kassé Mady Diabaté was born in 1949 in the heart of the Manding region of Mali in the town of Kela, home to generations of renowned singers. His family were farmers, but were also part of generations of djelis, guardians of orally transmitted knowledge and lore dating back centuries. As a young boy, people around him already heard hints of his famed great-grandfather Binto Fama Diabaté, who was also known as Kassé Mady. He quickly became in demand singing at weddings and other ceremonies in surrounding villages. As a young man he became a lead singer in state-sponsored bands, most importantly National Badema, a common feature amongst West African nations in the fevered nationalism and enthusiasm which followed independence, and which launched many careers of West Africa's greatest musicians and singers. Kassé Mady's voice became one of the most well-known and prominent within Mali, he was a master of all the old songs as well as newer popular songs. In 1989 the great Senegalese music producer Ibrahima Sylla produced two solo albums by Kassé Mady: Fode and Kela. Fode was a contemporary Manding pop fusion album, Kela was an incredible traditional album. Both were extremely successful, and Kassé Mady moved to Paris to try and widen his career following his compatriot Salif Keita (also born in 1949). Unfortunately (though perhaps it was a blessing), he did not achieve the same level of success, and he returned to Mali. Back in Mali he recorded several more fabulous solo albums, and also appeared as a guest on several albums by instrumentalists Toumani Diabaté and Bassekou Kouyaté, both of whom (particularly the former) have created stellar international careers. (Absolutely no disrespect intended to Toumani or Bassekou, but it is interesting that this upended the traditional hierarchy, where the singer has the star billing and the kora and ngoni players role is to accompany the singer). Kassé Mady also took part in Ibrahima Sylla's incredible Mandekalou project, two albums bringing together some of the biggest stars of Mande music including Bako Dagnon, Kandia Kouyaté, Karfale Kante, Djelimady Tounkara and others. Kassé Mady Diabaté suffered a stroke in March, and did not recover, he died in Bamako on May 24th aged 69. Even though he was not widely known outside of Mali, everyone in Mali knew his beautiful, plaintive voice, which earned him his nickname Kassé (weeping). He was one of the very greatest singers in one of Africa's greatest and richest musical traditions. A national treasure, the world is much poorer for his loss.
God Shall Wipe All Tears Away
Trio Da Kali and Kronos Quartet - Ladilikan - World Circuit
Starting off with tracks from his two legendary Syllart albums from 1989, one pop and one traditional.
Siran Mogoye
Kasse Mady Diabate - Fode - Syllart
Barana
Kasse Mady Diabate - Kela - Syllart
The famous Buena Vista Social Club recording sessions were originally supposed to be a meeting of Malian and Cuban musicians, however, Visa problems kept the Malian musicians home, and the recordings ended up being purely Cuban with world famous results. Kassé Mady Diabaté was one of those intended Malian musicians, he finally got to record with Cuban musicians in 2010 including this wonderful duet with Eliades Ochoa.
Al Vaiven De Mi Carreta
Afrocubism feat. Kasse Mady Diabate and Eliades Ochoa - Afrocubism - World Circuit/Nonesuch
Kassé Mady Diabaté had the unusual opportunity to record an album with many great Malian musicians in his hometown of Kela in 2002. Despite being one of the main centres of Manden music, hometown to many greats, most recordings are made in the capital Bamako. This was a wonderful experience for the whole town to celebrate their vaunted musical talent. Kassé Mady has two younger brothers who are also exceptional singers, as this duet with Lafia shows.
Lafia Jeli
Kasse Mady Diabate with Lafia Diabate - Kassi Kasse - Corason
Salif Keita shares the same birth year as Kassé Mady (1949), here he is with a song encouraging all to applaud the griots.
Tekere
Salif Keita - Folon - Mango
Kassé Mady Diabaté was a guest on several of Toumani's albums, including this absolute 2006 masterpiece "Boulevard de l'independance"
Ya Fama
Toumani Diabate's Symmetric Orchestra - Boulevard de l'independence - World Circuit/Nonesuch
In 2004 Kassé Mady was part of an extremely ambitious project by producer Ibrahima Sylla to gather together many of the greatest Mande singers and musicians in an all-star setting. The result was two releases Mandekalou I and II. Many of these great artists had not played together before. Led by the great singer Bako Dagnon, the cast was stellar and the repertoire superb. Kassé Mady shared lead vocals on many of the songs. His voice is the 2nd in this beautiful song, coming in with a plaintive cry after Bako Dagnon and before Kerfala Kanté.
Kanimba
Bako Dagnon, Kasse Mady Diabate, Kerfala Kante - Mandekalou II - Syllart
Kassé Mady's legacy is continued by his daughter and namesake, Hawa Kassé Mady Diabaté. With her group, Trio Da Kali, she recorded a tremendous album with the Kronos Quartet released last year and has been touring extensively since then both with her trio, and with Kronos. We hear another version of Kanimba, a song originally by Kassé Mady's aunt. We also hear a song from another one of Kassé Mady's younger brothers, Abdoulaye Diabaté. Abdoulaye immigrated to the US and lives in New York City since the 1990's where he sings and records with other Mande ex-pats. He is also another of my favourite singers.
Kanimba
Trio Da Kali and Kronos Quartet - Ladilikan - World Circuit
Lansine
Abdoulaye Diabate - Sara - Completely Nuts Records
Sinsani
Bassekou Kouyate & Ngoni Ba feat. Kasse Mady Diabate - Segu Blue - Out Here
We end this tribute to this greatest of Mande singers with two of my favourite songs from his 2008 album Manden Djeli Kan. Music of just staggering beauty, farewell Kassé Mady.
Maliba
Kasse Mady Diabate - Manden Djeli Kan - Wrasse Records
Sinanon Saran
Kasse Mady Diabate - Manden Djeli Kan - Wrasse Records
Continuing the program with part III of Kayhan Kalhor's music. the peerless Kamancheh virtuoso and consummate musician and composer, will be performing in Ottawa on June 10th, this is his first appearance in Ottawa in over 2 decades! He will be performing as a setar duo with his former student Kiya Tabassian in Under the Persian Musical Sky.
https://musicandbeyond.ca/event/under-the-persian-musical-sky/

Today we hear Kayhan's first cross-cultural collaboration, with sitarist Shujaat Hussein Khan, which brought him to wide international attention. As Ghazal they have released four albums so far, the first was recorded with virtually no rehearsal between the two and showed what incredible, natural musicians they are. We will hear from their second recording, with one of my favourite pieces by them, of profound beauty and longing. If there was one concert in Ottawa 2018 to absolutely not miss, it is this one!
Traces of the Beloved
Ghazal - As Night Falls On The Silk Road - Shanachie