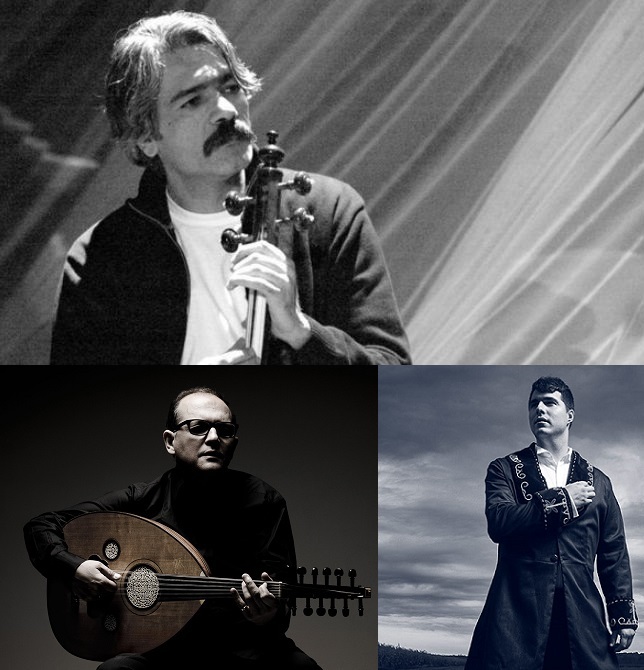 David Dalle
Thursday June 7th, 2018 with David Dalle
Kayhan Kalhor IV: Night Silence Desert; Wolastoqiyik First Nations singer Jeremy Dutcher's astonishing new album; latest from Anouar Brahem
Kayhan Kalhor, the peerless Kamancheh virtuoso and consummate musician and composer, will be performing in Ottawa on June 10th, this is his first appearance in Ottawa in over 2 decades! He will be performing as a setar duo with his former student Kiya Tabassian in Under the Persian Musical Sky.
https://musicandbeyond.ca/event/under-the-persian-musical-sky/
Kayhan Kalhor is a Kurdish-Iranian musician who studied with the great master Mohammad Reza-Lotfi in Tehran. He also studied Western classical music right here at Carleton. He has been an extraordinary and innovative musician and composer in Persian classical music, collaborating with musicians from many different cultures, and from different traditions within Iran, as today's program demonstrates. We will hear his exquisite composition "Night Silence Desert-Khorasan Suite" from 2000. In this piece his brought together Persian classical musicians including himself on kamancheh and setar, Hossein Behroozi-Nia on barbat, Ardavan and Bijan Kamkar on santur and percussion, and folk musicians from Khorasan including Hadj Ghorban Soleimani and Ali Abchouri. It also features the towering Persian singer Mohmmad Reza Shajarian, who is a native of Khorasan and familiar with its folk music. A spectacular and unique composition. We will also hear the brand new album from Wolastoqiyik First Nations singer Jeremy Dutcher "Wolastoqiyik Lintuwakonawa". In perhaps a feint echo of "Night Silence Desert", classically-trained tenor Jeremy Dutcher mixes traditional songs from this New Brunswick First Nation with classical and folk influences and instruments. The result is another simply stunning, unique album. Another recent album we will hear is the latest from Anouar Brahem, "Blue Maqams" which features him leading a jazz quartet with his oud of course, and Americans Dave Holland on doublebass and Jack DeJohnette on drums and his first collaboration with a pianist other than Francois Couturier, the English Django Bates. Delicate and subtle with tightly controlled improvisation, another masterpiece.
Silence of the Night
Kayhan Kalhor, Mohammad Reza Shajarian - Night Silence Desert - Traditional Crossroads
Desert
Kayhan Kalhor, Mohammad Reza Shajarian - Night Silence Desert - Traditional Crossroads
Instrument and vocal
Kayhan Kalhor, Mohammad Reza Shajarian - Night Silence Desert - Traditional Crossroads
Desert Night
Kayhan Kalhor, Mohammad Reza Shajarian - Night Silence Desert - Traditional Crossroads
Rain
Kayhan Kalhor, Mohammad Reza Shajarian - Night Silence Desert - Traditional Crossroads
Festive occasion
Kayhan Kalhor, Mohammad Reza Shajarian - Night Silence Desert - Traditional Crossroads
Dotar instrumental
Kayhan Kalhor, Mohammad Reza Shajarian - Night Silence Desert - Traditional Crossroads
Setar instrumental
Kayhan Kalhor, Mohammad Reza Shajarian - Night Silence Desert - Traditional Crossroads
Instrument and vocal
Kayhan Kalhor, Mohammad Reza Shajarian - Night Silence Desert - Traditional Crossroads
Lover's Plight
Kayhan Kalhor, Mohammad Reza Shajarian - Night Silence Desert - Traditional Crossroads
Essuwonike
Jeremy Dutcher - Wolastoqiyik Lintuwakonawa - Independent


Note, Django Bates will be making his first appearance in Ottawa at the Jazz Festival on June 25th:
https://ottawajazzfestival.com/artists/django-bates/
Bom Dia Rio
Anouar Brahem, Dave Holland, Jack DeJohnette, Django Bates - Blue Maqams - ECM

Fazendo As Malas
Catherine Bent - Ideal - Independent

If I Were a Bell
Brittany Clayton, Tom Denison, Yves LaRoche - Introducing... - Independent


Diverging Crossroads
Frank Horvat - You Haven't Been - I Am Who I Am

Pomok naka Poktoinskews
Jeremy Dutcher - Wolastoqiyik Lintuwakonawa - Independent