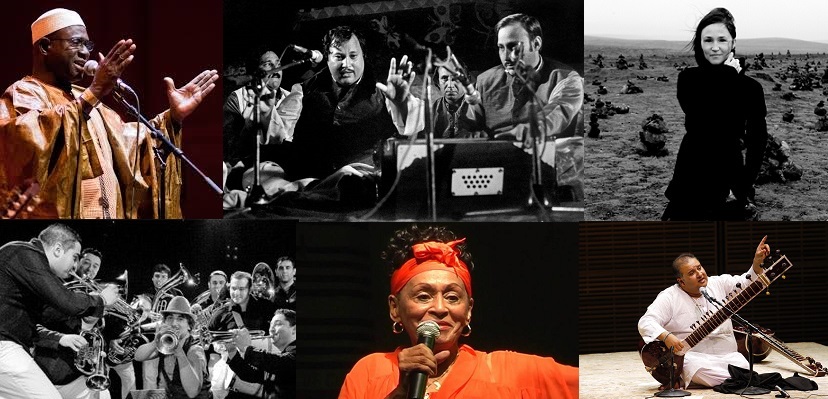 David Dalle
Thursday October 31st, 2019 with David Dalle
Celebrating 25 years on-air! Help the music continue to ring out in its beauty, its anger, its joy, its sadness, in all its extraordinary forms on CKCU on Thursday afternoons! 1994-2002.
This fall marks 25 years I have been on air at CKCU always on Thursdays. It has been an extraordinary privilege to be able to share a world of music with you and I have been thrilled that so many listeners are happy to follow along as I often take very eclectic and convoluted musical paths between so many different traditions. The music world has changed so much in the past 25 years, but I feel the need for independent and free voices like we have on CKCU has if anything, grown in importance. With streaming and other digital options, there seems to be greater choice than ever before, but that choice is deceptive, guided by algorithms, music offerings are becoming ever more narrowly defined. You simply *will not* find any other program or AI algorithm which takes you on the extremely diverse musical journeys I take on my show, often with a logical thread tying it all together. CKCU needs your support now more than ever before, please dial and donate at 613-520-3920 or click the donate now button on our website! While you make your generous donation to keep us on air, I will look back at 25 years of music on my program.
In 1994 I discovered who would become one of the most important artists in my life and on my program.
Maki Madni
Ustad Nusrat Fateh Ali Khan & Party - The Last Prophet - Realworld
From 1995, Abderrahmane Abdelli an Algerian Berber.
Adarghal
Abdelli - New Moon - Realworld
From 1996, a superb concert recording featuring Itzhak Perlman with four great Klezmer bands, Brave Old World, The Klezmatics, The Andy Statman Klezmer Orchestra, Klezmer Conservatory Band, which was recorded during their "In the Fiddler's House" tour after the album of that name from 1995. The live performance was wonderful. We hear several of the pieces with the Klezmatics as Alicia Svigals, violinist for the Klezmatics will be in Ottawa this Sunday! Performing with New York based pianist Donald Sosin they will be largely improvising the soundtrack for a showing of the 1923 silent film "The Ancient Law"
Show information and tickets:
https://www.canadahelps.org/en/charities/jewish-reform-congregation-of-ottawa-temple-israel/events/the-ancient-law-movie/
Healthy Baby Girl Hora
Itzhak Perlman with the Klezmatics - Live in the Fiddler's House - EMI
Golem Tants
Itzhak Perlman with the Klezmatics - Live in the Fiddler's House - EMI
Honga Encore
Itzhak Perlman with the Klezmatics - Live in the Fiddler's House - EMI
From 1997, the first collaboration between two extraordinary musicians from two different traditions, Kayhan Kalhor and Shujaat Hussein Khan who performed together as "Ghazal" (with Swapan Chaudhuri on tabla for most of their albums). They had only met twice for about 20 minutes before sitting down in front of microphones and recording this purely improvised music. The result is nothing short of a miracle, making music of such heart-rending profundity and staggering beauty spontaneously. I am happy that they still occasionally perform together.
The Saga of the Rising Sun
Ghazal - Lost Songs of the Silk Road - Shanachie
From 1998, I had already been introduced to brass music from Balkan Roma, but that hardly prepares you for the lightning fast onslaught from Fanfare Ciocarlia! Their first album and start of a very fruitful relationship with Piranha Records from Germany, they became a sensation throughout Europe and played at the Montreal Jazz Festival that year where I saw them and bought the album directly from a member of the band. I have seen them everytime I could since, it is the very essence of wild joy!
Ciocarlia si Suite
Fanfare Ciocarlia - Radio Pascani - Piranha Records
Ruusasca lui filon
Fanfare Ciocarlia - Radio Pascani - Piranha Records
From 1999, the seemingly contrarily named album "New Ancient Strings" from two great kora masters, Toumani Diabate and Ballake Sissoko. The album got its name due to being a hommage to their fathers, who played together on the 1970 Buda recording "Ancient Strings", the first album solely of instrumental kora music from Mali. Superb and rich as you'd expect from these two great artists.
Kita Kaira
Toumani Diabate & Ballake Sissoko - New Ancient Strings - Rykodisc
From 2000, another Klezmatics member, the wonderful Frank London and his first album premiering his Klezmer Brass Allstars. Brass brass brass can never have too much!
Rakhmones/A Shikers Kholem/Der Yid Vet Trinkn
Frank London's Klezmer Brass Allstars - Di Shikere Kapelye - Piranha Records
From 2001, a wonderful album of Hungarian Roma music with the group Kek Lang.
Nani, Nani
Kek Lang - Romany Songs: WInter Moons, Summer Moons - Long Distance
From 2002, The great Tunisian oud player and composer Anouar Brahem in one of his most evocative albums , "Le pas du chat noir" with pianist Francois Couturier and accordionist Jean-Louis Matinier.
Le pas du chat noir
Anouar Brahem, Francois Couturier, Jean-Louis Matinier - Le pas du chat noir - ECM