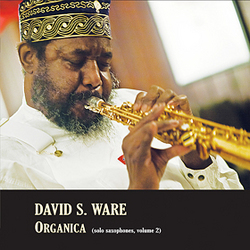 Rabble Without A Cause
Wednesday May 26th, 2021 with Bernard Stepien
New York saxophonist David S. Ware solo CD
David S. Ware was a direct off-spring of John Coltrane's fiery music phase. He quickly got snatched by pianist Cecil Taylor in the '70s and then went quiet in the '80s. However, in the '90s Ware became one of the major proponents of Free Jazz Revival with his quartet that involved then young pianist Matthew Ship and bassist William Parker another Cecil Taylor alumni. However, tonight we will have a closer look at his very intensive solo soprano and tenor saxophone CD recorded in 2010 that was mixed and mastered by our own Ottawa saxophonist Petr Cancura.
minus gravity 1
David S. Ware - organica - Aum
organica 1
David S. Ware - organica - Aum