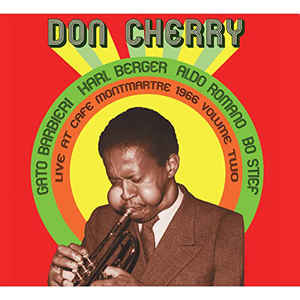 Rabble Without A Cause
Wednesday March 31st, 2021 with Ron Steeds
Don Cherry Live At Cafe Montmartre, 1966, Vol. 2
Don Cherry Quintet recorded live at Cafe Montmartre, Copenhagen, Denmark on March 31, 1966 for Danish Public Radio. Don Cherry on trumpet, Gato Barbieri on tenor sex, Karl Berger in vibraphone, Bo Stief on bass, and Aldo Romano on drums.
Break Tune
Arthur Blythe - In The Tradition - Columbia
Set 1
Intro
Don Cherry - Live At Café Montmartre 1966, vol. 2 - ESP Disk
Orfeu Negro
Don Cherry - Live At Café Montmartre 1966, vol. 2 - ESP Disk
Suite Fo Albert Ayler
Don Cherry - Live At Café Montmartre 1966, vol. 2 - ESP Disk
Spring Is Here
Don Cherry - Live At Café Montmartre 1966, vol. 2 - ESP Disk
Set 2
Remembrance
Don Cherry - Live At Café Montmartre 1966, vol. 2 - ESP Disk
Complete Communion
Don Cherry - Live At Café Montmartre 1966, vol. 2 - ESP Disk