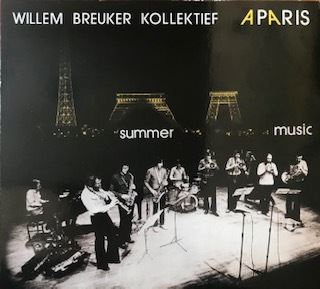 Rabble Without A Cause
Wednesday April 8th, 2020 with Bruce Walton
Leftovers, previews, and Duke
Thanks to Chris International, Dave Aardvark, Dylan Hunter, and Colin Henein for their hard work in getting original CKCU programming back on the air.
To start, some Duke Ellington - 2 live recordings, made 29 years apart, and 2 covers.
Black Butterfly
Duke Ellington & His Orchestra - 70th Birthday Concert (UK, November 1969)
Searchin'
McCoy Tyner - McCoy Tyner Plays Ellington (Dec. 1964)
Rockin' In Rhythm
Duke Ellington & His Orchestra - At Fargo 1940
The Feeling Of Jazz
Avaialble Jelly (Michael Moore) - Happy Camp (1996)
Next, follow-ups on recent programs on Michael Moore, spiritual jazz, and Carla Bley
Providence
Michael Moore Quintet - Home Game (1998)
I've Known Rivers
Gary Bartz NTU Troop (Andy Bey, vcl) - I've Known Rivers & Other Bodies (live, Montreux, 1973)
The Ending Of The First Side (Carla Bley)
Charlie Haden - Liberation Music Orchestra (April 1969)
In the final set, previews of upcoming shows on Paul Bley, South African exiles, the Art Ensemble of Chicago in Paris, 1969-71, and the Willem Breuker Kollektief.
Harlem
Paul Bley - Open, to love (Oslo, September 1972)
Joyful Noises (Chris McGregor)
Louis Moholo's Viva-La-Black - S/T (London, January 1988)
The Waltz
The Art Ensemble of Chicago - A Jackson In Your House (Paris, June 1969)
"Let's Fall in Love" is a Harold Arlen song first recorded in 1934.
Let's Fall In Love
Willem Breuker Kollektief - Summer Music - a Paris (Paris, February 1978)
Baal Brecht Breuker is a setting to music of Bertold Brecht's first play, Baal.
Ik begin een nieuw leven
Willem Breuker Kollektief - Baal Brecht Breuker (Holland, October 1973)