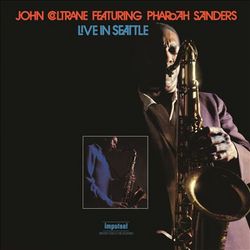 Rabble Without A Cause
Wednesday March 9th, 2016 with Bernard Stepien
John Coltrane – Live at Seattle 1965
John Coltrane is hovering high in the Jazz Hall of Fame. His sheets of sounds approach got him wide recognition among the top Jazz stars before becoming the ultimate star himself not to mention permanently startling his audiences. Tonight we will focus on one of his most powerful recording, live in Seattle from 1965. This recording was made during the last phase of his career when he explored the unlimited possibilities of atonality. Before Coltrane, with compositions such as Giant Step was known to be the ultimate expert in II-V-I, a classic Jazz harmonic form and extract the most elaborate combinations out of it.
Cosmos
John Coltrane - Live in Seattle - impulse
tapestry in sound
John Coltrane - Live in Seattle - impulse
out of this world
John Coltrane - Live in Seattle - impulse
evolution part I
John Coltrane - Live in Seattle - impulse
evolution part II
John Coltrane - Live in Seattle - impulse