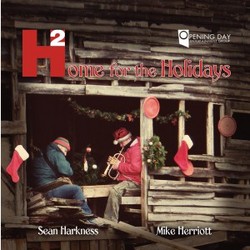 Rabble Without A Cause
Wednesday December 24th, 2014 with Bernard Stepien
Christmas gifts suggestions: Sean Harkness & Mike Herriott and Adam Daudrich
NYC Jazz Guitarist Sean Harkness and Canadian trumpeter Mike Herriott rewrote traditional Christmas carols into the Jazz idiom, i.e. adding unlimited improvisation as a predictable start but also reworking them in different Jazz styles sometimes even deconstructing them. Ottawa born Adam Daudrich, now an expatriate to Montreal and Europe just completed his master degree in music at McGill University and produced another CD Go Get It with an unlimited supply of originals. The RWAC team wishes you a Merry Christmas.
angels we have heard on high
Sean Harkness & Mike Herriott - home for the holidays - opening day

we three kings
Sean Harkness & Mike Herriott - home for the holidays - opening day

O Tannenbaum
Sean Harkness & Mike Herriott - home for the holidays - opening day

Christmas time is here
Sean Harkness & Mike Herriott - home for the holidays - opening day

Home for the holidays
Sean Harkness & Mike Herriott - home for the holidays - opening day

meditation on a low rose
Sean Harkness & Mike Herriott - home for the holidays - opening day

Go Get It
Adam Daudrich - Go Get It - independent

Go Get It alternate take
Adam Daudrich - Go Get It - independent

get nice
Adam Daudrich - Go Get It - independent

same high
Adam Daudrich - Go Get It - independent

same high alt take
Adam Daudrich - Go Get It - independent

falling in love with love
Adam Daudrich - Go Get It - independent