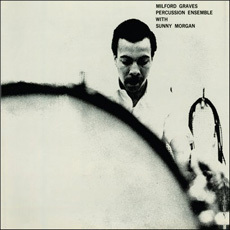 Rabble Without A Cause
Wednesday September 3rd, 2014 with Bernard Stepien
Milford Graves 1965
At the heydays of Free Jazz during the '60s, drummer and percussionist Milford Graves started his own revolution. While the Jazz drum set was a true invention of the Jazz world, the individual components like the snare drum, bass drum or cymbals were drawn from the European military bands arsenal as illustrated by the early New Orleans bands. And so were the ways to play it, i.e. with European sticks. Instead Milford Graves went back to his African origins and played the Jazz drum set with his bare hands. This instantly changed the sound and the use of the drum set. Somehow since Be Bop, prominent drummers like Max Roach started to think of the drum as something else than a rhythm section component with the occasional but always imposing drum solo role. He played it as a solo instrument like for example piano players do with their pianos. Milford Graves embraced this new direction fully. Thanks to ingenious record labels like Bernard Stollman's legendary ESP-DISK, these experiments were recorded. Tonight we will sample this 1965 recording in duo with drummer Sunny Morgan and if we have time with drummer Andrew Cyrille. As usual, Jazz inventors like Milford Graves quickly got hired by universities or colleges which put an end to the chores of playing club dates or even commercial recordings while still enjoying being a central figure in Free Jazz.
Nothing 5-7
Milford Graves - percussion ensemble with Sunny Morgan - ESP-DISK
Nothing 11-10
Milford Graves - percussion ensemble with Sunny Morgan - ESP-DISK
Nothing 19
Milford Graves - percussion ensemble with Sunny Morgan - ESP-DISK
Nothing 13
Milford Graves - percussion ensemble with Sunny Morgan - ESP-DISK
Nothing
Milford Graves - percussion ensemble with Sunny Morgan - ESP-DISK
the soul is the music
Milford Graves - dialogue of the drums - IPS