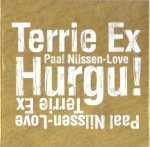 Rabble Without A Cause
Wednesday August 20th, 2014 with Bernard Stepien
When Punk Rock straddles Free Jazz: Terrie Ex
Ex is a genuine Dutch Punk Rock band that started in 1979 and recorded over 20 albums under this format. However, they quickly became attracted by two other radically different musical styles: world music and Free Jazz. The reason of this interest is of course the very essence of Jazz that is improvisation. Fortunately, some hard core Free Jazz musicians like European Han Bennink or Peter Brötzmann have an equal interest for other music that includes Punk Rock. Tonight we will explore the musical onslaught of a duo with Norwegian drummer Paal Nilssen-Love that was fortunate enough to have parents that were a Jazz club owners somewhere in the back of a fjord in Norway.
harar
Terrie Ex - Hurgu! - PNL records
bedele
Terrie Ex - hurgu! - PNL records
insisting the necessary
David Jackson - IMOO vol.v2.solos - independent

st.georges
Terrie Ex - hurgu - PNL records