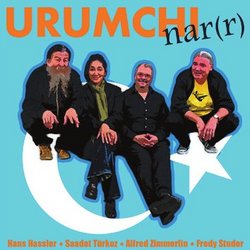 Rabble Without A Cause
Wednesday January 15th, 2014 with Bernard Stepien
Free Jazz and World Music: Kazakh vocalist Saadet Türköz
Saadet Türköz is born in Istanbul, Turkey but of Kazhak parents that fled from Turkmen/Chinese province of East-Turkestan where of course the population is also Turkish. She moved to Zürich in Switzerland and got involved with the very active Free Jazz scene there. Her dramatic voice and expression soon attracted attention from various Free jazz players around the world and she got involved in duos with European, American, Korean and Japanese heavy weights. Her voice is crystalline and the emotions she can render run high. She systematically sings in Turkish or Kazakh that most of her western listeners probably don't understand. However, as I have noted already with other vocalist that sing in non-English languages, here, the foreign language turns out to add color or more rightfully unusual sounds. See vocalist such as Kate Weston or the extreme case of Françoise Kubler which uses several languages simultaneously to get the right sound. Tonight, we will focus on her Intakt CD Urumchi that features among others Swiss accordionist Hans Hassler.
birds
Saadet Türköz - urumchi nar(r) - intakt
the horses
Saadet Türköz - urumchi nar(r) - intakt
dem
Saadet Türköz - urumchi nar(r) - intakt
merhaba
Saadet Türköz - urumchi nar(r) - intakt
old spirits
Saadet Türköz - urumchi nar(r) - intakt
su
Saadet Türköz - urumchi nar(r) - intakt
my long
Saadet Türköz - urumchi nar(r) - intakt
nanci
Saadet Türköz - urumchi nar(r) - intakt
davus
Saadet Türköz - urumchi nar(r) - intakt