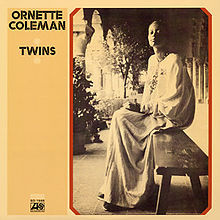 Rabble Without A Cause
Wednesday January 8th, 2014 with Bernard Stepien
Ornette Coleman – Twins
Ornette Coleman is the most publicized inventor of Free Jazz. Free Jazz started already in the '40s with people like Gil Evans or Lee Konitz or Warn Marsh and many others. The '50s saw the emergence of Sun Ra and his disciples, Mingus, Cecil Taylor and Ornette Coleman. Coleman generated enthusiasm among the crowds. He got so much work that at one point he had to stop to take a rest. Fortunately for us, many others like Archie Shepp, Steve Lacy, Anthony Braxton and the Art Ensemble of Chicago carried the flame straight into the next half century. Tonight, we will focus on Ornette Coleman's Twins originally released on the Atlantic label in 1971 but that is a compilation of left-over recordings from 1959 to 1961. It gives an overview of the various concepts Ornette was experimenting with during this key period. It also well illustrated that Free Jazz was well alive over a decade after its inception. One of the sessions, like many others before involved the concept of double. Coleman already had experimented with double quartets before where both the rhythm section and the soloist were doubled. In Twins, the doubling was extreme: two drummers, Billy Higgins and Ed Blackwell. Two bassists: Scott Lararo and Charlie Haden. Two trumpet players Don Cherry and Freddie Hubbard and finally two saxophonists: Ornette Coleman himself and Eric Dolphy. In other words a double all-stars configuration.
first take
Ornette Coleman - Twins - atlantic masters
joy of a toy
Ornette Coleman - Twins
check up
Ornette Coleman - Twins
little symphony
Ornette Coleman - Twins
monk and the nun
Ornette Coleman - Twins