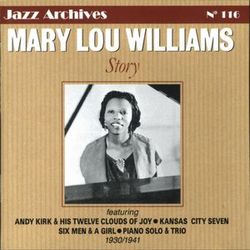 In A Mellow Tone
Wednesday September 9th, 2015 with Ron Steeds
Jazz and blues recorded between 1927 and 1999
Jazz and Blues recorded September 9 between 1927 and 1999.
In a Mist
Bix Beiderbecke - Bix Beiderbecke Story - JSP
Sitting On Top of the World
Lonnie Johnson - Playing With The Strings - JSP
Mess-A Stomp
Mary Lou Williams - Story 1931-1940 - EPM
Flying Home
Benny Goodman Sextet - Charlie Christian: Complete Live Recordings - Disconforme
Hydramatic Woman
Joe Hill Louis - Tell Me About The Blues: Memphis - Future Noise Music
Well, Do It
Buddy & Ella Johnson - Buddy & Ella Johnson 1953-1964 - Bear Family
M-Squad Theme
Count Basie - The Complete Roulette Studio Recordings of Count Basie & His Orchestra - Mosaic
Fool's Paradise
Mose Allison - Singing Till the Girls Come Home - Columbia
Weep Np More
Dave Brubeck - Time Signature - Columbia
Our Thing
Joe Henderson - Our Thing - Blue Note
Ballad to the East
Oscar Peterson - Canadian Suite - Limelight

Good Old Days
Ornette Coleman - The Empty Foxhole - Blue Note
East Side Colors (excerpt)
Dave Burrell - High Won - High Two - Black Lion
Stick 'Em Up
Archie Shepp - For Losers - Impulse!
Spoo-Pee-Doo
Archie Shepp - Kwanza - Impulse!
Train Time Blues
L.C.Robinson - Oakland Blues - World Pacific
Party With Me
Lafayette Thomas - Oakland Blues - World Pacific
My Ship
Elvin Jones - Live at The Lighthouse - Blue Note
Silence
Keith Jarrett - Silence - Impulse!
Azure
Art Farmer & Fritz Pauer - Azure - Soul Note
Looking For Ninny
Ernest Dawkins - Chicago Now, Vol. 1&2 - Silkheart
Turn Your Head
Barrage Double Trio - Utility Hitter - Quinnah Records
Live at the Alterknit (excerpt)
Alan Licht & Loren Mazzacane Connors - Two Nights - Road Cone
The Watcher 2
Greg Osby - The Invisible Hand - Blue Note