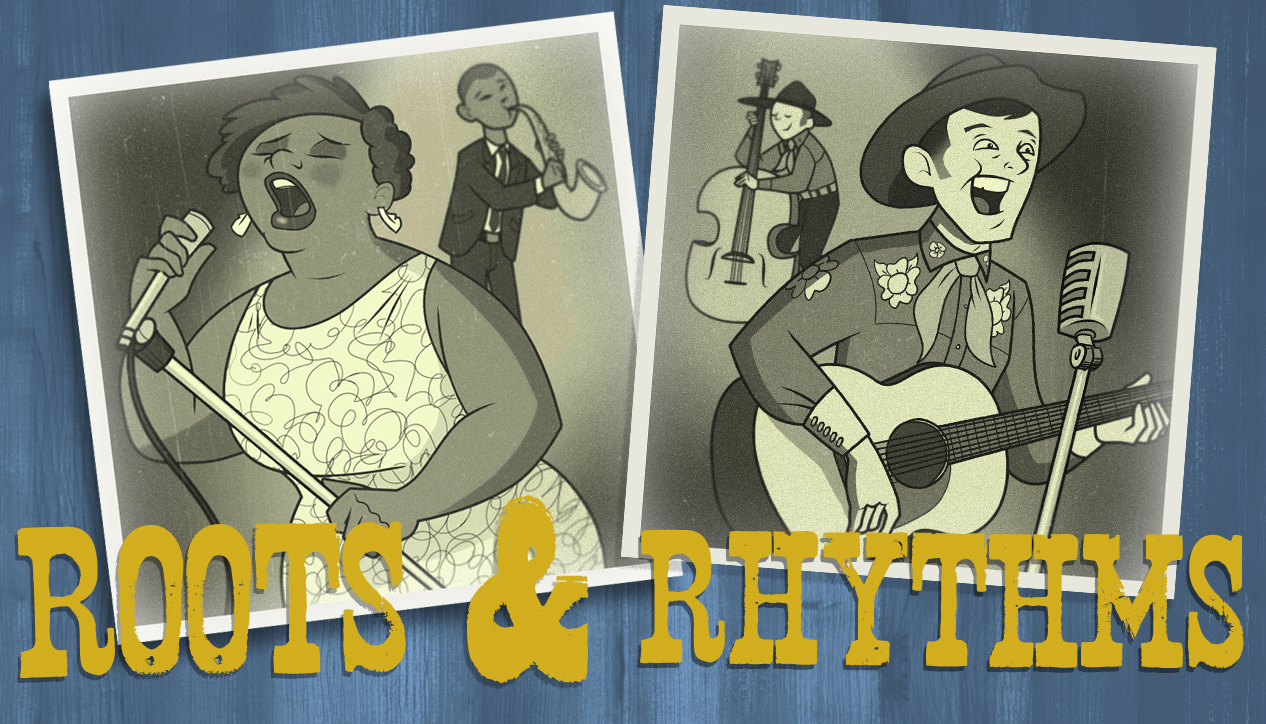 Roots and Rhythms
Sunday November 29th, 2020 with Retro Renny
IN DOG WE TRUST! Roots music in praise of pups. Old timey country & blues, bluegrass, Rhythm & Blues about our K9 companions.
Dedicated to all those dogs (past & present) in our lives that make live bearable. Dogs are God's jesters.
That Dog
EVAN JOHNS - Panoramic Life - 2016 Alternative Tentacles
In The Doghouse
THE RAZORBACKS - Live A Little - 1989 WEA

Doggie House Boogie
MERRILL MOORE - Boogie My Blues Away - 1954 Capitol Records
I'm Walking The Dog
CHARLIE FEATHERS - Rock-A-Billy: The Definitive Collection (1954-1973) - unknown date of recording/1990 Zu-Zazz Records
Yukon Buddy
THE DUSTY CHAPS - It Came From Canada Vol. 1 - 1985 OG Music

Old Dog Blue
JIM JACKSON - Anthology Of American Folk Music, Vol. 2A: Social Music - 1928 Victor Records/1997 Smithsonian Folkways
Sam's Ridin' Shotgun
EVAN JOHNS & BUBBA COON - Mystic Titans Of Juju 2 - 2009 Jellyroll Records
Bull Dog Down In Sunny Tennessee
DOCK WALSH & THE CAROLINA TAR HEELS - Doggone Country-All-Time Favorite Country Songs About Dogs - 1927 Victor Records/1994 CMH Records
Ya Gotta Quit Kicking My Dog Aroun'
GID TANNER & HIS SKILLET LICKERS - Doggone Country-All-Time Favorite Country Songs About Dogs - 1926 Columbia/1994 CMH Records
Ol Rattler
GRANDPA JONES - Bluegrass Bonanza : Classic Bluegrass 1946 - 1950 - 1947 King Records/2001 Proper Records
Dog House Blues
BILL MONROE - Bluegrass Bonanza : the Monroe Legacy 1936 - 1945 - 1940 RCA/2001 Proper Records
Tennessee Hound Dog
THE OSBORNE BROTHERS - Doggone Country-All-Time Favorite Country Songs About Dogs - 1969 Decca Records/1994 CMH Records
The Poodle Dog Song
JIMMIE DAVIS - Doggone Country-All-Time Favorite Country Songs About Dogs - 1950 Capitol Records/1994 CMH Records
Move It On Over
HANK WILLIAMS & HIS DRIFTING COWBOYS - The Original Singles Collection Plus - 1947 MGM Records/1990 Polygram Records
Houn' Dawg
HOMER & JETHRO - Homer & Jethro Assault The Rock & Roll Era - 1956 RCA Victor/1988 Bear Family Records
You're Just A Female Hound Dog
CHARLIE GORE & LOUIS INNES - Hillbilly Bop, Boogie & The Honky Tonk Blues Vol.2 1951-1953 - 1953 King Records/2005 Jasmine Records
Mr. Hound Dog's In Town
ROY BROWN & HIS MIGHTY, MIGHTY MEN - Good Rockin' Man The Definitive Collection - 1955 King Records/2011 Fantastic Voyage
Let Me Play With Your Poodle
LIGHTNIN' HOPKINS - Bed Spring Poker. Meat in Motion, 1926-1951 [Disc 1] - 1947 Aladdin Records/2002 Indigo Records
The Dog & His Puppies
MORRIS CHENIER - Bluesin' By The Bayou - Rough 'n' Tough - alt. take, pre-1961 Goldband Records/2012 Ace Records
Kansas City Dog
LITTLE CAMERON - Ballin' Thru The South - 1959 Stylo/unknown year of reissue
Every Dog Has His Day
PEE WEE CRAYTON - The Cosimo Matassa Story - 1954 Imperial Records/2007 Proper Records