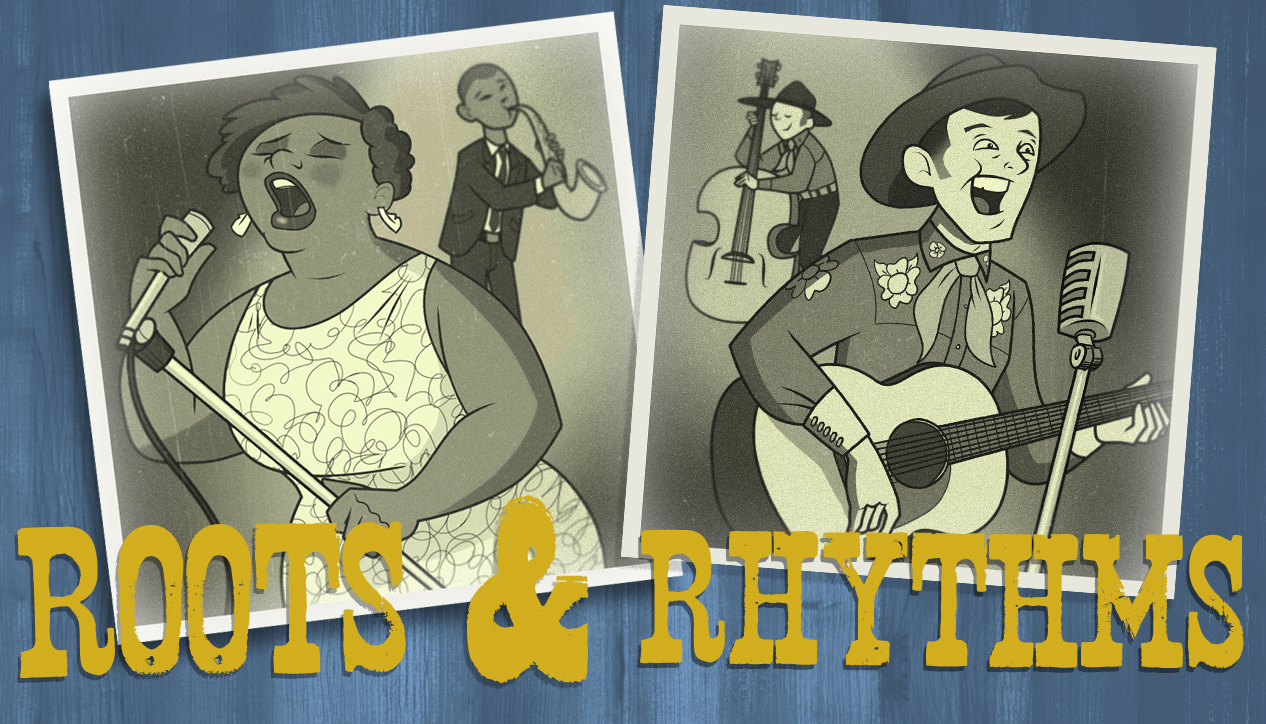 Roots and Rhythms
Sunday September 8th, 2019 with Retro Renny
The HARLEM HAMFATS, were neither "hamfats" (jazz slang for an uninspired musician), nor were they from Harlem. The were one of the first studio bands put together to specifically back up other artists & their jazz is danceable, humorous & infectious.
Kansas Joe McCoy on vocals & guitar. Papa Charlie McCoy on guitar & mandolin. Herb Morand on trumpet. John Lindsay bass. Odell Rand on clarinet. Horace Malcom piano. Freddie Flynn & Pearlis Williams on drums.
The Candy Man
ROSETTA HOWARD with THE HARLEM HAMFATS - 1917-1944 - High & Low: Drug Songs - 1938 Chicago
Oh! Red
THE HARLEM HAMFATS - Complete Recorded Works In Chronological Order Volume 1 (18 April To 13 November 1936) - 1936 Decca Records/1994 Document Records
Move Your Hand
THE HARLEM HAMFATS - Complete Recorded Works In Chronological Order Volume 1 (18 April To 13 November 1936) - 1936 Decca Records/1994 Document Records
Hamfat Swing
THE HARLEM HAMFATS - Complete Recorded Works In Chronological Order Volume 1 (18 April To 13 November 1936) - 1936 Decca Records/1994 Document Records
Little Girl
THE HARLEM HAMFATS - Complete Recorded Works In Chronological Order Volume 1 (18 April To 13 November 1936) - 1936 Decca Records/1994 Document Records
What You Gonna Do?
THE HARLEM HAMFATS - Complete Recorded Works In Chronological Order Volume 1 (18 April To 13 November 1936) - 1936 Decca Records/1994 Document Records
My Daddy Was A Lovin' Man
THE HARLEM HAMFATS - Complete Recorded Works In Chronological Order Volume 1 (18 April To 13 November 1936) - 1936 Decca Records/1994 Document Records
She's Trickin' Me
THE HARLEM HAMFATS - Complete Recorded Works In Chronological Order Volume 1 (18 April To 13 November 1936) - 1936 Decca Records/1994 Document Records
We Gonna Pitch A Boogie Woogie
THE HARLEM HAMFATS - Complete Recorded Works In Chronological Order Volume 1 (18 April To 13 November 1936) - 1936 Decca Records/1994 Document Records
She's Gone Again
THE HARLEM HAMFATS - Complete Recorded Works In Chronological Order Volume 1 (18 April To 13 November 1936) - 1936 Decca Records/1994 Document Records
Live And Die For You
THE HARLEM HAMFATS - Complete Recorded Works In Chronological Order Volume 1 (18 April To 13 November 1936) - 1936 Decca Records/1994 Document Records
Who Done It?
THE HARLEM HAMFATS - Complete Recorded Works In Chronological Order Volume 1 (18 April To 13 November 1936) - 1936 Decca Records/1994 Document Records
I Feel Like A Millionaire
THE HARLEM HAMFATS - Complete Recorded Works In Chronological Order Volume 1 (18 April To 13 November 1936) - 1936 Decca Records/1994 Document Records
My Garbage Man
THE HARLEM HAMFATS - Complete Recorded Works In Chronological Order Volume 1 (18 April To 13 November 1936) - 1936 Decca Records/1994 Document Records
Let's Get Drunk And Truck
THE HARLEM HAMFATS - Complete Recorded Works In Chronological Order Volume 1 (18 April To 13 November 1936) - 1936 Decca Records/1994 Document Records
Weed Smoker's Dream (Why Don't You Do Now?)
THE HARLEM HAMFATS - Complete Recorded Works In Chronological Order Volume 1 (18 April To 13 November 1936) - 1936 Decca Records/1994 Document Records
Growlin' Dog
THE HARLEM HAMFATS - Complete Recorded Works In Chronological Order Volume 1 (18 April To 13 November 1936) - 1936 Decca Records/1994 Document Records
Southern Blues
THE HARLEM HAMFATS - Complete Recorded Works In Chronological Order Volume 1 (18 April To 13 November 1936) - 1936 Decca Records/1994 Document Records
Lake Providence Blues
THE HARLEM HAMFATS - Complete Recorded Works In Chronological Order Volume 1 (18 April To 13 November 1936) - 1936 Decca Records/1994 Document Records