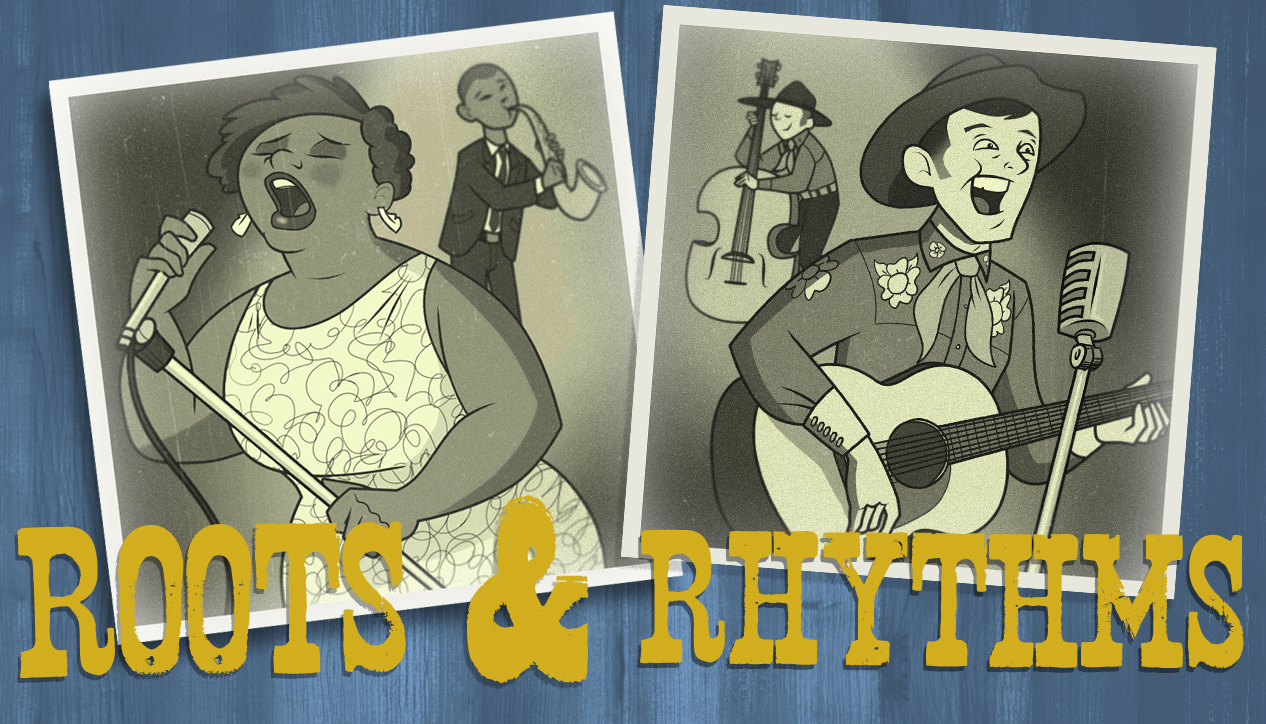 Roots and Rhythms
Sunday June 9th, 2019 with Rooster Renny
POULTRY PLEASURES - From Slim Gaillard to Gene Autry, from Pico Pete to Fats Domino, it's the finest chicken music ever served.
Shanghai Rooster Yodel
CLIFF CARLISLE - A Country Legacy 1930-1939 - 1931 Conqueror Records/2004 JSP Records
Stay Away From My Chicken House
GENE AUTRY - Blues Singer 1929-1931 "Booger Rooger Saturday Nite!" - 1929 Velvetone Records/American Record Corporation/1996 Sony Music Entertainment Inc.
Chicken You Can Roost Behind The Moon
FRANK STOKES - Saga Blues: The Songsters Tradition "Before the Blues" - 1927 Paramount Records/2004 Saga Blues Records
Jumpin' Rooster
WASHBOARD SAM - The Washboard Sam Collection 1935-53 - 1938 Bluebird Records/2014 Acrobat Music
Has A Chicken Got A Leg?
CLEVE JACKSON & HIS HOUND DOGS - Boppin' Hillbilly Vol. 2 - 1953 Herald Records/1988 White Label Records
I Like My Chicken Fryin' Size
MERLE TRAVIS - Guitar Rags And A Too Fast Past - 1947 Capitol Records/1994 Bear Family Records
Don't Count Your Chickens
RUDY SOOTER with STRING BAND - Boppin' Hillbilly Vol. 9 - 1948 Black & White Records/1989 White Label Records
Nothin' Clickin' Chicken
THE DOWN HOMERS - Hillbilly Bop, Boogie & The Honky Tonk Blues Vol. 1 1948-1950 - 1951 King Records/2005 Jasmine Records
Cotton Pickin' Chicken
CLYDE STACY - Steppin' - late '50s Metropolitan Studio (unreleased acetate)/2011 Buffalo Bop
Chicken Bop
TRUITT FORSE - Rockabilly Shakeout - 1957 Starday Records/1986/1992 Ace Records
Rooster Strut
ASHTON SAVOY - Eddie's House of Hits - The Story of Goldband Records - 1960's Goldband Records (unissued)/1992 Ace Records
Knock Kneed Rooster
HANK MOORE & ORCHESTRA featuring BILLY DAVIS - Fats Domino & The Rhythm And Blues Friends - 1959 54 Records/2011 Buffalo Bop
Chicken Little
PICO PETE - Sin Alley-Part One (30 Real Gone Rockabilly & R&B Howlers!) - 1956 Jet/1986 Crypt Records
The Rooster Song
FATS DOMINO - They Call Me The Fat Man - The Legendary Imperial Recordings Vol. 2 - 1955-1957 - 1957 Imperial Records/1991 EMI Records
Chicken Rhythm
SLIM GAILLARD & HIS SOUTHERN FRIED ORCHESTRA - Chicken Rhythm - 1951 Norgran Records/Verve Records/1989 The Official Record Company
Chicken Ain't Nothin' But A Bird
CAB CALLOWAY & HIS ORCHESTRA - Are You Hep To The Jive? - 1950 OKeh Records/1994 Sony Music Entertainment Inc.
The Chicken And The Hawk (Up, Up And Away)
BIG JOE TURNER - Rocks In My Bed - 1955 Atlantic Records/2005 Membran Music Ltd.
Little Red Rooster
MARGIE DAY with GRIFFIN BROTHERS ORCHESTRA - I'm A Bad, Bad Girl: Seven Dozen Dusky Divas 1939 - 1953 - 1951 Dot Records/2004 Indigo Recordings
Rooster Blues
LIGHTNIN' SLIM - I'm a Lover Not a Fighter: The Complete Excello Records Singles (1956 - 1962) - 1959 Excello Records/2017 Jasmine Records
Chicken Stuff
HOP WILSON - Eddie's House of Hits - The Story of Goldband Records - 1958 Goldband Records/1992 Ace Records