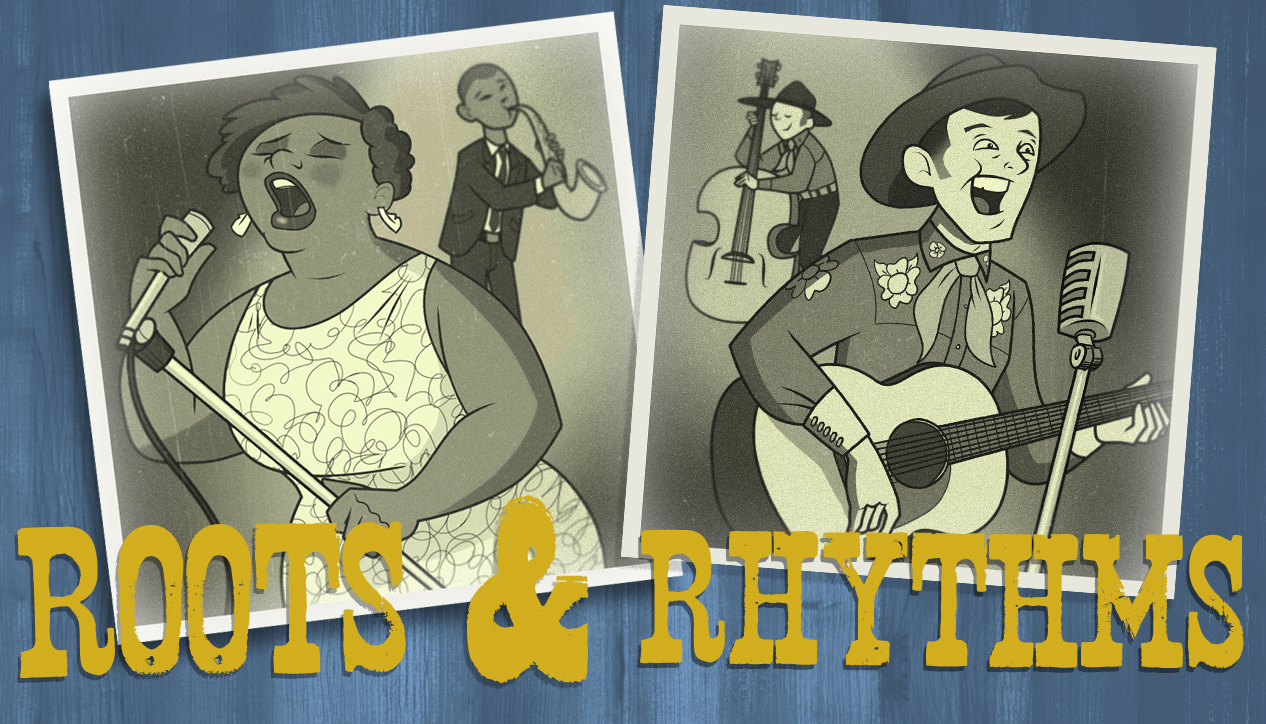 Roots and Rhythms
Sunday October 21st, 2018 with Raunchy Renny
SMUT FOR BUCKS: The legendary (or infamous) annual funding drive show featuring dirty blues, risqué R&B, scandalous ska & wicked western swing. Songs about sex, money & funding drive. Appealing to your baser instincts for donations. PLEASE DONATE!
Money (That's What I Want)
JACKIE SHANE - Any Other Way - '62 Stop Records/'17 Numero Group
Race Horse
TINY DAVIS & HER ORCHESTRA with BIRDIE DAVIS alto sax & MARGARET BACKSTROM tenor sax - The Big Horn: The History Of Honking & Screaming Saxophone Vol. 3- Boogie's The Thing - '49 Decca Records/'03 Proper Records
Ride, Daddy Ride
FATS NOEL - Risqué Blues Vol. 1 - '51 DeLuxe Records/'97 Netshare Ltd.
Big Long Slidin' Thing
DINAH WASHINGTON - Shout It Out Sister: The Great Female Blues Singers - '54 Mercury Records/'06 The Primo Collection
Three Ball Sam (The Pawn Shop Man)
PEARL TAYLOR with CHUCK THOMAS & HIS ALL STARS - The OKeh Rhythm & Blues Story 1949-1957 - '51 OKeh Records/'91 Sony Music Entertainment Inc.
Money Blues
CAMILLE HOWARD - The Specialty Story - '51/'94 Specialty Records
Dirty Mother For You
ROOSEVELT SYKES - The Honeydripper's Duke's Mixture - '71 Barclay Records/'93 Verve Records
Joe's Joint
CLIFF FERRÉ with the MARK McINTYRE QUARTET - If It Ain't A Hit, I'll Eat My.....Baby! - '49 Kem Records/'90 Zu-Zass Records
Feels Good
HARTMAN'S HEARTBREAKERS - Give It To Me, Daddy! - '36 Bluebird Records/'81 Rambler Records
Pussy Pussy Pussy
LIGHTCRUST DOUGHBOYS - Doughboys, Playboys and Cowboys - The Golden Years Of Western Swing: Vol. 3 Tobacco State Swing - '38 Vocalion Records/'99 Proper Records
Bring It On Down To My House, Honey
BROWN'S MUSICAL BROWNIES - Daddy Of Western Swing: Vol. 4 Keep A Knockin' - '37 Decca Records/'03 Proper Records
Let's Get Drunk And Truck
HARLEM HAMFATS - The Complete Recorded Works In Chronological Order, Volume 1 (18 April To 13 November 1936) - '36 Decca Records/'94 Document Records
Where's The Money, Honey
CHUBBY NEWSOME - I'm A Bad, Bad Girl - Seven Dozen Dusky Divas 1939-1953 - '51 Regal Records/'04Indigo Records/Sanctuary Records
Push Wood
JACKIE OPEL - Ska Bonanza: The Studio One Ska Years - '65 Studio One Records/'91 Heartbeat CD
Dr. Dick
KING PERRY a.k.a. LEE "SCRATCH" PERRY - Old Skool Ska - An Anthology - '66 Studio One Records/'94 Recall2CD/Snapper Music
Stoop Down Baby
CHICK WILLIS - If It Ain't A Hit, I'll Eat My.....Baby! - '72 La Val Records/'90 Zu-Zass Records