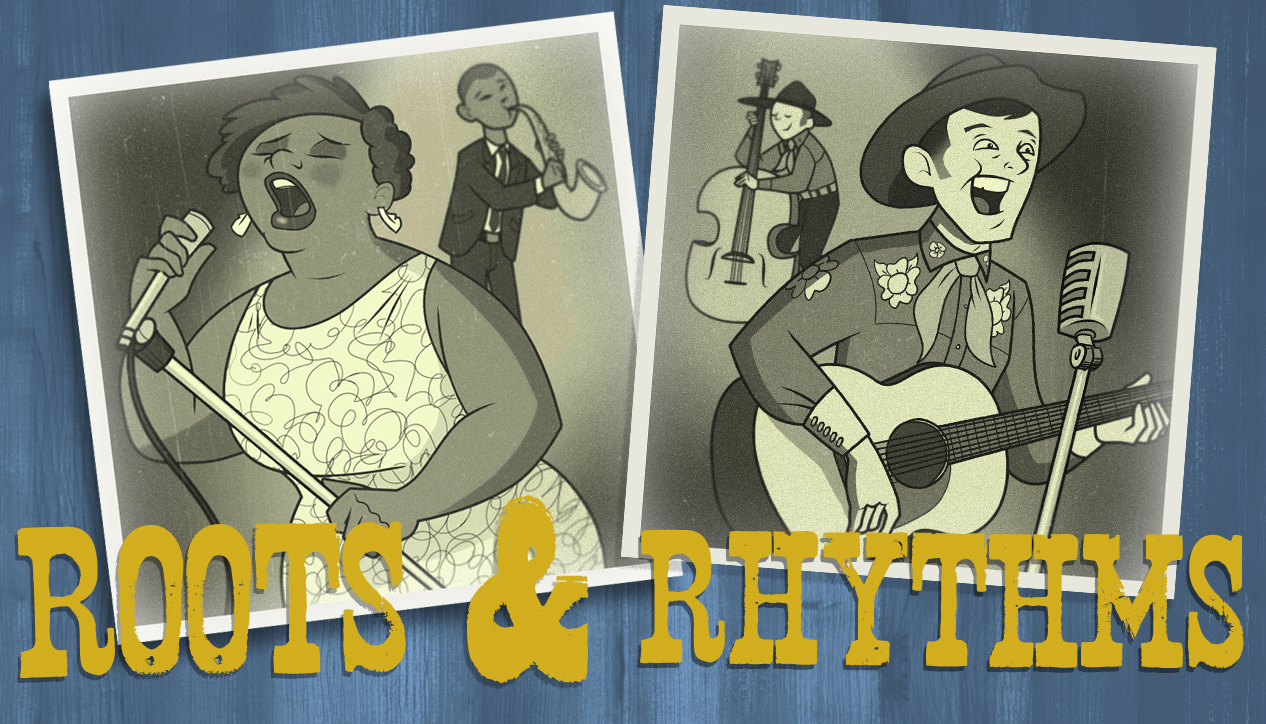 Roots and Rhythms
Sunday October 14th, 2018 with Reprobate Renny
REEFER RECORDINGS: Great ganga almighty! With 3 days 'til legalization, tonight's a cannabis countdown with 7 decades of smouldering marijuana music: viper jazz from the '30's to some reefer rockabilly from the first decade of the new millennia.
This show would not have been possible without guidance and help of David Lewis, music aficionado, former CKCU announcer and all round great guy. Thanks David!
Light Up
BUSTER BALLEY'S RHYTHM BUSTERS - The Ultimate 30s And 40s Reefer Songs - '39 Vocalion Records/'04 Viper Records
When I Get Low I Get High
CHICK WEBB & HIS ORCHESTRAS with ELLA FITZGERALD voc. - The Ultimate 30s And 40s Reefer Songs - '37 Decca Records/'04 Viper Records
I'm Gonna Get High
TAMPA RED & THE CHICAGO FIVE - The Ultimate 30s And 40s Reefer Songs - '37 Bluebird Records/'04 Viper Records
Save The Roach For Me
BUCK WASHINGTON - Reefer Songs - '44 unknown label/'89 Jass Records
'Long Come A Viper
DAN HICKS & HIS HOT LICKS - Last Train To Hicksville... The Home Of Happy Feet - '73 Blue Thumb Records/'90 MCA Records
Killing Jive
THE CATS & THE FIDDLE - We Cats Will Sing For You 1939-1940 Volume 1 - '39 Bluebirds Records/'05 Acrobat Music
Reefer Man
CAB CALLOWAY & HIS ORCHESTRA - The Best Of The Big Bands - Cab Calloway - '32 Brunswick Records/'90 CBS Records
Santa's Secret
JOHNNY GUARNIERI & SLAM STEWART - Mr. Santa's Boogie - '44 Savoy Records (unissued)/'85 Savoy Jazz Records
When I'm In My Tea (a.k.a. The Reefer No.)
JO-JO ADAMS with MAXWELL DAVIS & HIS BAND - The Aladdin Records Story - '46 Aladdin Records/'94 EMI Records
Marihuana Boogie
LALO GUERRERO - Jumpin' Like Mad: Cool Cats & Hip Chicks Non-Stop Dancin' - '49 Imperial Records/'96 Capitol Records
Let's Go Get Stoned
RAY CHARLES - Anthology - '66 ABC-Paramount Records/'88 Rhino Records
Illegal Smile
JOHN PRINE - Great Days: The John Prine Anthology - '71 Atlantic Records/'93 Rhino Records
Rainy Day Women # 12 & 35
BOB DYLAN - Blonde On Blonde - '66/'87 Columbia Records
Speed, Weed & Whiskey
SIMON & THE BAR SINISTER - Look At Me I'm Cool!!! - '95 Upstart Records
Stoned, Drunk And Trippin'
THE COWSLINGERS - Americana-A-Go Go - '02 Shake It Records
Non-Addictive Marijuana
THE SUPERSUCKERS - I Must've Been High - '97 Sub Pop Records
Special Tea (instrumental)
CHUCK HIGGINS - Pachuko Hop - '54 Specialty Records (unissued)/'92 Specialty Records