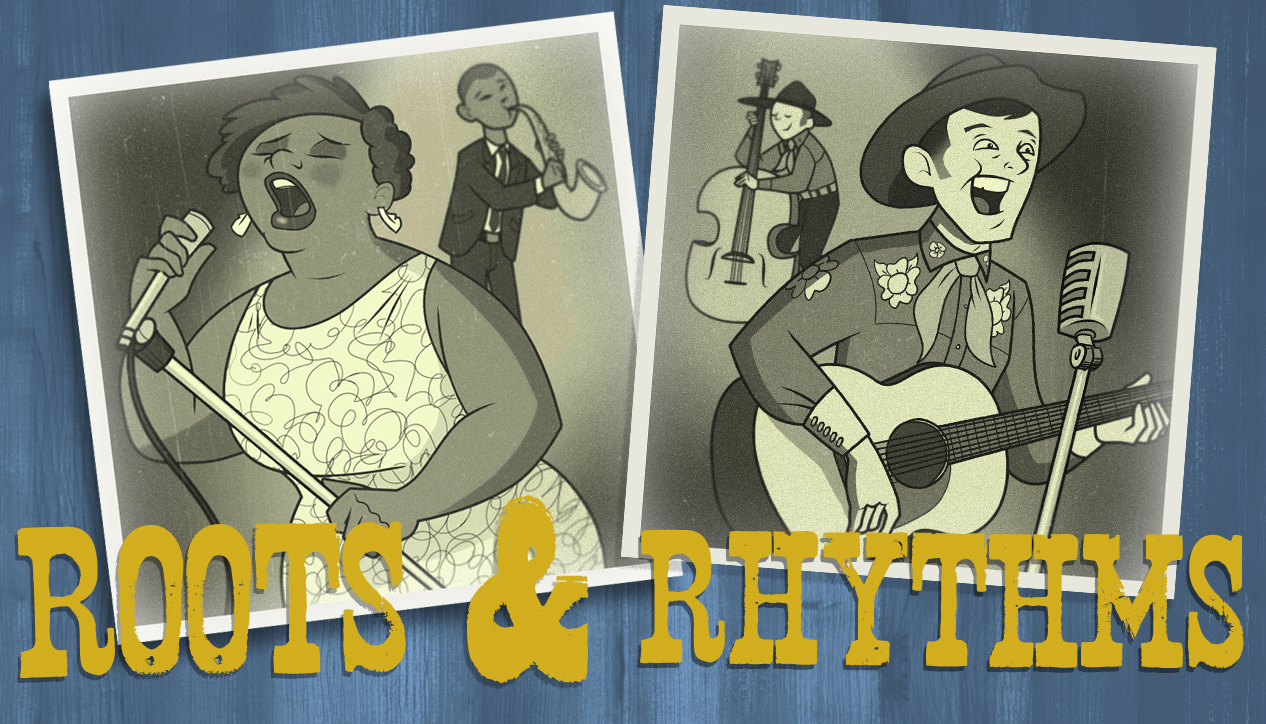 Roots and Rhythms
Wednesday November 22nd, 2017 with Retro Renny
MUCK IT UP/MAKE IT UP SHOW. Playing all the music that didn't get played because of my mistakes, technical difficulties, or because I ran out of time. Tonight will be a mixed musical bag with 6 boogies, 3 rags and a stomp.
A mixed bag of roots music that didn't get played because of unforeseen circumstances.
Poor Black Mattie
R.L. BURNSIDE - R.L. Burnside's First Recordings - '69 Arhoolie Records/'03 Fat Possum Records
Industrial Avenue Boogie
DR. ROSS - Boogie Disease - '54 Sun records, unreleased/'92 Arhoolie Records
Mama-Less Rag
LARRY JOHNSON - Midnight Hour Blues - '71/'95 Biograph Records
Georgia Rag
KING BISCUIT BOY - Gooduns - '71 Daffodil Records/unknown year Unidisc Music

Killing Jive
THE CATS & THE FIDDLE - We Cats Will Swing For You 1939-1940 - '39 Bluebird Records/'15 Acrobat Music
Redneck Jazz
DANNY GATTON featuring EVAN JOHNS vocals - Redneck Jazz - '78/'91 NRG Records
Walking The Strings
MERLE TRAVIS - Guitar Rags And A Too Fast Past - '56 Capitol Records/'94 Bear Family Records
Sugarfoot Rag
JUNIOR BROWN - Guit With It - '93 Curb Records
Hangman Boogie
COWBOY COPAS - Hillbilly Boogie - Crazy About The Boogie - '49 King Records/'02 Proper Records
Doghouse Boogie
HAWKSHAW HAWKINS - Hillbilly Boogie - Crazy About The Boogie - '47 King Records/'02 Proper Records
Crawdad Hole
JACK EARLS & THE JIMBOS - Essential Sun Rockabillies Vol. 1 - '56 Sun Records, unreleased/'95 Charly Records
(You're So Square) Baby, I Don't Care
ELVIS PRESLEY - I Was The One - '57/'83 RCA Records
Stone Cold Mama
STEVE CARL with THE JAGS - The Complete Meteor Rockabilly & Hillbilly Recordings - '57 Meteor Records, unreleased/'03 Ace Records
Beer Bottle Boogie
MARYLYN SCOTT (THE CAROLINA BLUES GAL) with THE JOHNNY OTIS ORCHESTRA - That's Your Last Boogie! The Best Of Johnny Otis 1945-1960 - '50 Regent Records/'12 Fantastic Voyage/Future Noise Music
X-Temporaneous Boogie
CAMILLE HOWARD - The Specialty Story - '48/'94 Specialty Records
Mister Boogie
SIR CHARLES THOMPSON - Juke Joint Jump: A Boogie Woogie Celebration - '61 Columbia Records/'96 Sony Music Entertainment Inc.
Zodico Stomp
CLIFTON CHENIER - Zodico Blues & Boogie - '55/'93 Specialty Records
I Like My Baby's Pudding
WYNONIE HARRIS - Rock, Mr. Blues! - '49 King Records/'07 Rev-ola Bandstand/Cherry Red Records
I Wanna Eat Your Pudding
ALVIS WAYNE - Cat Music - '74 Rollin' Rock Records/'98 HMG/Hightone Records